In an interview with the Ukrainian TV channel 1 + 1, ex-Komsomol member Dalia Grybauskaite (now the President of Lithuania) stated that she is in favor of rendering military aid to Ukraine through the EU. In addition to military assistance, Grybauskaite spoke for a long time about other types of assistance, including financial assistance. At the same time, the head of Lithuania stated that the state headed by her intends to supply Ukraine with "elements
weapons
". What exactly are the "elements" in question? - Grybauskaite not told reporters.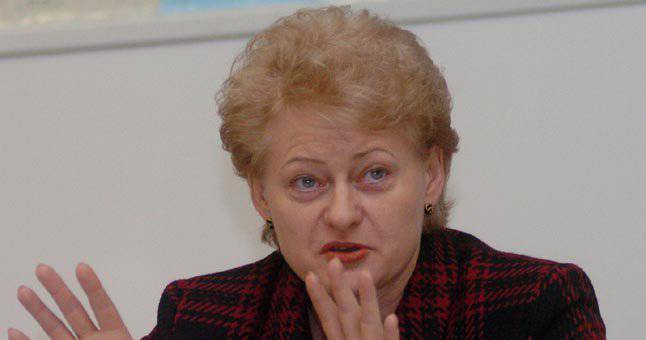 Ukrainian journalists provoked the ex-Komsomol Grybauskaite with the question of whether she believes that this year the Baltic countries have celebrated their "last Independence Days"? Such a question to Mrs. Grybauskaite was asked by representatives of the UCS channel. The question clearly shocked the president of Lithuania. Grybauskaite answered it like this:
This is a joke? So, joke. We have already passed the critical point. We have entered all the communities of our Western allies - NATO and the EU. We are ready to defend ourselves just as citizens of Ukraine devote their lives to defending the Motherland. Yes, there is a country that can step over any international law. Rude, aggressive! But we are not afraid. We know this neighbor. We lived under its occupation for half a century. But we will never allow anyone to occupy us again.
Ukrainian journalist did not let up:
Do you seriously think that if Russia attacks you, NATO will start a large-scale, not a fake war?
(How are they waiting for the declaration of war by Russia - comment "IN")
Grybauskaite was again confused:
I think Russia will not even try to attack the Baltic states. After all, we are members of NATO. (...) But we do not expect anyone to protect us. We ourselves are increasing our defense budget next year by 40 percent. We create our own rapid reaction forces. And they already started working from November 1. If something (happens) on our borders - we will respond within 24 hours.
And yet this ridiculous lady is a former Komsomol member and daughter of Polykarpas Grybauskas, an employee of the NKVD of the USSR! ..