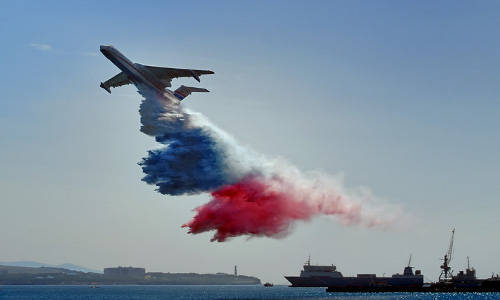 According to Lenta.ru, France became interested in the Russian Be-200ES seaplanes. According to the statement of the general director of the Taganrog Beriev Scientific Aviation Technical Complex (OAO TANTK named after GM Beriev), the first batch can be two to four cars. In the case of successful cooperation, you can count on the supply of 12-15 aircraft.
France became interested in the possibility of buying a Be-200ES after the completion of the air show in Le Bourget, held on June 20-26, 2011. Immediately after participating in the air show, a Russian plane flew to the base of the Department of Civil
aviation
France, where he was tested. It is curious that although the fire-fighting version of the Be-200ES came to France, its assessment was carried out as a multi-purpose aircraft. Currently, the French working group is preparing test reports on the Be-200ES, on the basis of which a decision will be made on the purchase of aircraft.
The cost of the potential contract is not specified. The cost of one Be-200 ЧС is about 900 million rubles. Thus, the purchase of 15 aircraft could cost France 13,5 billion rubles.
The Be-200ЧС is capable of transporting tons of water to 32, after dumping it intake either at the airfield or at the pond in planing mode.
The aircraft is capable of flying at speeds up to 610 kilometers per hour and flying over distances up to 3,1 thousands of kilometers.
The design of the aircraft provides for its operation both on land airfields and in water bodies with a wave height of up to 1,2 meters.