Police officers from public security forces shoot out of their weapons during clashes in Istanbul in May 2013
"When we were soldiers." In addition to the name of the famous film, this phrase rather well explains the evolution of military forces. In past centuries, soldiers were mainly tasked with killing and destroying ... the more deadly, the better. In the last quarter of the 20 century, however, things began to change gradually, restoring and maintaining security was an important task. This in turn requires a different (and additional) training along with other (and additional) equipment.
The presence of special and non-lethal ammunition reduced the load on the individual soldier, who otherwise would have had to carry different weapons in addition to the standard pistol. In addition, based on the evolving situation, in most cases it is possible to switch from lethal weapons to non-lethal and vice versa in a relatively short time.
This feature is usually available for two main types of portable weapons: 12 caliber rifles and 40-mm grenade launcher. However, as will be briefly outlined below, other calibers are also becoming suitable for non-lethal tasks.
(For smooth-bore rifles, the calibers are measured as follows: the number of the caliber means a whole number of spherical bullets that can be cast from 1 English lead pound (453,59 g). The bullets should be spherical, identical in mass and diameter, which is equal to the inner diameter of the barrel in its middle parts. The smaller the diameter of the barrel, the greater the number of bullets obtained from a pound of lead. Thus, the twentieth caliber is less than tenth, and the sixteenth is less than twelve. That is, the barrel diameter of our 12 caliber is approximately 18,5 mm and take 24 caliber, the diameter is already 14,7 mm).
12 caliber temporary lesion
The 12-caliber gun offers a wide range of possible ammunition, lethal and non-lethal, including the task of fighting the infantry and destroying materiel. A specific non-lethal task is the ability to stop a vehicle or boat by getting into the engine, but of course without harm to those on board. The US Coast Guard has 12 caliber smoothbore rifles with a sub-caliber Remington Premier Copper Solid Sabot Slug (see photo below). Fire from it is conducted from short distances (10-15 meters and less), for example, from a speedboat, going parallel to the pursued boat and keeping the position so that in case of a miss the bullet does not hit any of the crew members.
Another design was proposed by the Latvian company D-Dupleks for the DEFENCE AP-20 bullet. It is a steel arrow-shaped bullet, offering good accuracy even at relatively large distances in combination with high penetrating characteristics. From a distance of 15 meters, it can pierce a steel sheet with a thickness of 8 mm or 20 with separate steel sheets with a thickness of 1 mm. Another D-Dupleks product is a MONOLIT-32 steel flat core. This special form allows you to avoid the risk of rebound and deviations. As for the accuracy and penetration ability at large distances, MONOLIT-32 is worse than the AP-20, but at near distances they are almost equivalent, since with 10 meters MONOLIT-32 breaks through 6-mm steel sheet.
SIMAD manufactures a special 12 caliber cartridge for throwing tears at barricades. START 12L / P is able to pierce a light structure and then release its contents.
NonLethal Technologies offers various solutions for riot control and knocking down a person without causing serious damage. The 12-FB flash noise ammunition complements the traditional tear-gas cartridge; due to the sequence of deafening sounds above the heads of the demonstrators, it confuses and frightens people and causes the crowd to disperse. The large 12 caliber cartridge family includes various rubber bullet solutions.
Brazilian company Condor offers a similar large family of non-lethal 12 cartridges of caliber: a high-precision rubber bullet for short-range use (AM 403 / PSR), a single cartridge for large distances (AM 403 / P), a plastic bullet (AM 403), a cartridge with three balls (AM 403 / A) and multi-shock cartridge with 12 rubber balls (AM 403 / M).
12 caliber is undoubtedly widespread and many other manufacturers offer a full range of interesting solutions. The catalog of Combined Systems (CSI) and its subsidiary Combined Tactical Systems (CTS) includes 25 different types of non-lethal 12 caliber ammunition. These include flash noise for the Navy and the United States Marine Corps (Joint Non-Lethal Warning Munition); liquid and powder barricade cartridges (with OS irritant substances, CS, CN and practical); rubber bullet; stabilized expansive impact bullets (high and low speed); multi-ball cartridges; ball-type cassette cartridge (also called super-sock, in the photo below); and bullets for opening the door (very dangerous when used on a person).
FN Herstal manufactures FN-303. This is a unique model of a semi-automatic non-lethal rifle operating from a compressed air cylinder and firing small plastic collapsing balls (caliber 18 mm) with a short feathered body. It works with good accuracy from 0 to 50 meters and has an 15 shots shop. The operator should avoid aiming at the head of the target in order to avoid the risk of excessive harm or eye contact (unfortunately, this risk is associated with the use of high-speed small-caliber bullets). FN-303 can work as a single weapon or be installed under the assault rifle barrel. A smaller version of the FN-303, FN-303P in the form of a pistol, is currently in service with the Belgian maritime border guard. He has a replaceable cylinder with CO2 and a magazine for seven rounds, shoots at a distance of 20 meters. Various ammunition for FN-303 include a collapsing cartridge with OS (combination of shock and irritation; OC (capillary oleoresin)) - extract of hot pepper, consisting of resins and the amount of capsaicinoids. OC is widely used as an irritant, for equipment of special means and civilian gas weapons , inert shock cartridge and different types of markers. FN-303 is in service in Belgium, the US Army, Marines, Customs and Border Service and was purchased by a number of foreign military and police forces (Bulgaria, Georgia, Libya, Luxembourg, Singapore and Turkey).
RUAG's special 12 / 70 MAGNUM ENTRY munition can destroy door locks or knock out window panes, here it minimizes the possible risk of fragments forming behind the target. The shell of the pressed metal powder destroys the obstacle and disintegrates into a metal cloud after the dissipation of energy. Thus, the door can be opened without causing harm to people in the room. This type of ammunition is also suitable for the destruction of IEDs or detonation traps.
JNLWM (Joint Non-Lethal Warning Munition Program) Non-Lethal Warning Program
After a long development process (eight years), the Navy and the US Coast Guard finally received the Joint Non-Lethal Warning Munition Program (JNLWM), which included 12 mm and 40 mm ammunition. These CTS munitions produce a clear warning signal in the form of a bright flash (or a cloud of smoke during the day) and a loud bang. 12 caliber cartridges are made for 100 and 200 meters (respectively, models LA51 and LA52), while 40 mm are made for distances 100, 200 and 300 meters (but only the latest version was purchased - model BA26). The most powerful cartridge is capable of producing cotton with a sound pressure level of 170 dB and a flash of seven million candelas, which is effective a few hundred meters from the blasting point. JNLWM ammunition performs a very important task, because it allows you to determine the intentions of an unknown object and apply an additional effect to it in case of a lethal object response. JNLWM is used at sea, roadblocks and border crossing points to neutralize suspicious activities.
In the photo above, a Singapore policeman uses FN-303 weapons for training purposes. At the bottom of the plastic collapsing bullet caliber 18 mm ball-type balls with a short feathered body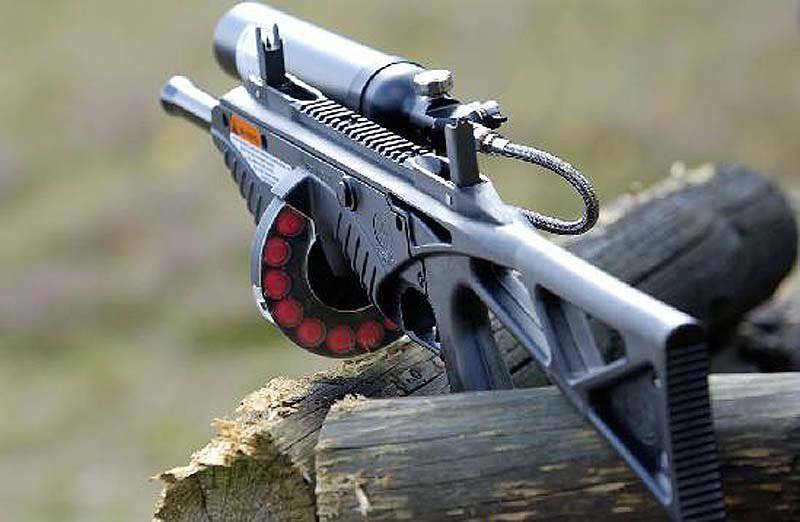 FN Herstal FN-303 with 15 magazine shots
40-mm non-lethal grenades
The CTS product range in this category includes several 37 mm and 40 mm non-lethal grenades. Among them are barricaded penetration (of both calibers) with chemical stimuli of either CS or OS and a heavy feathered core for delivering irritating contents for relatively strong obstacles. CTS also manufactures special 40-mm ammunition for the VENOM universal marine grenade launcher (VEhicle NOn-lethal Munition - non-lethal vehicle armament). The VENOM 1040 modular launch system usually charges three 10 cartridges each, with each ammunition including several submunitions. Charges can be shot individually (each assigned a special IP-address) or, if necessary, in any multiple sequence.
NonLethal Technologies offers a full line of 37-40 mm ammunition, both chemical and percussion. Chemicals include muzzle cartridges (OC-CS-CN) and pyrotechnic cartridges (a wide combination of near, far, and increased action, single and multiply charged, CS-CN), while the drums include rubber or foam bullets, gas balls of various sizes and cassette ball type cartridges.
Condor offers one of the largest catalogs of non-lethal ammunition in the world. 37 / 38 mm and 40 mm include chemical ammunition (near, medium, long-range, with CS and OS gases, single and three submunitions), and impact ammunition (single high-precision rubber cartridge; single rubber bullet; three or 12 balls with gas; expansive (unfolding) cartridge). Plus, an impressive number of options for standard NATO 40x46 munitions (foam, foam with CS powder, foam with coloring gel, smoke, CS, noisy, noisy and tear, last, either with contact or with proximity fuse).
Rheinmetall offers its own version of the well-known 40x46 mm pulsed grenade with a soft tip under the designation XM1140 (very similar to the traditional sponge-like grenade M1006 - standard for many law enforcement forces) to which the target is visible by day and night with a chemiluminescent liquid. Also in the range of the company there are other ammunition 40x46 mm, smoke, noise and lighting.
A small company Brugger & Thomet (B&T), founded in 1991, produces non-lethal weapons for the Swiss police and military, as well as for export. The LL-06 non-lethal grenade launcher is part of the portfolio and can fire the company's traditional lethal ammunition and 12 special non-lethal ammunition. These include SAR (Safe Agent Round) with CS or OC, paint markers (SMR), CS tear gas grenades with direct release of OC and CS, and cassette with 28 rubber balls. The main product, however, is the SIR and SIR-X (Safe Impact Round-eXtended range). The company claims it is the most accurate and safest strike ammunition in the world, providing superior accuracy at 50 meters and reasonably safe at just five meters. The SIR-X is a more "energetic" cartridge and, therefore, capable of knocking over a sturdy person or wearing heavy clothing. During tests, he was able to put five bullets at a distance of 60 meters in a circle with a diameter of only 20 cm.

SIR (left) and SIR-X (right) ammunition from the Swiss company Brugger & Thomet
Newco Safety Technologies (NST) offers a large range of 37 / 38 mm and 40 mm ammunition to meet various operational requirements. These munitions guarantee the highest levels of safety, they are highly accurate and have a long shelf life. Ammunition can be fired from most 37 / 38mm and 40-mm grenade launchers. The NST portfolio includes markers, ammunition for overcoming barricades, noise-noise, smoke screen settings, CS, OS, rubber plates and tape cassettes with rubber balls. The actual range of these ammunition is 5-100 meters. Over the years, various operations 40-mm non-lethal ammunition has proven its reliability and efficiency.
Reduced Energy Projectile L60A1 Attenuated Energy Projectile (AEP)
In the UK, the police and military use the L60A1 Attenuated Energy Projectile (AEP) reduced energy projectile. It is a safer successor to the traditional plastic bullet that has caused several accidents during the so-called "riots" in Northern Ireland. AE is being offered as a completely new weapon system, not just pure ammunition. The projectile itself has a deformable head in order to avoid a fracture of the skull even when shot in the head from close range (in any case, an unacceptable action) and is manufactured according to high precision standards, guaranteeing the best stability and accuracy (the probability of hitting a target of 85x40 cm from a distance 60 meters). The L40A104 / 1 rubber bullet (grenade launcher) is a specially modified version of the well-known 2-mm H&K M40-A69 grenade launcher, in which the barrel is replaced by a 1 mm barrel and a high-precision sighting device L37A18 / 1 is installed. After extensive testing, the next step will be the adoption in 2 of the DIP (Discriminating Irritant Projectile) selective annoying projectile, using the same grenade launcher and the same sighting device as the AEP. It is a light plastic projectile with an expansive nose, which, after hitting the target, releases a small local cloud of OS powder. The aiming device is set to normal combat for 2014 meters, while the maximum effective firing range is 20 meters. British forces do not want to use traditional tear gas ammunition, as they absolutely do not want to expose innocent bystanders (or peaceful demonstrators near the target) to chemical products. Interestingly, the UK does not permit the export of these weapons systems abroad (neither AEP, nor DIP).
Other non-lethal ammunition
Verney-Carron manufactures non-lethal ammunition for a special twin grenade launcher used by the army, police and gendarmerie. These include cluster munitions with CS (400 square meters), several spherical (ball) munitions: a single rubber ball (the famous Flash-Ball) and multiple gas balls, markers and balls with CS. The latter are able to break through a car window or a plywood door and influence a person with their kinetic energy. After several years of intensive use, the French army is currently considering replacing the Flash-Ball with the improved efficiency and accuracy of the B&T 40x46 grenade launcher and ammunition. The current 44 mm grenade launchers will also be redesigned and adapted for the new ammunition. The new family of ammunition is being evaluated and consists of an innovative aluminum foam cartridge and a plastic expansive cartridge. Different levels of accuracy, stability and energy are being evaluated before new solutions enter service at this time.
Within the framework of the American program for the joint non-lethal ammunition, the Non Non-Lethal Weapons Program is developing a TASER version with a greater range, known as the 40-mm cartridge of the electric muscular immobilization of a person HEMI (Human Electro-Muscular Incapacitation). This new system, capable of causing loss of muscle control, will have an actual range of 10-100 meters (possibly up to 250 meters) and a duration of 30 seconds. The cartridge will be fired from traditional grenade launchers, for example M-203 and M-320. The program is still under development; It was launched after the failure of the TASER X-Rep 12 cartridge caliber conceptually similar, but not effective enough and not very reliable.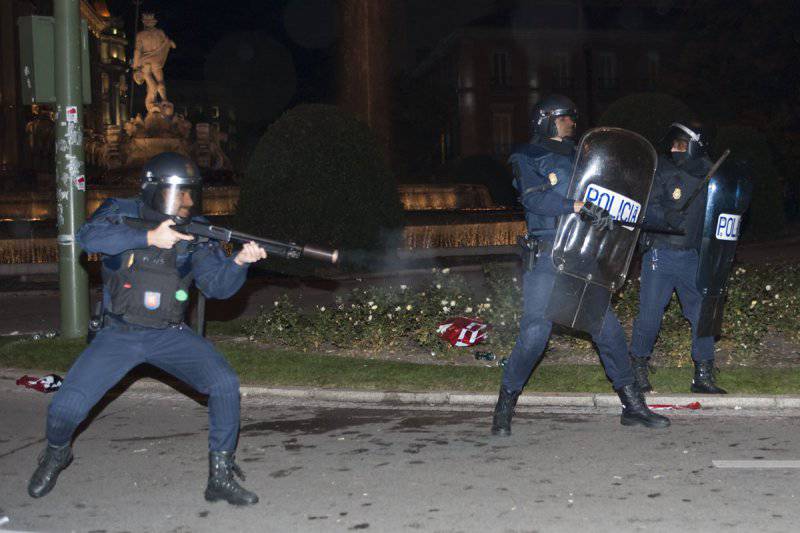 Spanish police shoot rubber bullets from a 12 caliber rifle
Another new solution from the United States is a promising individual weapon of an air blast XM25 Individual Air Burst Weapon. This 25-mm grenade launcher uses smart air-blasting munitions with a sophisticated sighting device and fire control system. In addition to various traditional (lethal) ammunition, XM-25 can also fire with two types of non-lethal ammunition: impact action and air detonation with spraying of chemical reagent. In August, 2014 began the initial production of this type of weapon.
In addition, there are also very small caliber non-lethal ammunition, the same caliber as standard assault rifles and pistols. Chinese rubber bullet DBF90 7,62x39 can shoot directly from any version of the AK-47. The Chinese police even use 9 mm rubber bullets that can be fired from a standard standard pistol. Also on the market is the Russian 9-mm rubber bullet Tehkrim. Finally, the company Less Lethal Africa offers a full line of rubber bullets 9x19 mm, 7,62x39 mm, 7,62x51 mm, 5,56x45 mm (LLA, Less-Lethal Ammunition), which can be fired from conventional firearms. They must be used at distances greater than 20 meters in order to avoid injury or skin lesions. These rubber munitions are not designed for automatic firing, the operator must manually reload them each time. The South African company also offers systems for shooting rubber bullets from a standard assault 5,56-mm rifle M-4 / M-16 in automatic mode. For this, it is necessary to replace the valve assembly with a new kit (with yellow marking in order to avoid mistakes). The same company manufactures 12,7-mm version of non-lethal rubber rubber ammunition for sea tasks (anti-piracy, smuggling), which is specifically designed for long-range sniper rifles or heavy machine guns with a range greater than 150 meters. Less Lethal Africa also offers more traditional solutions, such as 12 ammunition caliber (double ball; noisy; and with pepper gas).
A growing trend in riot control technology
SAMSON NL RWS (Non-Lethal Remote Weapon Station - non-lethal remote-controlled combat module), manufactured by Rafael Advanced Defense Systems, has a set of launchers and searchlights. It is installed on armored vehicles type HUMVEE. SAMSON NL RWS combines a sound device with a deafening signal that is effective over a distance of 1000 yards, a multi-barreled grenade launcher shooting at 800 yards, blinding a searchlight and two other types of launchers.
This highly mobile non-lethal multiple-impact system is a deterrent to aggressive actions. This gives the crew the flexibility needed for an asymmetric response. However, if necessary, Samson NL is easy to replace the lethal system.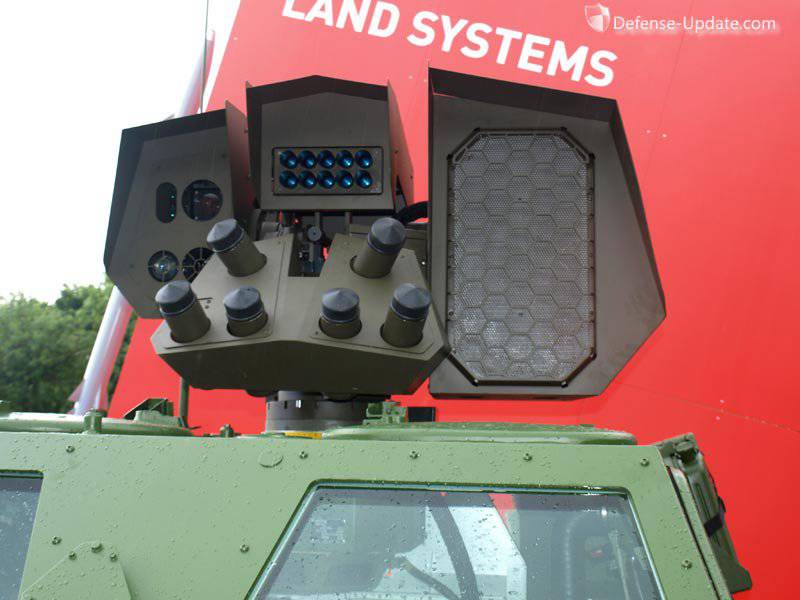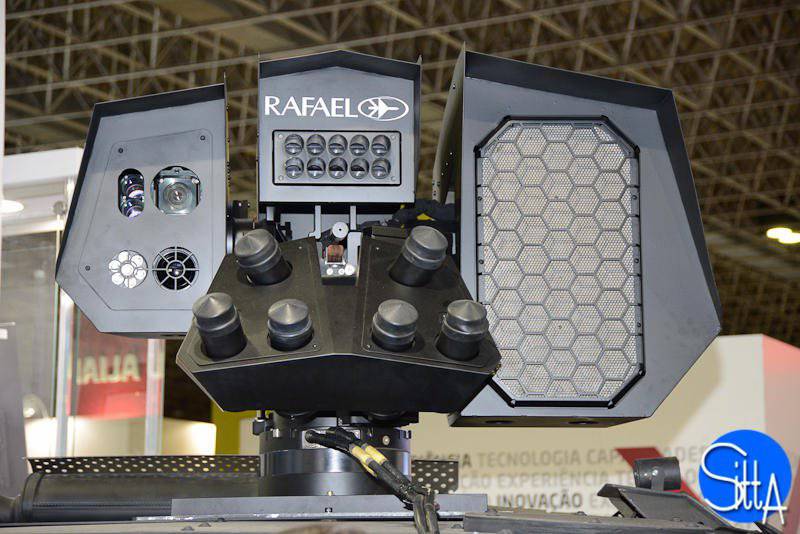 SAMSON NL RWS allows you to effectively deal with violent actions from within the machine. Modern, high-precision opto-electronic sensors provide accurate situational awareness in real time. The crew can respond with a point impact with minimal civilian casualties.Video presentation of non-lethal remote-controlled combat module SAMSON NL RWS
Video presentation of another non-lethal remote-controlled combat module Konsberg Protector CROWS
Materials used:
www.monch.com
www.simadspa.it
www.nonlethaltechnologies.com
www.fnherstal.com
www.combinedsystems.com
www.bt-ag.ch
www.verney-carron.com
www.rafael.co.il