Datron / Aeryon Labs scout was renowned for being used by Libyan rebels for round-the-clock surveillance.
Napoleon said that every soldier wears a marshal baton in his knapsack. In the near future, at least one soldier in each platoon may well carry a small aircraft in his knapsack, which can take off and land vertically and provide an image for the next hill and even more, much more!
Known for its advances in technology development, the Advanced Research and Development Directorate Darpa uses "mass outsourcing" to make the low-profile reconnaissance drone available to a wide range of "communities outside the traditional procurement process of the Ministry of Defense".
Back in May, 2011, Darpa, working with the Center for Space and Naval Systems of the Atlantic Navy Department (SSC-Atlantic), announced a competitive program for UAV unmanned aircraft. The task was to create "an intuitive UAV (Unmanned Aerial Vehicle) worn in a knapsack that could quietly fly into and out of critical space for the purpose of continuous observation for up to three hours."
ARPA held an open event for UAVForge for about a year. The basic idea: to build a practical demonstrator of a mini-ametractile suitable for transportation by one person and capable of more or less autonomously performing simple tasks. The key feature is the use of fashionable "crowdsourcing", when a large group of people directly interested in participating in the project is directly involved in evaluating ideas and shaping development directions using the Internet.
In the summer of 2012, the final test included a flight along a route to a given area, which was out of the operator's view, video recording (with translation) from a given point, returning back. A more detailed description is on the site. The result is this: none of the participating teams failed to fulfill the requirements of the final test, no one won the main prize, although all the leadership teams made several attempts.
How many screws (rotors)?
A single rotor (or two coaxial rotors) has the disadvantage that controlling the height (and thus the translational speed) requires a cyclic pitch change or deflection of the air flow downwards. Conversely, the layout with four rotors is simple to control by changing the power supplied to the engines; front and rear screws are rotated to control pitch, and left and right screws to control pitch.
Yaw control (deviation from the direction of movement) for four screws is somewhat more complicated. If, for example, two pitch screws rotate clockwise, and two roll screws rotate counterclockwise, then the yaw moment can be created by applying more power to the pitch pair and less to the roll pair or vice versa. In order to obtain longitudinal stability, tail assembly can be added.
Drone Dragonfly for urban production conditions of the French company Sagem is based on Novadem NX110m; was first shown at the Eurosatory 2010 exhibition. Unlike most quadcopters, its sensors are located inside the case.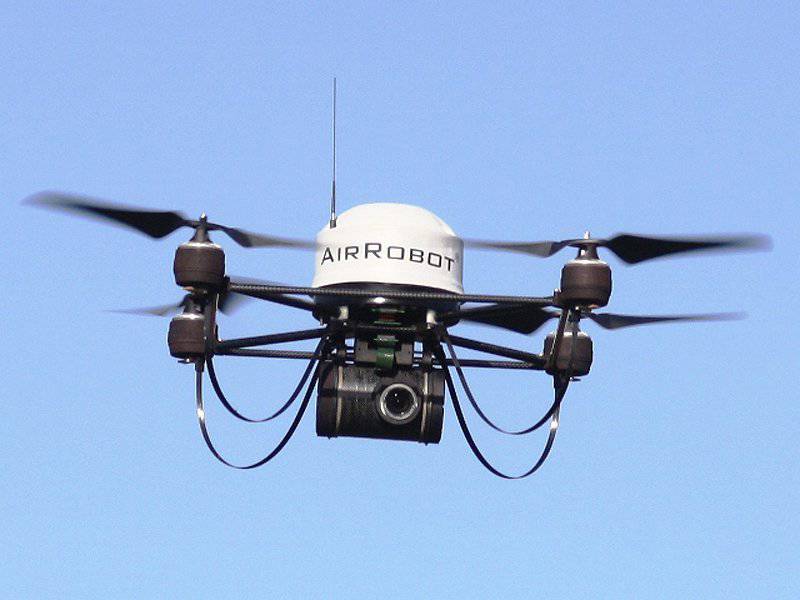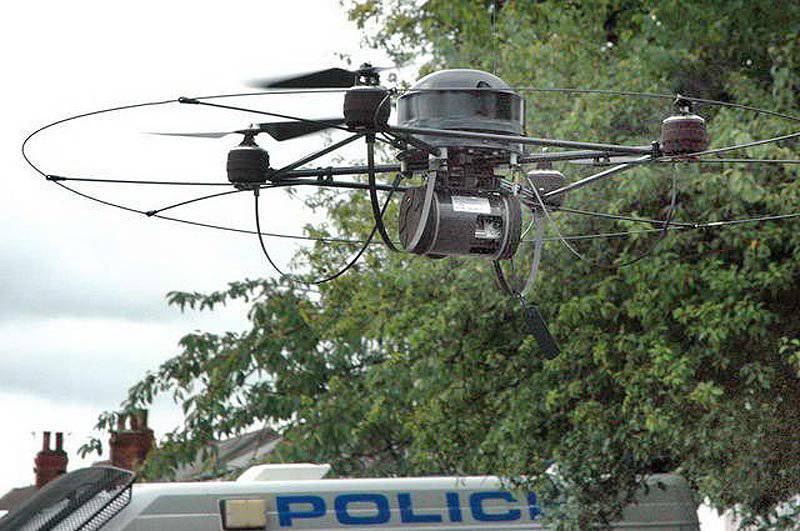 AR100-B from German Airrobot has a maximum take-off weight of 900 grams and a diameter of 102, see. Flight duration is more than 25 minutes, the device can operate with wind power up to 25 km / h

The two-kilogram Tarkus from WB Electronics is designed to support special forces in urban operations, including its use inside buildings. Development funded by the Polish Ministry of Defense
In the epoch of the formation of manned vertical take-off and landing ships (50 – 60-s), there were claims that the lift force can be significantly increased by using "socket" flanges around air intakes that draw in air flow creates suction on these curved surfaces. However, full-scale field tests showed a smaller increase in lift compared to laboratory tests.
However, the lift force of the screws increases from the surrounding fairings, which can also reduce noise and provide protection for the screws (and what they touch) in case of impact. They can protect avionics and onboard equipment from the weather. On the other hand, the fairings add weight, reduce portability and complicate access to avionics.
The quadcopter (four-rotor vertical take-off) is neutral or unstable when pitch and roll, so it requires an inertial measurement unit with accelerometers and gyroscopes to measure straight and angular motion and provide indications of direction and position in the air. Satellite signals (usually GPS) provide more accurate navigation over a long period of time.
Other
aviation
equipment usually includes an altimeter and a communication channel for receiving navigation and target designation commands and image transmission.
Quadcopters dominate the category of small vertical take-off and landing drones. However, due to the fact that quadcopter manufacturers are facing the need for greater carrying capacity, it seems inevitable that they would rather improve the design, switching to six-motor circuits, rather than developing larger quadcopters.
The eight-rotor, eight-motor configuration (with 4 or 8 rotation axes), developing the concept a step further, offers a useful degree of redundancy. The Dassault Mirage IIIV with eight elevating engines became the full-scale manned analog in 1965, the only vertical-take-off combat aircraft that could survive an engine crash during a hangup.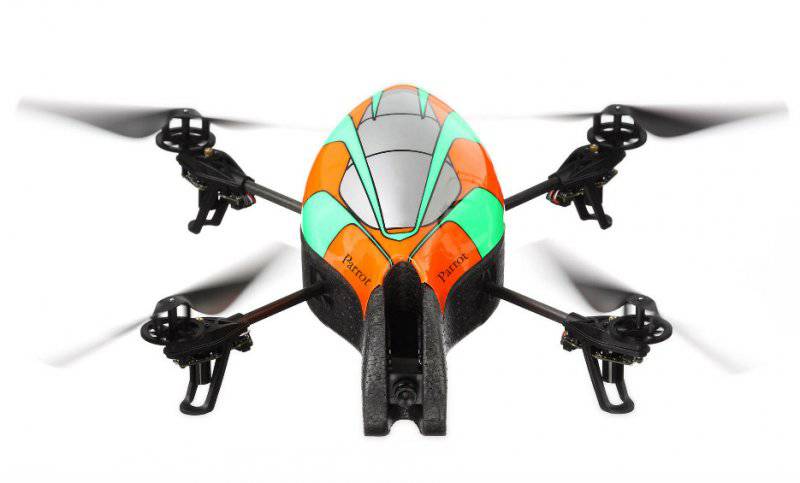 Although designed for civilian purposes, the Parrot AR Drone can find military applications in training drone operators. The picture shows the device without a protective cover for outdoor work.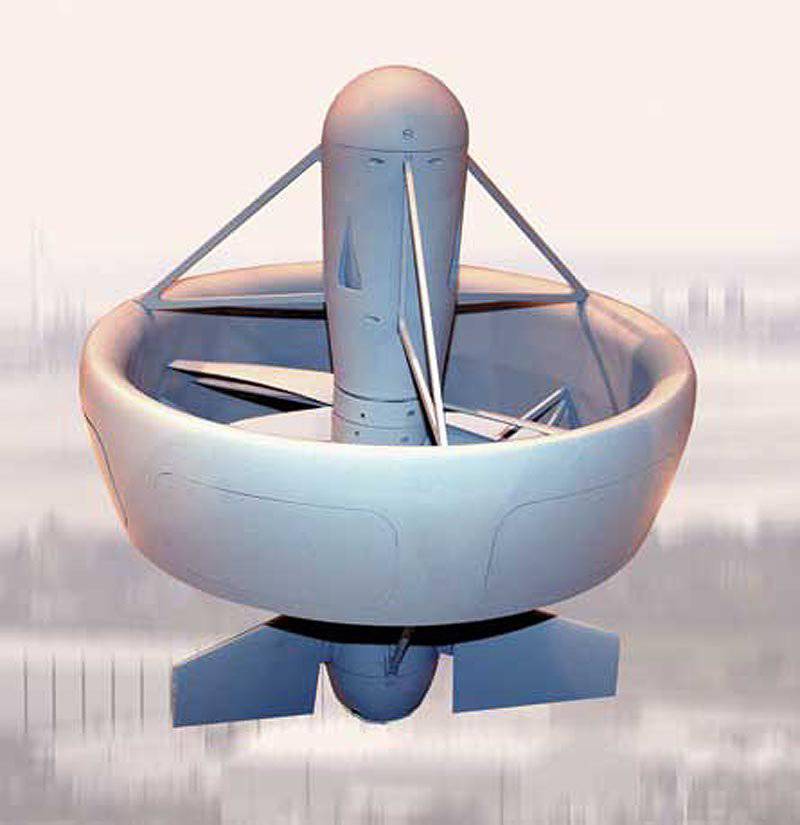 The vertical take-off and landing drone of Asio from Selex Galileo, having its own weight of 6,5 kg, in the annular fairing complete with ground control system and weighs less than 20 kg in its knapsack. The stabilized sensor module can be mounted on top of or below the rotor.
Europe
Since America and Israel formed a kind of duopoly in the market of large UAVs, Europe has good reasons to develop small models for an individual soldier.
In 2005, the European Defense Agency launched the Mavdem (Miniature Air Vehicle Demonstration) miniature aerial program worth 4 million euros, the goal of which is to provide a base for a knapsack with a wingspan of less than 50 cm, flight duration 30 minutes and cruising speed 20 m / s .
A large number of possible configurations were considered, and in 2007, the contract was awarded to a quadrocopter proposed by a multinational consortium including French Onera (with Alcore Technologies as a subcontractor), Italian Oto Melara, Spanish Sener and Norwegian Tellmie. Three vehicles were built that passed the preliminary flight tests in Spain in the first half of the 2008 year, followed several months later by the final tests in Norway.
Interestingly, the second contender for the Mavdem was the usual helicopter configuration with a fuselage, with low aerodynamic drag and a sensor unit between two coaxial screws.
There were several microdroning competitions aimed at the world's leading academic centers. One such center of expertise is Enac (Ecole Nationale de l'Aviation Civile), the French national civil aviation center, which has outstanding results in this kind of competition. The achievements of the Enac center include: winning the Emav European Microdot (European Micro Aerial Vehicle) competition in Braunschweig in 2004, the French Challenge DGA (Delegation Generale pour l'Armement) tests in 2009 and the Imav competition (International Micro Air Vehicle) in Braunschweig in 2010 year.
One of the keys to the success of the Enac center was the electronic flight control system Paparazzi. The system has been applied in various fixed-wing or rotary-wing drones, including Thy's Spy'Arrow. On Imav 2010, the Enac system was used in a Blender quadcopter with a wingspan of 32 cm and a mass of 330 grams.
At Eurosatory 2010, Sagem introduced a new quadcopter for urban combat called Dragonfly, based on NovademNX110m.
At the Eurosatory 2014, Thales unveiled its new vertical take-off UAV called Infotron IT180.
Parisian company Parrot, best known for its AR Drone, "brought" quadrocopters to the masses. At a price of about 500 dollars, AR Drone is controlled wirelessly by Wi-Fi from Apple iPhone or iPod Touch handheld devices and transmits video from its cameras to displays.
Parrot AR Drone weighs 400 grams with its (for indoor) protective casing, which forms a square with a side of 52. It works on a Linux-based operating system, has an 486 MHz processor, built-in control, an ultrasonic altimeter, a three-axis accelerometer, a two-axis pitch horoscope / roll and six-axis course horoscope. It is powered by three lithium-polymer batteries on 11,1 Volts and 1000 mAh. Four engines rated at 15 Watts accelerate the screws to 3500 rpm. The flight duration is 15 minutes, the maximum speed of 18 km / h, while the UAV cannot fly with strong air movement (wind).
Recharging batteries without human intervention can simplify cyclical round-trip flights. Ito's UAV from Oto Melara is charged by the Praetor ground robot of the same company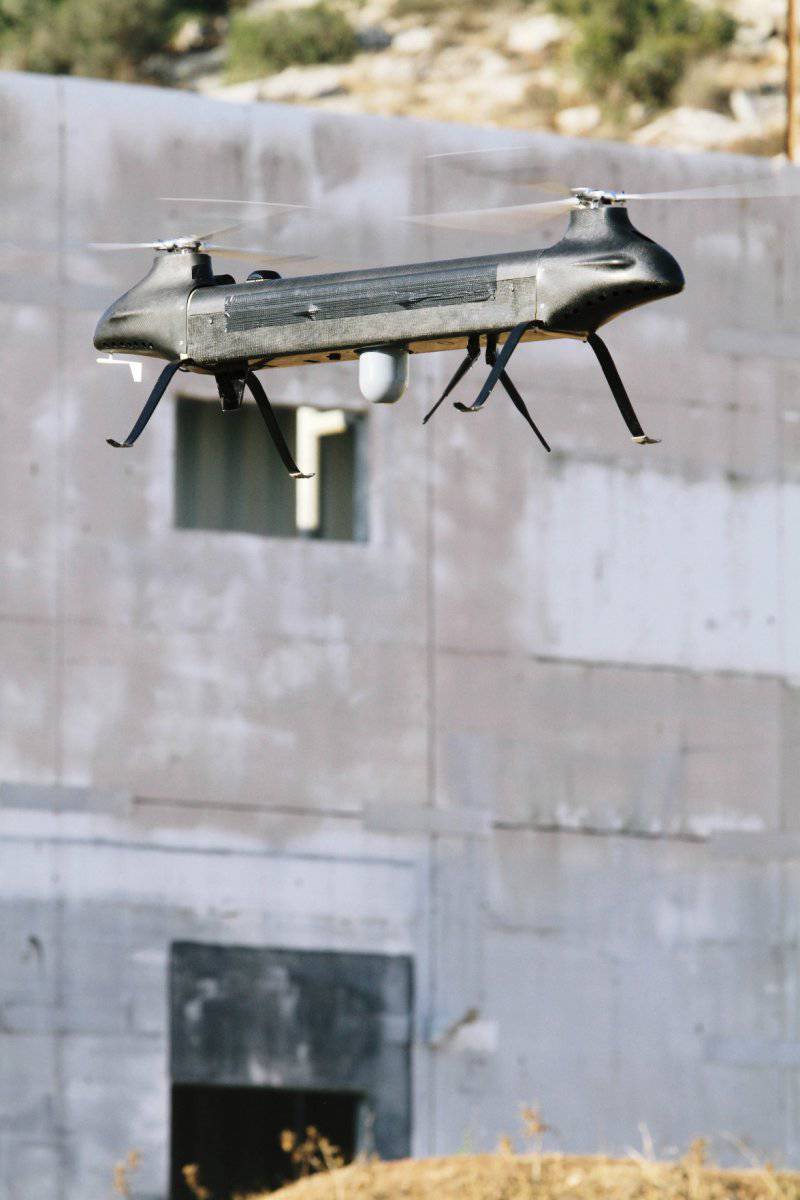 In August, 2013, Israel Aerospace Industries, showed its Ghost minidron weighing 4 kg with a tandem screw arrangement. Externally similar to the miniature Chinook, the Ghost has a flight duration of 30 minutes and a maximum speed of 65 km / h.
One of the most interesting developments in the field of drones is the Hummingbird nano-dron from Aerovironment funded by the Darpa management; It weighs only 19 grams with a video camera.
One of the leaders of Germany in this area is Ascending Technologies (Asctec). Asctec drone was used as a platform by Enac in the DGA Challenge 2009 competition, Asctec Pelican drones are used in the Mast program of the US Army and Asctec Hummingbird are used in the Federal Technical Academy ETH (Federal Technical Academy) in Zurich. Asctec attributes its success to the stability provided by the high update rate (1000 Hz) of its inertial measurement unit and due to electronic components optimized for various applications developed by the company.
At the top of the Asctec quadcopter line is a standing Pelican 5195 euro with dimensions of 50 x 50 cm, a 750 gram weight with a lithium-polymer battery on 11,1-volts and 6000-mAh, which provides flight duration from 15 to 25 minutes. Specialized in photography, the GPS-controlled Asctec Falcon 8 worth 10 499 Euro has eight rotors, which are located in a V-shaped configuration around the camera, which allows him to change the pitch angle without turning in the opposite direction. Falcon 8 can operate with winds up to 10 m / s.
Other German models include the Diehl BGT Defense 900-gram and the Airrobot AR100-Band and the Microdrone md4 series, the heaviest of which md4-1000 weighs 5,55 kg. Rheinmetall Kolibri 60 mass 1,6 kg is designed specifically for the potential military market. EMT Penzberg Fancopter weighing 1,5 kg is unusual in that it has two coaxial screws.
Italy has kept the traditional helicopter scheme in the Ibis UAV from Oto Melara weighing 14 kg. He can recharge his battery when landing on the Praetor UGV (automatic ground vehicle) of the same company. Asio weighing 6,5 kg and Spyball weighing 2 kg from Selex Galileo are in fact unique in that they are electrically driven vertical take-off devices in the ring fairing.
Polish Tarkus weighing 2,0 kg from WB Electronics is being developed for special operations in urban areas. At Idef 2011, the Turkish company Atlantis UVS showed its Aero Seeker AES-405 quadrocopter. It is reported that a mini-helicopter mass 12 kg Malazgirt from Baykar-Makina is already in service.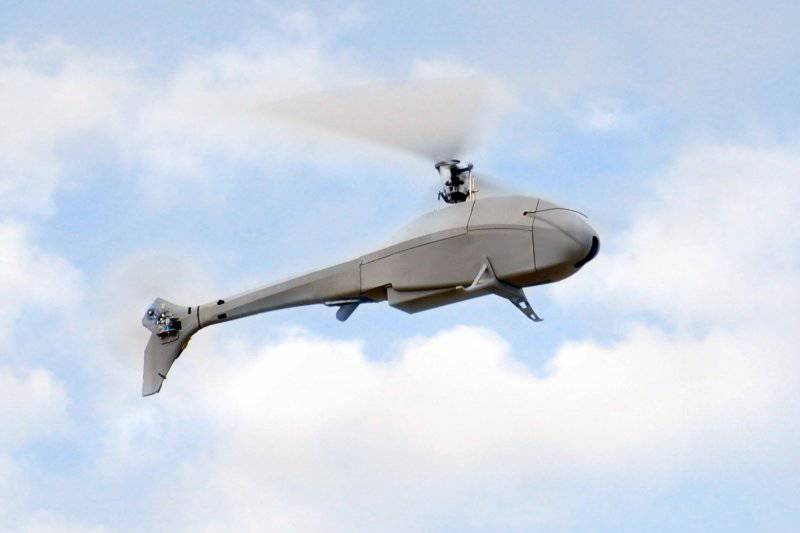 In August, 2011, Insitu announced its 1,1-kg Inceptor drone at an air force-to-law enforcement conference in New Orleans. It costs about 50 000 dollars, that is the same amount as a regular police patrol car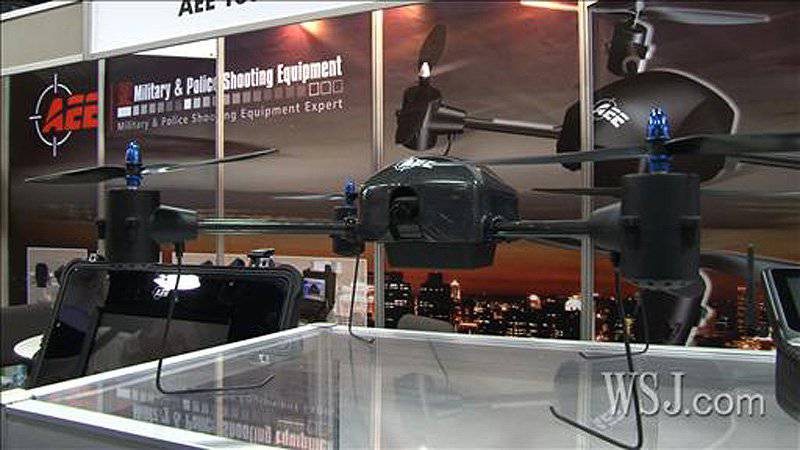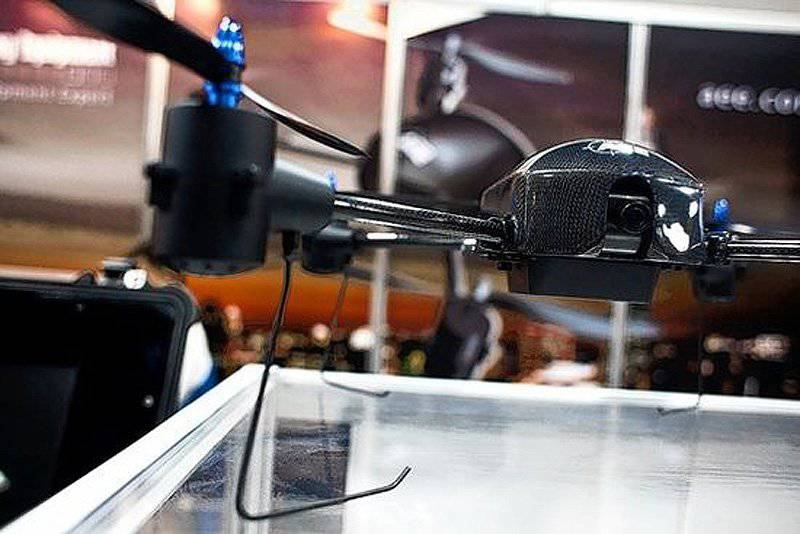 For the first time on the international stage, the Chinese 2011-kg drone Shenzhen from AEE Technology F1,5 debuted at the AUVSI 50 conference in Washington, which has a flight time of 30 minutes and a maximum speed of 100 km / h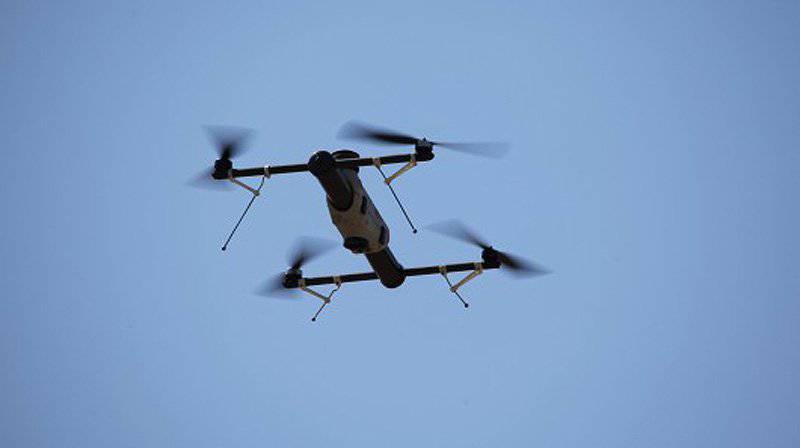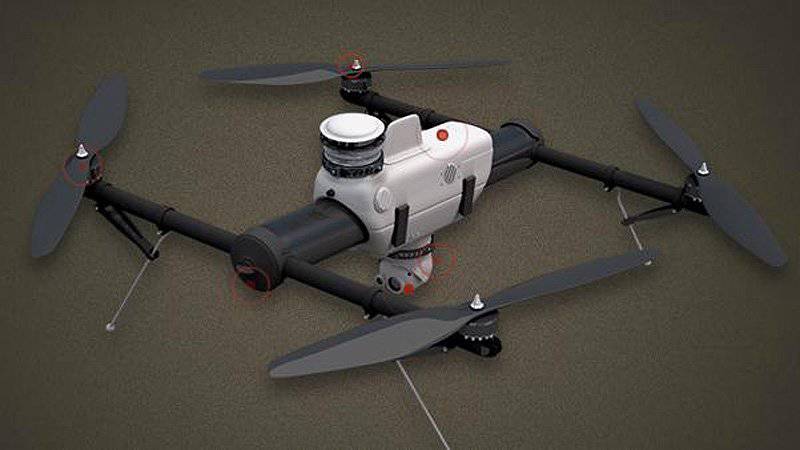 The photo shows the result of four years of research under the invisible ongoing monitoring program (SP2S), conducted under the auspices of the Darpa administration. Shrike UAV from Aerovironment weight 2,27 kg can hang on 40 minutes or shoot a few hours of video
USA
Under the Darpa control program called Nav (Nano Air Vehicle), Aerovironment has developed miniature drones that can hover and fly using flapping wings for lifting, translational movement and flight control. A truly wonderful Aerovironment Hummingbird weighs just 19 grams with a video camera and transmitter / receiver.
The US Army Laboratory is leading a consortium of Mast (Micro Autonomous Systems and Technology) to develop platforms and avionics for UAVs that could land and monitor, install sensors on the ground, and search for buildings and caves of people and explosive devices.
Insitu recently launched a Boeing division of the 1,1-kg Inceptor, which is a traditional helicopter with a flight duration of 20 minutes and a maximum speed of 55 km / h.
Perhaps the most famous quadcopter in the Americas is the 1,17-kg Scout from Datron / Aeryon Labs, which participated in the maritime part of the Empire Challenge 2011 in North Carolina. At present, this improved design is distinguished by easily interchangeable snap-on components and blades of screws from a composite material, and recently this drone has appeared on all the headings (see the first photo). Scout was also used by the Libyan rebels in their fight against the Gaddafi regime.
Tialinx specializes in the development of multi-rotor drones with ultra-wideband miniature radars, its products include six-rotor Phoenix40-A and eight-rotor (four axes) Phoenix50-H, both weighing less than 4,5 kg.
In July, 2011, the American Advanced Research Agency IARPA announced a conference of applicants for the GHO program (Great Horned Owl). The goal of this program is to develop quiet drones with a longer flight time than small battery pack systems.
The rest of the world
Small vertical take-off drones are developed in various countries: Brazil has 1,5-kg Gyrofly Gyro 500, Canada has a series of Draganfly Innovations Draganflyer, China has a Dragonfly from China Electronic Trading, Israel 4,0-kg Ghost 44 from IAI, Russia 1,5-kg six-rotor Zala Aero 421-21 and Taiwan has an 1,45-kg six-gang Yu AI AI Rider. Technological Research Institute of the Japanese Ministry of Defense is working on a "flying ball" (the rotors in the body).
The Israelis most succeeded in creating military UAVs of various types, from surveillance drones to attack drones. Israeli shock drone programs have sufficient government and financial support. The correspondent of the international Internet portal VICE.com, Simon Ostrowski, visited the Israeli airbase, where the latest local UAVs are being tested ...
Perhaps worthy of attention from the whole range of drones "the rest of the world" a series of Canadian Draganflyer, which has been sold all over the world 8000 pieces. After a four-rotor X4 980 mass of grams and a six-rotor (on three axes) X6 mass of 1,5-kg, at the top of the model range is the 2,7-kg Draganflyer X8, whose load capacity is one kilogram, it has an 14,8-volt battery and 5200 mAch. eight engines, eight rotors (on the 4 axles).
A drone that can quietly hang and look for a whole hour into the window of the Oval Office, and which is controlled outside the line of sight, while it is a matter of the future. But, ultimately, anyone can have a drone that will take off vertically, be monitored for height by a simple barometric altimeter, and carry the camera along a multipoint route determined by GPS. Similar UAVs are offered not only in regular stores, but also on the Internet at reasonable prices. Just check the rules of flight regulation of air models in your country!
Materials used:
www.armada.ch
www.darpa.mil
www.wb.com.pl
www.selexgalileo.com
www.enac.fr
www.iai.co.il
www.avinc.com
www.diehl.com
www.boeing.com
www.draganfly.com