Pentagon spokesman Stephen Warren said the United States had transferred three radars to Ukraine, which are effective in detecting mortar calculations. This transfer took place in the framework of a special program to support the army of Ukraine, which is implemented by the US military. Pentagon representative quoted
RIA News
:
With the receipt of these systems, the Ukrainian armed forces will receive the necessary development.
It is reported that the Pentagon's support program for the Ukrainian army is estimated at 118 million dollars. Under this program, 20 radar systems will be sent to Kiev, which can be used both in a static and in a dynamic state.
On the eve, Washington has once again declared that it will support the Ukrainian army with exceptionally non-lethal weapons, which also include antimino radars.
Finally, the deputies sent to the USA (Birch, Teteruk, Semenchenko) met with their aged idol, John McCain. On this occasion, Semenchenko, clearly pleased with the appearance of a photograph of old Joe, writes on his Facebook page:
The main thing is that now there is a war for the independence of Ukraine. The same as in the 18 century was in the United States. And it binds us (...) The ice is broken. And in this there is an enormous merit of all the friends of Ukraine in the USA, those who share the idea of ​​a "warrior-citizen", feels that we are "of one blood", and made every effort for Ukraine to cease to be "distant Mars" for the USA, and acquired recognizable and understandable human features.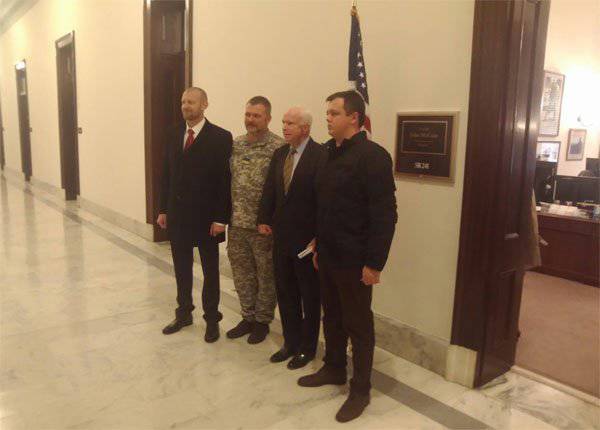 Well, the "friends of Ukraine" proved to be in the United States. American "friends of Libya" - were there, and where is Libya now? "Friends of Syria" from the USA were also, and what is Syria now? Then came the new turn - "friends of Ukraine." Now for the United States, Ukraine will definitely acquire "recognizable features" - a mirror image of the Libyan and Syrian scenarios thanks to the "friends of Ukraine" in the United States and around the world will already know ...