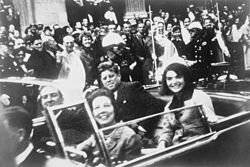 The somewhat hasty departure of our president from Australia has caused a lot of misunderstandings and discussions. There was even a suggestion that in this way our special services tried to protect him from a possible assassination. Is it worth it to fear? Looking carefully
history
American special services, you can immediately give yourself the answer - it is worth.
And let us drop the mass, in my opinion, far beyond the one hundred, of the attempted murder of Commander Fidel, about "accidental" air and car accidents, as a result of which disagreeable US political leaders died. Recall only one "mysterious" case.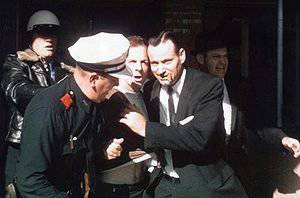 On Friday 22 November 1963 of the year in Dallas (Texas) on 12: 30 local time, the thirty-fifth US President John F. Kennedy was killed. He was killed by a couple of professional shots while he and his wife, Jacqueline, rode in the presidential motorcade along Elm Street. The killer was caught almost immediately, it turned out to be Lee Harvey Oswald. Former US Marine, a left-wing man and, in the best tradition of spy novels, lived in the USSR for a couple of years, where he managed to marry a Russian girl. The set is complete. But the trouble is: many experts, evaluating this incident, say that Oswald's fault is not so categorical, most likely someone helped him a lot. And then this someone did everything to Oswald silenced. In general, Oswald was initially arrested for killing a police officer approximately 40 minutes after Kennedy was shot dead.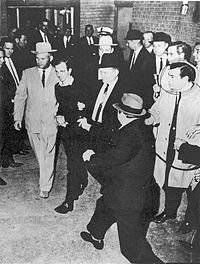 Suspect also in the Kennedy assassination, Oswald denied involvement in both murders. Two days later, during a transfer from the police department to the county jail, Oswald was shot dead by the owner of a nightclub, Jack Ruby (Jack Leoin Rubinstein).
This murder was even shown live. But nothing prevented Oswald from being found guilty of these murders and the attempted murder of Texas governor Connally, who was wounded. And the oddities do not end there. Fully the impression that some very strong organization continued to "cover up their tracks." Jack Ruby died of a pulmonary embolus secondary to lung cancer, 3 January 1967 at the same hospital where Oswald died and where President Kennedy was declared dead after his murder.
Agree, very many oddities. And they do not end. Case file must be disclosed in 2017 year. But again, "but", moreover, there is already information that they are already incomplete, some of them have been destroyed. According to the testament of the President's wife, Jacqueline, all her testimony and materials will be made publicly available no earlier than 2040. So everyone draws conclusions himself.