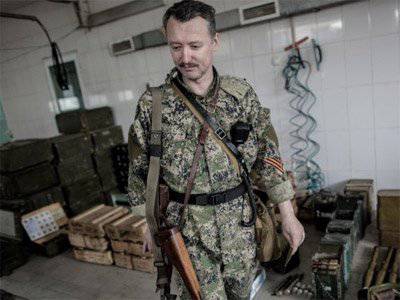 Alexander PROKHANOV. Igor Ivanovich, I visited Novorossia the other day. And, returning, he began to consider what kind of war I witness. Turns out to be the sixteenth. Starting from Damansky, Dzhalanashkol, Afghanistan ... Donetsk, Lugansk - the sixteenth campaign. And each of these wars does not even have its own face (and it's like a person — every war). And this is some kind of substance that has its own subjectivity, its own fate, its own development, its memory. Do you feel that the war has any features that go beyond the technology of war? How would you describe the Donetsk war in its phases, stages, experiences?Igor SHOOTERS
. This is my fifth war. There were two Chechen, Transnistria and Bosnia. I want to emphasize its similarity - scenic similarity - with the Bosnian war. The beginning of the Bosnian war is very similar to what is happening in New Russia. When Yugoslavia collapsed and the parade of sovereignties of the Serbian republics began, several regions did not want to go to the Muslim Croatian Federation and raised a rebellion. These republics are Bosnian Muslims, Croats suppressed by armed force. And so, then the Yugoslav people's army came to their aid, but was stopped near Sarajevo, near Vukovar, near Dubrovnik. They stopped not because they met serious resistance, but because it could have caused direct intervention by NATO. The army was withdrawn and abandoned its weapons to the Serbs. Now the situation is very similar. And God forbid that it ended the same way. Because when the YUNA came out, the Serbs could not organize. Then there was a very long, exhausting war. And then it quickly ended - the Croats defeated everyone in turn.
Alexander PROKHANOV. But there is a factor of violence. NATO troops and contingents began bombing ... And how did this war develop in phases? Igor SHOOTERS
. At first, no one wanted to fight. The first two weeks were held under the banner of the fact that both sides wanted to convince each other. The first days in Slavyansk and we, and they very carefully approached the application
weapons
. The first clash was with the SBU, who tried to clear us, but were ambushed. Not even an ambush, but a head-on collision for which they were not ready. They suffered losses and cleaned up. After that, peace came. The Ukrainian side began to set up roadblocks, an airmobile 25 brigade appeared in our vicinity. But she was not eager to fight. We managed to disarm first the reconnaissance platoon, then the convoy. This was precisely disarmament - under the barrels of machine guns, under the threat of burning machinery, they did not dare to engage in combat and were disarmed by us.
But still, for a long time we did not touch their roadblocks, and they did not show aggression. These are the first steps.
Then, "Right Sector" began to throw sabotage groups towards us - skirmishes began. There was still no National Guard - only the "Right Sector". The Ukrainian side behaved very carefully, step by step probed how Russia would behave. The first month there was no shelling of the city. The first shelling of Slavyansk - at the end of May. Before that they fired at villages, but Slavyansk did not touch. But as they understood that Russia would not react, the shelling became more and more powerful, the actions of armored vehicles and
aviation
- more and more massive. In early June, they finally became convinced that Russia would not directly intervene, and set off in all serious ways. The first massive attack on Slavyansk was on the second of May. The next - using all forces and weapons - armored vehicles and
tanks
- they spent June 3. Between these attacks were battles, local skirmishes.
June and July were the hardest. If in April-May everything went on ascending, that is, the territory of the uprising was expanding, we gradually put the settlements of the Donetsk Republic under control, spread the movement, then in June we began to retreat. We began to press out from all sides, the enemy forces were colossally superior in all respects. And the enemy began to appear motivation to combat. Began to work propaganda. And the further, the more this motivation increased.
National Guard battalions began to arrive on the battlefield. They were initially motivated: they considered the enemy, that is, us, as Moscow mercenaries. They were sure. that we are all sent from Russia. And the fact that in Slavyansk 90% we were local, from Donbas, did not even want to believe.
In June-July, when there was extremely little help, the enemy drove a huge force. In general, the increase of forces was incomparable. For example, 40 volunteers came to us during this time, and 80 machines came to the enemy. What is in them - another question. But in each car - at least a person.
In August - at the peak of the crisis - we fought in conditions of almost agony. They just frantically patched the holes, stopped some breakthroughs. We were in full operational environment. And they could not break through. In addition, we have already started, as a classic boiler, cut into smaller boilers. Gradually cut off Gorlovka ...
Alexander PROKHANOV. Are you talking about the phase when you left Slavyansk for Donetsk?Igor SHOOTERS.
Yes. In that phase there were also two parts. When we left Slavyansk to Donetsk, it was a phase of complete confusion on the Ukrainian side. They had a full script, but we didn't fit in and mixed everything up to them. And suspiciously smoothly everything went with them in this scenario. Very suspicious.
As for the situation with Slavyansk ... After the Ukrainian side had broken through the front near Yampol, we were already hanging by a thread, it was impossible to plug the hole between me and Brain, for this there was not enough strength - at least a brigade was needed. And we did not have a reserve.
And when they took Nikolaevka, we had no chance. There would be a chance if we were massively supplied with equipment and weapons. I had three tanks, one of them was completely defective, he did not shoot a single shot. Only two tanks were combat-ready. With their help, we defeated one checkpoint. But immediately after the defeat of this roadblock, the enemy at all roadblocks put up four tanks. In Slavyansk ukrov had seven blocks, and on each - four tanks. Any ukrov block by technical armament and in numbers was stronger than the entire Slavic garrison. At the end of the siege, I had 9 armored units, including these two tanks, and the enemy on each block had seven to eight units, including four tanks. And I had an alternative: either sit in a complete siege without supplies, or go out. Prior to this, the supply of field roads passed. And when the enemy took Nikolayevka, we had only one field road left, but they also cut her off: if we were breaking down this road at night, then already during the day they had a fast.
So, the options. Sit down. I would have enough ammunition for small arms for good fights for two days. At medium intensity - for a week. After the battles near Nikolayevka, I had 8 mortars on mines for 57 — less than mines per mortar for 10. Everything else was lacking: there was a lack of ammunition for heavy weapons, the worst of all was with anti-tank weapons. The battles were serious, spent a lot, but there was no replenishment. It was all July 5. "Vacationers" arrived in 40 days. We would not have lasted until their arrival. We would not have enough food. And most importantly, the Ukrainian army did not go to contact battles. When we ourselves imposed a contact fight, they had losses. And since the times of Yampol they have taken tactics: advancing from the line to the line, they threw forward only armored vehicles without infantry. In front of the armored vehicles went firing shaft. If the armor encountered resistance, it retreated. Again the firing shaft. Then again, armored vehicles. Again the shaft of fire - and again the technique.
As a result, they began methodically destroying Nikolaevka. Strike blows "hurricanes", "Grad", heavy artillery. Nobody expected such a massive shelling. Some of the five-story buildings in the city simply formed. We don't even know the real losses of the civilian population - they are huge.
After that, the enemy simply walked around Nikolaevka, and I had to withdraw the remnants of the garrison. It was clear that the same thing would happen again in Slavyansk - already without any pity they smashed it. But I could not answer them, because there were no shells. They would fence us with barbed wire, lay over mines, as they did to others, by taking them into a ring. And they would wait when we either die of hunger or climb a breakthrough. And a breakthrough in such conditions would be accompanied by huge losses, and it is not known whether it would have been successful or not. But in Slavyansk there was the core of our brigade - one and a half thousand people, of which more than a thousand were fighters. There were about 400 fighters in Kramatorsk, a little more than a hundred in Konstantinovka, fifty in Druzhkovka, small garrisons in other directions for 20-30-50 people. And I knew that no one would break through to me from the outside. Neither the "Oplot" or the "East" did not obey me. Bezler, who was based in Gorlovka, at that time had about 350-400 people. If I could not break the ring with my one and a half thousand, then he certainly could not. It turned out: if I stay under siege, then after some time ukry will overlap me, after that they will begin to take the town point by point. What, in fact, began: I did not have time to get out, they already captured Artyomovsk, where they had their own man. And in one day Artemovsk was completely cleared.
At the moment when they were leaving Slavyansk, a second entourage was already planned with the cutting off completely of Kramatorsk, Druzhkovka, Konstantinovka. This is a word about why I, having left Slavyansk, did not defend myself in Kramatorsk: there was no ammunition there either.
Given the deep breakthrough of the enemy to Artyomovsk (he had already reached Gorlovka practically, he was in our deep rear), it did not make sense to cling to Kramatorsk. We would have won for another three or four days, but as a result we would still go out. Any breakthrough, especially unorganized, is accompanied by losses.
Despite the fact that we were leaving Slavyansk in a very organized manner, the whole of our armored group was lost. Tragic accident. Together with the artillery, they had to divert attention from the spot by fire from the outskirts of Slavyansk. Then, letting all the car columns pass by itself, leave as the last - closing column. But then the human factor worked, and the armored group went on a direct breakthrough.
In order not to create a flea market, we were all divided into six columns. Each column had to go out at intervals of half an hour. I made a serious mistake that I left with the second column, but did not stay to the end. I had my reasons: in Kramatorsk I immediately deployed headquarters. But it was necessary, of course, to go out last.
It would not have happened if I myself was present on the spot. And so you can say in my address that I lost my temper, hurried to jump out.
In general, our losses could be much greater. But the Ukrainian side at night never loved to fight, so we brought out the artillery completely, as well as 90% infantry units and rear.
We had 11 mortars in the ranks and two Nona were on the move. The famous "Nona" had to be left, because she, although she had never been covered with her ukry, was all in fragments. Due to wear, she got the chassis. All the time she was dragged back and forth, towards the end, and the gun went out of her system. As the fighters of the Ukrainian divisions who came to us joked, she hadn't shot as much in her life as in Slavyansk.
So - the armored group went directly, and it was all burned. Blocked the road. The first tank hit the mines, the second tried to go around - fell into a ravine. And the others were shot with grenade launchers. Some people survived - jumped out, broke through.
If at least the equipment came out - it would be possible to act somehow, but all the armor was burned. In Kramatorsk, I had three infantry fighting vehicles and two armored personnel carriers. This is too little - two battalion mechanized tactical groups and a tank battalion opposed us.
And if we could act in the building, then we could not resist the enemy in the open.
In Yampol, our fortified area was broken in one day, despite the fact that we dug in there, there were firing points, dugouts. We have a shortage of anti-tank weapons - there was not a single anti-tank gun. Had then at least one anti-tank gun, at least one "Rapier", they would not have broken through our defenses, despite all the artillery barrage. But with some "neotkatkami" we could not fight. I understood that taking a fight in an open area would only lose people.

Alexander PROKHANOV. You said that for the enemy your way out of Slavyansk was completely unexpected.Igor SHOOTERS
. Yes, he discouraged them. After all, I had a categorical order - not to pass Slavyansk. And when I announced that I intend to go out, I repeatedly repeated the order not to go out, to defend Slavyansk to the last. "You will be deblocked, defend Slavyansk." I ask: "How can you help?" Silence. And I have a thousand people and thousands of their family members. I had no right to put them. Therefore, I decided to break through.
Here's another moment. When I was in Crimea during the Crimean events, I visited the 35 battery. The most powerful impression made on me. Chaly is just great, he restored almost everything on his own. No less impressed by the fact that all the commanders of the Ukrainian Sevastopol defense: all admirals, generals, and pilots fled. The commanders of the regiments and battalions left for themselves. Those died along with the soldiers. And when I was in Slavyansk, I decided: either I would not go out at all, or I would go out with the whole garrison. I made the decision to go out and consider it right.
I am deeply convinced that if we had not left Slavyansk, we would not have kept Donetsk either. When we entered Donetsk - everything was wonderful there. The mayor of Kiev was sitting, the Department of Internal Affairs was still subordinate to Kiev - a classic dual power. The city was absolutely not prepared for defense. The roadblocks are not well equipped, the roads are not blocked, they could have entered as they please. And there were very few forces there, they were fragmented, scattered, no one obeyed anyone: the Russian Orthodox Army was a separate unit, the Vostok battalion was separate, and Oplot was a separate unit. Each unit defended its area, there was no unified management.
The problem was not even in this, but in the fact that Donetsk was almost captured from the south, the enemy occupied Amvrosiyivka. In principle, he has already cut us off the border. DNR was completely under the control of the enemy. And most of the LC was under the control of the enemy. There was only one point - Izvarino, where one of my mouth went from Kramatorsk, and they significantly strengthened the defense there.
And just as a result, Donetsk would be cut off from Shakhtyorsk in general, from the Taraevsky-Shakhtyorsk-Anthracite agglomeration. There were only a few not very powerful roadblocks on the road and Saur-Tomb. And between them there were huge holes where one could enter. Ilovaisk was empty - there was no garrison. Ospino had no garrison or roadblocks.
Arriving in Donetsk, I left in the city only the headquarters, the commandant company. One battalion threw in the Petrovsky district - this is the south-western tip, which was empty. The remaining forces, both of Kramatorsk and Slavyansk, were consolidated into a brigade, divided into three battalions and a reconnaissance battalion. They were immediately thrown at Ilovaisk, Ospino. And I formed the front line.
Alexander PROKHANOV. From your parts?Igor SHOOTERS
. It is from its parts. Because the "East" did not obey me. On personal contacts, it was possible to establish interaction with them. They defended the Yasinovataya district, the Avdeevka, Peskov, Karlovka area. At Karlovka, the hodgepodge was: first there were Bezler's people. Then they left, I had to send mine there. Then I ordered to depart, to break out from there, because they were cut off from us, there was no point in surrounding two companies to lose.
If we had not formed this southern face, I think that everything would have ended very quickly. If we had stayed in Slavyansk, then in a week, a maximum of two, Donetsk would have fallen. And when we got out, we kept Donetsk for forty days before the arrival of the "vacationers". Although the last days were just desperate. When we left Donetsk, we struck corridors to Russia in the area of ​​Marinka, Kozhevino, Brovki. At the same time they broke through the supply corridors and cut off the entire enemy force in Yakovo.
We held the corridor with very large losses, the color of the Third Assault Battalion died in these battles. When we were breaking through the corridor, in battles near Marinka, 120 lost people killed and wounded in two days - mostly from artillery fire, from air strikes. There were more than 30 killed. For me, this is a huge loss.
And at the time of the "vacationers" breakthrough, my CEP battalion was cut into two parts: a part was defended in Snow, and a part, together with the intelligence unit, was pressed to the border, cut off.
In addition, I constantly had to shoot companies from Donetsk, to throw at other sites. For example, first I had to throw a company of miners and an anti-tank platoon into Debaltseve. Then it had to do the same with the Red Ray. Then fights began near Ilovaisk. At the time of the breakthrough, we were so taken away that I and the military police went into battle - I fought in Shakhtyorsk. In Donetsk, from our Slavic brigade, practically only one battalion of two companies remained, which covered the Petrovsky district. Kamensk battalion, too, almost all left Donetsk. And the rear left: the supply, the commandant's company, which mainly consisted of old men and untrained ones, whose combat value could only be in the city in street fighting, and not in active hostilities.
Some reserves were at "Oplot" and "East", but "Oplot" I obeyed in part, "Vostok" did not obey at all. They blame me for not bringing order there. But I had a simple choice when I came from Slavyansk: either to urgently form a front against the enemy, or to make a coup. But Donetsk at that time was a completely peaceful city. The people were sunbathing, swimming, the athletes were training, the people in the cafe were drinking coffee. As in Moscow in the summer, it was in Donetsk. And nobody would understand me. Although my soldiers were eager to arrest and disperse all these rear men. But I understood: it is worth deploying a civil war - it is here that all of us will slam! I decided that a thin world is better than a good war, and deliberately walked away from it.
Alexander PROKHANOV. Were in this critical situation intentions to leave Donetsk, were the forces unequal again?Igor SHOOTERS.
But they accuse me that I wanted to leave Donetsk. I tell you honestly: at some point I stopped believing that help from Russia would come at all. Just stopped believing! And no one could guarantee it to me.
The critical moment for me, as commander, was during the breakthrough in Shakhtersk. When they drove us out of Debaltseve, and simply the reinforced column of the 25 of the Ukrainian brigade went to Shakhtyorsk, entered the city. When they occupied Debaltseve, I already understood that they would make the next breakthrough at Shakhtyorsk. I removed from the front, that is, isolated from the other battalions, two companies. And they were already loading. And at the moment when the enemy entered Shakhtyorsk, one of my companies was moving there, and the other was on the move to move there. Accordingly, immediately after this I took down two more companies, then another, sent the "Oplot" armored group there, that is, I created a group. At the same time I was exactly Donetsk. Because I was sure that if the enemy was going to Donetsk, then we would somehow keep him on the streets, and to surrender Shakhtyorsk meant completely losing everything.
Since we had a semi-partisan army, we were loading for a long time. Moved too long. All the militia-family, they were taken out of Slavyansk. And we only partially managed to preempt them. One company still entered Shakhtersk and did not let him take over. But ukry cut the road between Shakhtyorsk and Torez. Then they were knocked out of this road with difficulty.
Fights were a whole week, commanded by the King - Kononov. That's why I supported his candidacy for the post of Minister of Defense - he showed himself very well as a battalion commander. He had a reinforced battalion. Four Slavic companies, my company of the military police, the armies of the "Oplot", batteries ... All of these, he maneuvered normally. He knocked out the 25 brigade, defeated it with rather small losses on its part.
At the moment when the enemy cut the road between Shakhtyorsk and Terez, I had a psychological crisis, I began to think about what to do, I thought to move the headquarters to Shakhtyorsk or Snezhnoye and prepare the evacuation of Donetsk. Because I understood: if there is no help, then at least it is necessary to save people.
Alexander PROKHANOV. You should not characterize this moment as a psychological break. I closely followed the processes, the dynamics of your speeches and, perhaps, the dynamics of your fate. And I think that you did everything right. Everything was done right! Based on the real balance of power, otherwise you could not do. On the other hand, everything you did was a messianic feat. Igor SHOOTERS.
Why do I say that there was a break? Because at that moment I ordered to prepare the headquarters for clotting, to load all the staff officers. People did not discuss my orders because they believed me. And I myself went forward to Shakhtersk. But at that moment the road was cut. I spent the whole day there, talked with the fighters, looked. During the day, I practically did not control the miner's brigade, I saw that the Tsar did a good job and did not want to interfere in the actions of the commander. By the evening, after talking with people, I decided not to leave Donetsk, although before that I had planned not to leave Donetsk first, but Gorlovka. And at the expense of the Gorlovsky garrison, cover the northern front of Donetsk and the line to Shakhtersk. Because we have formed there a huge, uncovered hole. But here the fact that the Boatswain stood in Gorlovka, and he defended Gorlovka, played another role. The boatswain acted absolutely correctly: he did not obey my order to prepare the evacuation. And the next day this order was canceled by itself. I understood: in the situation that has developed, we will not be able to withdraw troops from Donetsk or from Gorlovka in an organized manner. We cut off the last road, and the field roads are very uncomfortable. I personally presented the evacuation of Donetsk and Gorlovka - columns of refugees, shot on the roads from all sides. I realized that it is better to accept the battle in Donetsk than all these breakthroughs. In the evening I returned to Donetsk and, despite the gravity of the situation, I did not plan to transfer the headquarters, nothing.
This I answered the question whether there was a plan for putting Donetsk. There was a plan not to surrender Donetsk, but an intention as an option of leaving Donetsk in order to withdraw and rescue people, forces and means.
Alexander PROKHANOV. The alignment of the front and the throw to Mariupol were all just "vacationers" doing, or did the militia also participate?Igor SHOOTERS.
Separate militia units were subordinate to them. But mainly holiday-makers attacked Mariupol. When they were gone, the front line and possibilities remained unsteady.
Firstly, Mariupol was empty, there was no Ukrainian military for two days, it was possible to take it without a fight. But there was an order not to occupy. Not just an order to stop, but an order in no way to take. It was also possible to take Volnovakha.
Why I say that the events are similar to the events in the Extreme: there the Yugoslav People's Army stopped just a step before the decisive victory.
Alexander PROKHANOV. Igor Ivanovich, how did you even dive into this war? Igor SHOOTERS
. I was an advisor to Aksyonov in the Crimea. He is a man of great charisma, intelligent, competent, sensible, talented. I commanded the only unit of the Crimean militia: a special-purpose company that performed combat missions. But after the battle for the cartographic part, when two died (and I commanded this battle), the company was disbanded, the people dispersed.
When events occurred in the Crimea, it was clear that the case with the Crimea alone would not end. Crimea as part of Novorossia is a colossal acquisition, a diamond in the crown of the Russian Empire. And one Crimea, cut off by isthmuses by a hostile state, is not that.
When the Ukrainian government collapsed before our eyes, delegates from the regions of Novorossiya constantly arrived in the Crimea, who wanted to repeat what was in Crimea. There was a clear desire for all to continue the process. The delegates planned rebellions and asked for help. Aksyonov, since such a burden fell on him, he worked 20 hours a day, asked me to deal with the northern territories. And he made me an advisor on this issue. I began working with all delegates: from Odessa, from Nikolaev, from Kharkov, Lugansk, Donetsk. Everyone had complete confidence that if an uprising developed, Russia would come to the rescue. Therefore, I gathered the inaudible fighters of the company, recruited volunteers. Gathered 52 man.
Slavyansk came out quite by accident. We needed an average city. Human 52 is power in a more or less small settlement. And I was told that in Slavyansk the most powerful local asset. We evaluated this option as optimal.
Alexander PROKHANOV. How did your movement overgrow with people, divisions?Igor SHOOTERS.
When we arrived in Slavyansk, on the base we were met by a 150-200 man. And they participated in the storming of ATC with us. In the ATC there were a lot of weapons - under a hundred assault rifles and 100-150 pistols. People immediately armed. Part, however, was taken away.
The next day we took Kramatorsk: I sent a Cossack unit there - 30 people. And off we go. Then everything depended only on the availability of weapons. The first months of volunteers were many, but we had nothing to arm. When the fighting began, real blood poured, the number of volunteers decreased.
But still there were a lot of them. I was told the numbers: by the end of May, thousands of 28 volunteers had signed up in the Donetsk Republic. 28 thousand people really were waiting for a weapon. If even sweep away half: criminal elements, random, even half is 14 of thousands of people. If we had a weapon, then the situation would have evolved quite differently than it did. By the time I left Donetsk, we didn't have thousands of 10 under our guns. In the Slavic brigade, the lists were about 9 thousands. But of them combatants, that is, directly fighters, about 5 thousands. The rest are home workers, cooks, volunteers, supplies ...
Alexander PROKHANOV. When you fought in Slavyansk, were you only a military man or did you feel yourself a politician? People, turning to you, ask: "Who are you, Shooter?"Igor SHOOTERS.
Honestly, I was not going to in any way engage in politics, but even to shine. In Crimea, I also did a lot. Headquarters Negotiation
fleet
I started, went there alone, talked to the whole headquarters. But the fact is that I haven't lit up anywhere. Yes, somewhere in the photographs some colonel. I did not say that in stock or retired. To solve my tactical tasks, it was beneficial for everyone to consider me acting. At the same time, I never shouted that I was acting. Just said - Colonel. Think for yourself. Well, that's what they thought: some colonel. Several people knew that I was a retirement. And the rest thought they wanted to. Neither my last name nor my name was known.
I also planned to behave in Slavyansk. I was going to find a charismatic leader and assist as an adviser. The first time I did it. Therefore, Ponomarev flashed all the time. He is the people's mayor. was very active. Was useful in due time. Then everything went differently. And I did not find anyone who could be moved as a political leader.
And then the team just came to light up: Denis Pushilin would come, to fully support him. Although I burned all the bridges, there were no documents there, all the men left the documents when crossing the border, but this cut off the possibilities for retreat as such.
As soon as I was without a mask, without a "balaclava", I made a speech on TV with Pushilin, first, everyone understood who the Shooter was. Although, before that, they knew that I was really in command, the interception had already been published, was my photofit, but then they saw me with my own eyes. Immediately I was calculated, taken to an apartment in Moscow. I did not take this moment into account: I did not even have time to warn my relatives. I never introduced any relatives into the course: what am I, where, how. As a result, I suffered personal losses due to this flare, because I cannot live with myself, use my library. Not to mention how much my relatives experienced, who also learned about everything on TV. Throughout the war in Slavyansk I had a military dictatorship. And then I did not climb.
Alexander PROKHANOV. You consider that your experience is purely military, not political. You were the Minister of Defense, the brigade commander?Igor SHOOTERS.
There was a battalion in Slavyansk, there was no brigade. The first Slavic volunteer battalion. There was a banner, a standard. Before leaving Slavyansk, I actually did not exercise any influence over Donetsk as Minister of Defense. I gradually lined up the front. In reality, Brainstorm complied with me, I sometimes set tasks for him. In the line of command, he did not obey me, but in a tactical one. operational - obeyed. I viewed my front line along the Lysychansk-Krasny Liman line. The Slavyansk garrison submitted, Kramatorsk submitted, Druzhkovka — Konstantinovka. For a while Gorlovka submitted to me, Bezler, because I helped him, - he sent a detachment to clean up the city, without my squad he would not have taken control of him.
Alexander PROKHANOV. It seems to me that everything that happened then in Slavyansk and Donetsk with you is somehow connected with the restoration of the state. And you participated not only in the restoration of the military organization, but also in the state as a whole. That is, you had a consciously or unconsciously political role, you stand at the origins of the establishment of the state.Igor SHOOTERS.
At that moment, I perfectly understood that Donetsk and Lugansk alone would not be able to fight against ukrov. Moreover, in the absence of its own military industry, a capable government from the local ones. And initially I proceeded from the assumption that the Crimean variant would repeat - Russia would enter. It was the best option. And the population sought this. No one was going to speak for the Lugansk and Donetsk republics. All were originally - for Russia. And the referendum was carried out for Russia, and they went to fight for Russia. People wanted to join Russia. Russian flags were everywhere. I had a Russian flag on my headquarters and at all. And the population perceived us under the Russian flags. We thought: the Russian administration will come, the rear will be organized by Russia and there will be another republic within Russia. And I did not think about some kind of state construction. And then, when I realized that Russia would not take us to itself (I associated myself with the militia), for us this decision was a shock.
Alexander PROKHANOV. It is not final.Igor SHOOTERS.
We have nothing definitive, that's the thing. The war has been going on for half a year, and we still don't know: "food" Ukraine, not "food" Ukraine. What is more important for us: gas supplies or the Russian population in the South-East?
Alexander PROKHANOV. It would be desirable that both that, and that. But it does not work.Igor SHOOTERS
. And if not, then what is more important? They report to me that they bombed every day in Donetsk. Full hit lists are sent every day: wherever and where, what kind of projectile. Here, on the eve, from two nights to five in the morning they simply carried the city. Spread! One day, from early morning until late evening, they spread it. A little more - and turn into Stalingrad. And we will bargain a hundred for oil. And it turns out that in trade relations we cooperate with Ukraine, helping it survive, and at the front we fight.
Generally, if I was aiming to seize power in the DPR, I would be able to seize, no problem. When I came from Slavyansk to Donetsk, everyone was waiting for me to seize power. But I had the task of defending the republic, and not seizing power. I would love to go back there. And I think that I did everything right ...
Alexander PROKHANOV. I think so too.Igor SHOOTERS
. But the trigger of the war, I still pressed. If our squad had not crossed the border, in the end everything would have ended, as in Kharkov, as in Odessa. It would be a few dozen killed, burned, arrested. And that would be over. And practically the flywheel of the war, which is still going on, launched our squad. We mixed all the cards on the table. Everything! And from the very beginning we began to fight seriously: to destroy the Pravosek sabotage groups. And I am personally responsible for what happens there. For the fact that Donetsk is still under fire, I am responsible. For the fact that Slavyansk is left, of course, I am responsible. And for the fact that he is not released, I am also responsible.
But, since "in the absence of a stamp, we write in idle time," we are creating a movement to provide humanitarian support to the militia even so.
To say that we provide them, it is impossible. But we help really. Half of the army is wearing winter clothes that we have set for them. Our help goes to the troops. And only the Russian state is capable of providing humanitarian aid to the population. Only the state! From state reserves must be taken. With the money that we collect, we can help the militia, families, the wounded, but even that is not for everyone.
Alexander PROKHANOV. Looking back at your life, do you not think that all the fractures in your life, throws, wars are the result of some mysterious logic that is not even in your nature, but in fate?Igor SHOOTERS
. I am against any mysticism in this regard. I just think that in every situation it is necessary to act - it does not always work out, unfortunately, correctly: "Do what you must, and whether that will be."
Alexander PROKHANOV. But do the situations themselves arise by chance or logical?Igor SHOOTERS.
In the mess that was formed after the collapse of the Soviet Union, there can be anything. In war, you meet such people who have passed and experienced even more. I was at gunpoint cameras. But I met a huge number of people who deserve this much more. And past more, and more talented in many ways. I fought an officer who knows three languages, before Donetsk passed five wars. Absolutely unique fate. But for some inconsistencies, these people are under a bushel. Maybe their hour will come. This mysticism is a real coincidence.
Alexander PROKHANOV. But mysticism has its field. It exists somewhere, is realized somewhere. And it is realized not among the stars, but in human relationships. You do not try on a political caftan?Igor SHOOTERS.
They really want to try on this caftan on me. But honestly - I never liked the routine work. I am a scout, trooper, like Denis Davydov. He was always a regular service. Although he was promoted to the rank of general, he best of all showed himself as a partisan.
I am a breakthrough man, always going to the top. The greatest successes that I could do best were where I had to go first, break through, begin to build, and begin to build. Further others must come - to build. This is the first. And secondly, I do not have the necessary skills. If you go into politics, then I could show myself precisely at critical moments. Routine is contraindicated to me. I myself get bored, lose interest. Now we have a relatively stable situation. We have a policy built on the principle: put it on - welcome. There is a hook on you - it means that you can work with you. And an honest person has nothing to do in politics now. I hope something changes. Still, the war, it changes a lot.
Alexander PROKHANOV. In Russian stories the military were unsuccessful politicians. For some reason they did not know how to fit themselves into politics, even when they were military aristocrats. The unfortunate fate of the Decembrists. The military behaved strikingly in the last days of the Romanov Empire ...Igor SHOOTERS
. There was just treason.
Alexander PROKHANOV. So the military were engaged in politics - they gave power to Guchkov, Shulgin. And Tukhachevsky? I could not do anything. Zhukov was the master of the country, the power in his hands was absolute. He handed it to Khrushchev.
Igor SHOOTERS
. The military implicitly laid the function of subordination.
Alexander PROKHANOV. Only not Hispanic ...Igor SHOOTERS.
The Latin American military is mainly engaged in overthrowing each other. And they did not win world wars.
Alexander PROKHANOV. And the Turkish military? No, there are other military traditions. The Russian military always, after actually receiving power, gave to politicians, who then dealt with them.Igor SHOOTERS.
I am not entirely military in the classical sense. A command of this kind is rather random to me. I am a special service.
Alexander PROKHANOV. As a secret service, you have a chance to become a major politician. Igor SHOOTERS.
Politics now is the manipulation of elections. Lie from the screen, lie everywhere. The main quality of a politician is to spin like a weather vane. I do not know how to spin like a weather vane, and I don't want to be able to. I want to die an honest man. And I will not lie from the screen, no way. If I can't be honest, I'd better say nothing. I can get around some topics, nothing more. I will not lie directly. I don't want to.
There is no place for me in the modern political structure, I understand that perfectly.
Alexander PROKHANOV. Maybe not at the moment. But history is changeable, especially Russian history. It has a huge dynamic. I feel with my skin that they are temporary, this silence and truce are absolutely illusory. The most expensive person has is reputation. You have a huge reputation.Igor SHOOTERS.
She is now trying to drown.
Alexander PROKHANOV. Never mind. The train that is hung on you is ridiculous. Maybe you will be tempted, there will be magicians who will want to charm you. Wait for the pipe to blow again.
Igor SHOOTERS
. Hope to wait.
Alexander PROKHANOV. Jericho pipes are always ready, do not worry.Igor SHOOTERS.
The main thing is to not sounded copper.

Alexander PROKHANOV. Copper you have already passed, remained Jericho. Arrows took its place in Russian history. He did what he could do. And this, dear Igor Ivanovich, is a precious resource of our historical reality.