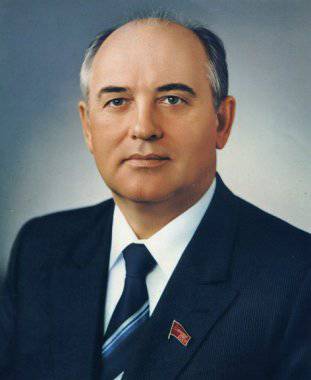 Not for nothing did they say in Russia since ancient times that everyone judges from his own bell tower. So Gorbachev's bell tower was too high, so high that he saw from there something that we didn't even guess. Saw and stunned.
I had the honor of personally seeing and listening to Mikhail Sergeyevich Gorbachev. He came to one of the Moscow stores to present his new book.
No matter how we treat this man, no matter what journalists or writers write about him, it is senseless and irresponsible to deny the fact that Mikhail Gorbachev entered the world
history
as one of the most influential political figures of the 20th century, as a man who made one-sixth of the earth free.
I foresee a flurry of questions from outraged readers and rhetorically questioning: free from whom and why? I answer briefly: from many years of hypocrisy!
Probably, every active user has met on the Web the following attacks against the Nobel Peace Prize winner, the first and last President of the USSR:
"... I don't care that the criminal who destroyed the country, condemned millions of people to death, to torment, suffering, humiliation, has not yet been punished for his deeds. He must bear criminal responsibility. He destroyed the lives of millions of people, and the best years of the lives of those people went in search of a piece of bread, to survive ... "
It is obvious that people who either do not know the history of our country or who do not want to be free can write such things. The thought involuntarily comes: when and in what country did people not get food and did not strive for survival?
As if up to Gorbachev, the Soviet people lay carelessly on the sofa and calmly sipped vodka. Or have we erased the civil war, famine and terror of the thirties, post-war ethnic and political cleansings, Nikita Sergeevich's corn jumps, Leonid Ilyich's self-graded rain, Andropov's cinema checkpoints from the history of our country? Does it all matter? Forgot? Have passed
Immediately make a reservation: the claims that I did not live in those times and have no right to express my opinion, I strongly reject. The counter question is: who lived under Lenin, under Catherine the Great, under Peter the Great, under Ivan the Terrible? What should we now sit and be silent - they say, did not live, sit and be silent?
I will say this: today we have phenomenal opportunities to study and restructure, and its consequences. I need to know this even by the nature of my activity, since I study at the Faculty of Political Science.
You can not judge a person who held the highest position in the state, superficially. To understand him, however, like the current president, you need, if not to sit in his chair, then at least stand side by side.
Not for nothing did they say in Russia since ancient times that everyone judges from his own bell tower. So Mikhail Gorbachev's bell tower was too high, so high that he saw from there something that we didn't even guess. Saw and stunned.
What kind of a criminal is this, if the head of state declared publicly: "People, let's speak the truth! We do not have enough publicity! We are lurking! "? Is this a crime? The offender thinks differently: that, on the contrary, it's easier to fish in troubled waters.
And here the person calls for transparency, truth and honesty. Eyewitnesses say that just under Mikhail Sergeyevich there was even more publicity than now. Perhaps it seems so now, but nevertheless many people, who were silent before perestroika, began to speak openly and call things by their proper names. But, you see, it costs a lot.
It's one thing when you condemn state policy in a whisper in the kitchen, and quite another when you can rise to the podium and criticize the authorities openly, without fear that they will come for you at night.
I read on the Internet reasoning on this topic and wonder how someone wants to return to old times. And tell me: for whom? For us, or what? But I assure you, young people do not need either the CPSU, or the Soviet government, or the ancient Egyptian building in Red Square.
Why do we need it? Do you want us to wear Oktyabryat stars from childhood, and then, having grown up a bit, marching in red ties? Do you want us, like you at one time, by hook or by crook, to join the Communist Party for promotion? Do you want us to read the newspaper "Pravda" and one and all voted "for"?
And if we talk about corruption today, then you definitely need to look back, further and further. Today's evil, which is eating away at our society, has old and deep roots. Everything that we see today was born long before Gorbachev.
And it was this man and the head of state who wanted to root out these roots, but he did not manage. It's a shame, of course! And plus to everything, nobody argues, there were mistakes. But, as you know, the one who does nothing is not mistaken. What now scold him?
He was a man of his era. He rose from the assistant to the combine to the president of a huge country. But it was not his fault that by the mid-eighties of the last century that country was rotten through and through. Gorbachev accomplished the feat. In fact, he is a Hero of both the Soviet Union and the Hero of Russia.
This man opened the window in our house and let in fresh air. But the trouble is - some people are accustomed to breathing the stench and do not want to breathe in fresh air. But this is not Gorbachev's fault.
But a sober-minded user writes in RuNet: "One person (even very clever) can never destroy a real country. By the year 1991, the USSR practically did not exist, it was destroyed by the half-crazed Kremlin elders, steeped in a stupid arms race, and low oil prices (provoked by the United States and Saudi Arabia). It was necessary to think a head in "fat 70-e."
Today it is easy for us to argue according to the principle "if it were yes," and Gorbachev was on the unbeaten road, leaving the country where they were imprisoned for business, into the open sea. In fact, he did not even imagine that he would come out of his publicity and perestroika. Let's at least now not fool ourselves. We were lucky. A completely different person could have come to power ...
So let's say thanks to Gorbachev, who did not demolish the temples and burn the icons, who did not strengthen the iron curtain and introduce new draconian laws, who did not rush to build a new GULAG, which suggested that we all just tell the truth and live not by lies.
Unfortunately, our truth was so heavy that even the Soviet foundation could not stand it, and in the end the whole building collapsed.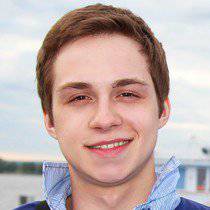 Born 15 August 1996. A student at Moscow State University (faculty of political science), chairman of the Moscow regional branch of the Youth Russian Society of Political Scientists, founder of the Living Hearts Foundation for the Blind People. For two years, he ran a blog on the Echo of Moscow radio website, ceased cooperation due to censorship. Since 2009, he has been writing books. Currently eight feature books have been published. He is a regular contributor to the Eksmo publishing house, where a special nominal series "Mikhail Samarsky. The best books for teens. The handbook of Michael is - "Experiments" by Michel Montaigne.