The Iranian edition of Mashregh News published information about the development of the new training aircraft Borhan, an aircraft manufacturer HESA, which looks like the Russian Yak-130. This is reported by the blog.
bmpd
.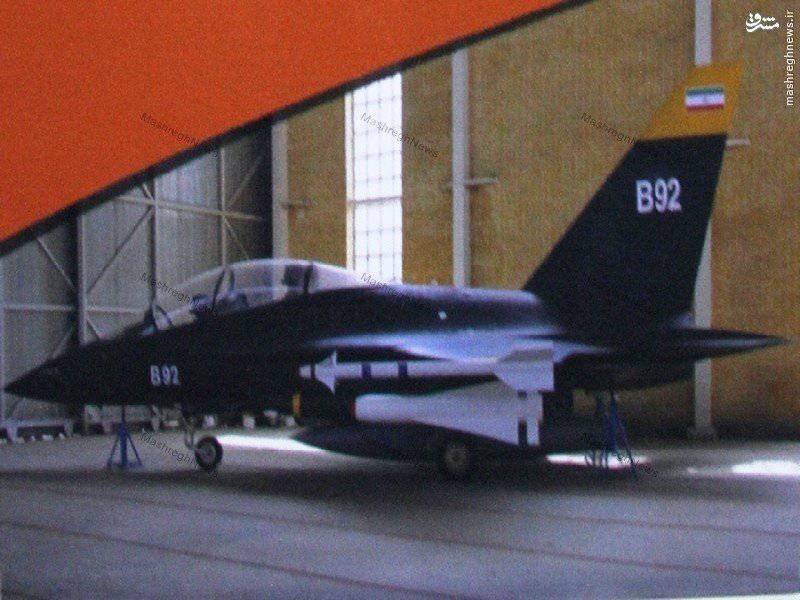 A full-size model of the Iranian Borhan combat training aircraft.
According to the publication, the aircraft "Borhan" is a further development of the Iranian project of a light combat and training-combat aircraft "Shafagh" (Twilight), developed at Tehran Aviation University since 2000, with the participation of the Russian ASB Design Bureau. Yakovlev and a group of Russian specialists headed by F. Mukhamedov (formerly head of the OKO Mikoyan branch established at the end of the 1980-s in Tajikistan) ".
"Shafagh" was based on the concept of the discoid wing developed by Mukhamedov, which in the USSR and then in Russia did not receive support. The designer proposed his idea to use in the development of new Russian aircraft "Vityaz-2000" and "Dawn". However, "according to some information, the blowdown did not reveal any serious advantages of his idea at the complexity of its implementation," the author writes. After that, Mukhamedov signed a contract with the Iranian side.
Experts point out that "Shafagh" was in fact the implementation of the Vityaz-2000 and was designed with the assistance of HESA as an advanced training aircraft with the option of a light tactical fighter. " It was supposed to be equipped with the Russian RD-5000 engine (the driveless version was proposed). The model of the aircraft was built in 2002, and promised to roll out a prototype to 2006. However, the Iranians, in the end, did not pull 2006 on. They froze.
The current "Borhan" represents processing "in the direction of the" conventional "aerodynamic configuration, with a moderately swept wing with overflows and one large vertical keel, which gives it a great resemblance to the Yak-130," the author points out. Whether the Russian specialists helped Iranian developers is unknown.
According to the Mashregh News publication, the aircraft will be equipped with one engine, a thrust near 15 kN. "Clearly not enough for such a machine," notes the "bmpd" blog. - Because of this, the maximum speed of the aircraft "Borhan" will be only 0,65M. The weight of an empty aircraft is indicated only in 2800 kg, the combat load is 1200 kg (all data looks doubtful). The stated flight range is 1800 km. "
"As in the case of other Iranian aviation projects, there are serious doubts about Iran's ability to bring the project of the Borhan aircraft to something really serial and combat-ready," the expert concludes.