Russian admiral: Sevastopol is our city, no matter what flags it hangs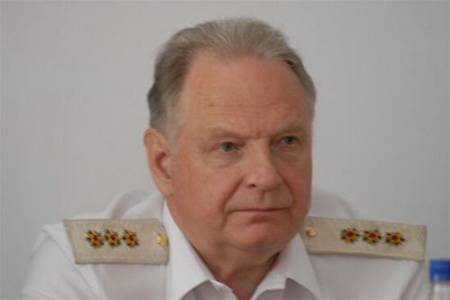 Admiral Igor Kasatonov called Sevastopol a Russian city, "whatever flags were hung in the city." He stated this, commenting on the events in Sevastopol related to the collapse of the USSR, as set forth in the book "Fleet Division" just published on the Black Sea Fleet.
As the admiral said, during the negotiations that began in 1991-1992, the political leaders of Ukraine, Estonia and Georgia humiliated the dignity of Russian military leaders in an offensive manner.
"The Ukrainian leadership in a rather offensive manner humiliates our Russian dignity. I mean the speeches of Kravchuk, Gamsakhurdia and the Estonian Prime Minister, with whom I negotiated about the prospects for the Tallinn base. It was a shame for us. And Sevastopol, and the Soviet people did not agree with what was happening then. We are still cheering for our fleet, for our Sevastopol! This is our land, and not someone else, no matter what flags were hung in the city! ", said Admiral Kasatonov tribunes of the marine library of the Black Sea Fleet of Russia.
According to the ex-commander of the Black Sea Fleet of Russia, known for his sharp anti-Ukrainian statements, "the entire current state system of Ukraine, including accomplices, is not positive both from the point of view of the past of Russia and Ukraine, and in the context of the general prospects of both states."
"Therefore, everything that affects the interests of Sevastopol and the Russian Black Sea Fleet, everything that relates to truth and historical truth, must be defended at any level, in any audience," noted Admiral Igor Kasatonov.
Regular statements by the adviser to the chief of the Russian General Staff were made after the press and media relations department of the Ukrainian Ministry of Defense issued a statement by Defense Minister Mikhail Yezhel, which states that "hydrographic lighthouses should be returned to Ukraine from rent by the Black Sea Fleet of the Russian Federation."
"When you enter the territorial waters of a state, it is this state that bears full responsibility for all activities. It is nonsense that such facilities are used by another state. Therefore, hydrographic facilities must belong to our state," the press service of the Ukrainian Ministry of Defense quotes the head of the military department. , adding that negotiations on this topic are within the competence of the Ministry of Foreign Affairs, and not the Ministry of Defense.
According to the decision of the Economic Court of Crimea of ​​2 in August, the lighthouses of the Black Sea Fleet of Russia should soon be withdrawn by Ukrainian bailiffs.
Ctrl Enter
Noticed a mistake Highlight text and press. Ctrl + Enter