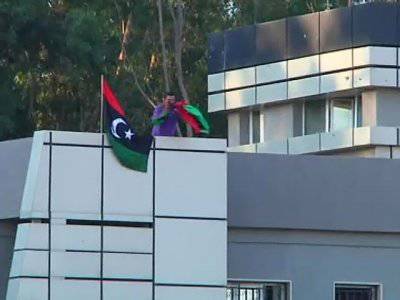 Libyan opposition forces are storming Tripoli at this moment. Most of the city is already in their hands. Militia supports
aviation
NATO. Now the fighting is going on for the residence of Muammar Gaddafi - there still remained soldiers loyal to the colonel. Western observers believe that everything will be decided in the coming hours.
According to recent reports, Tripoli fell. In the hands of the opposition forces is already 90 percent of the city. The fighting continues only in the area of ​​the residence of Colonel Gaddafi, but, according to the statements of the commanders of the National Transitional Council, victory is not far off - the units of the government forces are folding one after another
weapon
. CNN showed how in the Green Square of the city, where 40 had delivered its speeches to Gaddafi for years, his opponents had a celebration. The population of Tripoli, judging by the frames shown, is happy to meet oppositionists.
"Look how happy the people are, everyone is glad that we came and finally liberated the capital. Yesterday and today people died, I myself was hurt, but this is a victory, a victory!", Says one of them.
As reported by Reuters, the son and successor of Gaddafi Seif Al-Islam, along with the guards, surrendered. Negotiations are underway to transfer him to the International Criminal Court in The Hague. Another two sons - Muhammad and Saad Gaddafi - captured. The colonel loses his closest comrades - they scatter one by one and say that the regime of their former leader will fall very soon.
"Gaddafi will lose power very soon - in the coming week, or maybe even earlier. The military advantage is not on his side. He already has to hire teenagers, he pays for them, giving them used cars, they are handed Kalashnikov assault rifles, they train from strength ten days, and sent to fight the rebels. And then they die. "
In this case, the colonel flatly refuses to leave. According to some reports, he agrees to cease hostilities and sit down at the negotiating table. Both sides suffer very heavy losses, in the past 12 hours about a thousand and a half people have died, more than 5000 have been injured.
"Hospitals are overcrowded, there is not enough medicine. And we don't want to continue this massacre, but if the bombings are not stopped, thousands more soldiers are ready to fight.
Western military observers who work in the capital of Libya, say that in the coming hours the assault on the city will end in victory for the opposition. But if you believe the promises of those few who remained faithful to Gaddafi to the end, the bloodshed will not stop with the capture of Tripoli.