The rebels continued to attempt to capture Tripoli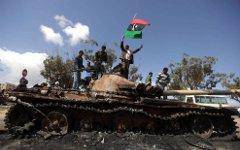 The forces of the Libyan rebels are moving to the capital Tripoli to repeat the attempt to capture the city.
According to Interfax, the opposition forces left the city 40 kilometers from the capital and are heading towards Tripoli, where they plan to reach darkness.
The rebels are fighting in 30 kilometers from the main line of defense forces Gaddafi. A detachment of opposition troops is fighting near the eastern part of the city of Az-Zawiya near the village of Jedim.
In addition, according to the portal Vesti.ru, with reference to the words of the official representative of the Libyan government, Musa Ibrahim, the government of Muammar Gaddafi offers peace to the rebels. Ibrahim also noted that if the conflict continues, the responsibility for it will be borne by NATO forces, which he calls to stop the bombing.
On the eve of August 20, the Libyan rebels had already attempted to capture a city that had been repulsed by government forces. In the battles, at least 31 soldiers of the Gaddafi army were killed, 42 soldier captured.
According to the opposition, the Gaddafi regime is close to completion. In turn, the head of the Jamahiriya, made an audio message in which he congratulated his supporters on the successful defense of the capital. In his speech, Gaddafi called on the people of Libya to "organize a millionth march" to liberate Libya from the rebels.
Unrest in Libya has been going on since February of this year, mass demonstrations of the opposition soon turned into an armed confrontation between rebels and supporters of the regime of Muammar Gaddafi. After the adoption of the UN Security Council resolution 19 in March, the operation of the coalition forces against Gaddafi began, which since March 31 is under the command of NATO.
Ctrl Enter
Noticed a mistake Highlight text and press. Ctrl + Enter