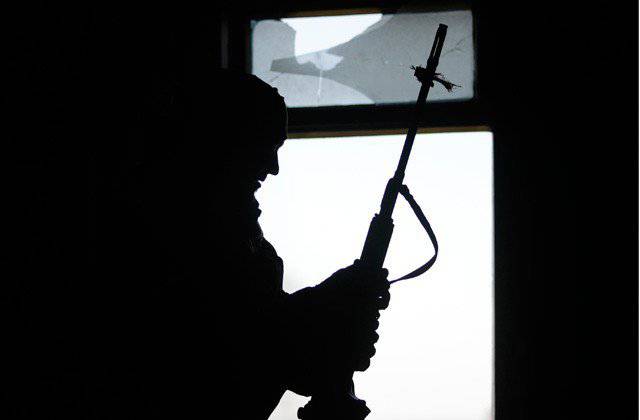 Belarusian, who went to war on Ukraine on the side of the DPR, told the Russian Planet why volunteers actually go to the Donbass
In early October, the chairman of the KGB of Belarus, Valery Vakulchik, speaking in the Belarusian parliament, warned: the participation of citizens in an armed conflict in Ukraine on either side is a criminal offense. "Of course, we have responsibility for mercenary. At the same time, it does not matter on which side these Belarusians are fighting. This is subject to our legislation. If such actions are identified and proved, a decision will be made, the head of the KGB said. "If there is such a criminal case, it will be known, the media will find out about it."
Belarusians who take part in hostilities in Ukraine may be brought to justice under Article 133 of the Criminal Code of the Republic of Belarus - "Mercenary". The article provides for imprisonment for a term of three to seven years. Those responsible for the recruitment of Belarusian citizens to participate in the opposition in Ukraine are subject to liability (Article 132 of the Criminal Code). The recruitment, training, financing, other material support and the use of mercenaries to participate in armed conflict or military actions is punishable by imprisonment for a term of seven to fifteen years. Therefore, those Belarusians who nevertheless decided to go to the war-torn Donbass, unlike many Russians who left for Ukraine, do not reveal their names for fear of criminal prosecution. "Russian Planet" talked with one of those - 27-year-old resident of Vitebsk, who until recently fought in the DNR. Having received a contusion during the fighting, he returned to Vitebsk for rehabilitation.
- My name is Sergey. This is the real name - you don't need to invent anything with that name. During the war, he had the call sign "Rider," the interlocutor of the RP began the conversation.
- Почему?
- Yes, I do not know. Probably, because I arrived, I immediately declared that I would not go inside the BTR, only on armor. This is the first thing Dad taught me. He said: "You will burn down inside - and there will be nothing to bury. He jumped off the armor and was alive! "
- Are many Belarusians fighting in the east of Ukraine?
- Meet quite often. That is, it is not exotic. I would say equally on both sides, but this is a very rough estimate. It's just that in the New Russia the Belarusians are scattered - they came through different channels, they are fighting in different groups ... They are more united on the side of Kiev, because Belarusian nationalists went there purposefully, they know each other. At the beginning of summer, there was a lot of talk about the Belarusian detachment "Pagonya", which is being formed to fight on the side of Kiev. Then they stopped talking about him. As I understand it, the guys entered one of the units of the Right Sector and changed the name to make it more difficult to calculate. But there, in pravosekov, as I understand it, Belarusians still hold together.
- How did you get to the east of Ukraine?
- I can not tell it - I expose people. I can say how not hit. At first, leaflets appeared on our site in Vitebsk on behalf of the RNE, calling for protection to go to Slavyansk. I saw many such leaflets and when I came to Minsk. Everywhere there was a reference to the VKontakte group, where, in fact, recruitment took place. But I never trusted the Barkashovs, so I did not get involved with them. I got there later, and immediately to Donetsk - there it was then that everything began.
- Did you get paid much? Promises to pay generally fulfilled?
- So, let's decide right away. Neither I nor my friends went there for money. But not for the idea. They generally treat the "ideological" badly. They go, keeping in mind some kind of romantic image of war. And after the first skirmish they have diarrhea for several days. Literally.
I will say who went there. We drove those who did not find themselves in life here. Who does not shine anything, except to sleep in a local factory, marry an ugly woman and produce children who are prepared for the same fate. Who can not escape from the province, where everything is frozen as it was 20 years ago. Of those Belarusians whom I met there, there is not a single Minsk citizen. Because they have a different mentality, they see life differently, they have other possibilities.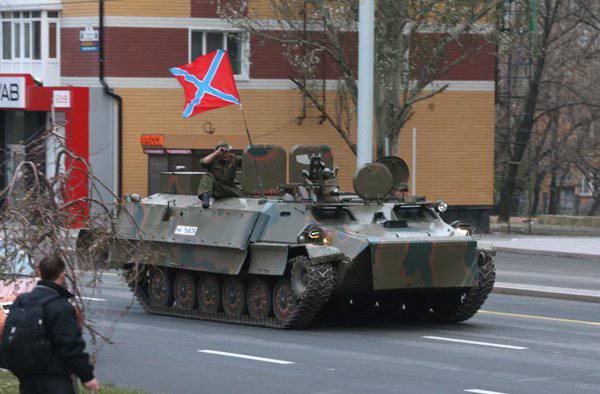 Photo: Mikhail Pochuev / TASS
I know for sure that the citizens of Minsk were on the other side, ukrov. But there were nationalists, of those that marched with white-red-white flags in 90 in Minsk. Serious guys, yes. And those who traveled, like me - from the provinces - they never had any relation to politics. We went to war because they explained to us: there will be a new country there, and life in it can be started anew. Become someone. They said that when it was all over, those who wished to stay would be given a house and land. That we will be heroes there, as well as all who fought for independence. Of course, the money was also promised, but not the mountains of gold. That is, they were not going for money, they were going for the opportunity to change their fate.
- Who do you have to fight "shoulder to shoulder"? Is it local? Mercenaries? Volunteers?
- In different regions, everything is different. There, even in two neighboring combat zones, everything can be different. As we had - about 50 on 50. That is half local, half visitors. Visitors - mainly from the cities of southern Russia, volunteers. Many are the same as we are, that is, lost in life, unemployed. This in Belarus will always provide you with work, even if they pay a penny in the provinces, but the state will give you work. And the guys who came from, say, Kamyshin, Saratov, Orenburg, told how they sat for six months without work.
One said to me: "In 90, those who remained without work remained in the brigade for the bandits. But now it is not a topic, they don't go there. And New Russia is a topic; it's you and your family and you can feed it. " That is normal such guys. And the commander is normal. He is a Russian, a retired major, serving in the 14 Army just in time for the conflict in Transnistria.
The only thing we have never been told is from somewhere
weapon
that we fight. I know for sure that 70% percent is from local plundered arsenals. But there were also such samples, such as AK105, AK102, which the Ukrainian army never had. But we did not ask. Less questions - less problems.
I also regularly encountered the Cossacks - Russian, in a sense. They drove around in their trucks all the time. I do not know what they could not sit on the spot. But we did not trust the Cossacks. It is they who are brave in front of the television cameras, and they are the first to run in battle. And they are very lazy. The commander always told us: "More sweat - less blood." Here we dug the earth. We have always had the main trenches, dugouts, and spare ones. And the Cossacks never did anything like that. They said: "We are not men, to dig the earth. Our business is a cavalry attack. " And they themselves sit, kebabs fry.
- Chechens are fighting there? Tell the truth about them?
- I do not know, we did not overlap. I heard about them a lot, yes. I heard the most different. But this is war. Rumors can walk the most incredible, so I will not say anything - I do not want to say what I did not see myself.
- What else do you remember?
"Everybody takes hostages there." It is just a currency like that. Not only opponents captured, or there who used to be the yellow-blue [flag] hung out. Take and just local. How many times have they come to us for help! A woman will come, 50 years old, and cry: "Boys, help, neighbors won your husband and son away at night. I know that they are being held by the local police, but they are not letting me in. " Well, we go, we understand. We say that these local people help us, why did you take them away? Our squad was known and respected, because people were always released.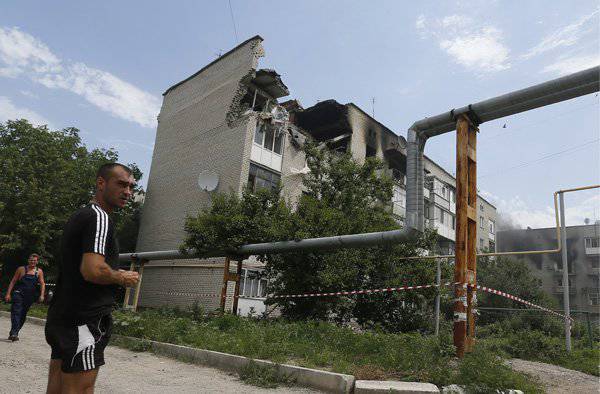 Residential building damaged by artillery shelling of the town of Marinka in the Donetsk region. Photo: Zurab Javakhadze / TASS
I also remember that in the administration of Makeyevka I was, I see - on the first floor, in the semi-basement, about ten people are sitting, eyes are blindfolded, hands are tied. Men are everything. I ask who it is? They say: "Dill captured captured." "And why do you need them? Would exchange for their own. " "Let them work, restore, that destroyed," - answer. "Well, they don't work for you, they just sit there," I was surprised. They answered that it was not my business.
- Permanent shelling of peaceful areas, houses, schools that are shown on TV, is this true or propaganda?
- Neither one nor the other. Of course, no one hammer out of the Gradov purposefully in residential areas, neither ukry (regular army), nor the national guardsmen, nor us. There is no such thing. And not so much there in all the ammunition to hammer in a white light, like a lot of money. Do you know how much one Grad rocket costs? A rocket "Hurricane" is still ten times more expensive! So there is no such thing to shoot civilians on purpose. But if, say, in the courtyard of a residential building a mortar is set up and fire is fired, even just two or three shots, then the response will, of course, arrive. Fly back to where they shot. And, of course, it can also get into the house, and it falls. I've seen it so many times.
In general, a lot of nonsense in the war is done. But some things are surprising. For example, they can destroy everything, but cellular communication will work. Not everywhere, of course, but mostly works. Because it is necessary and the militia, and ukram. I have not seen a single satellite phone in all the time in the battle zone, they are simply not needed there. If necessary, in most cases, work cellular.
Another thing I want to say. As a kid, I was interested in weapons, read a lot about it. I read, for example, that the accuracy of AK is much less than that of the American M16. And there he understood - all this nonsense! When the rod is in your trench, you don't even stick out of it - you raised your hands with a gun over the parapet and you are shooting towards the enemy, but you don't even see him. It is called "press with fire" until they support their own from the CPVT and mortars. What is here nafig accuracy?
- Will you come back to Donetsk?
- I'll be back. But, apparently, only in the spring. Anyway, no one will fight in the winter. This is only the Red Army in the Great Patriotic War in the winter. And such units, as in the DPR, in the LPR, they do not fight in the winter. I will come back because I have not completed my work.