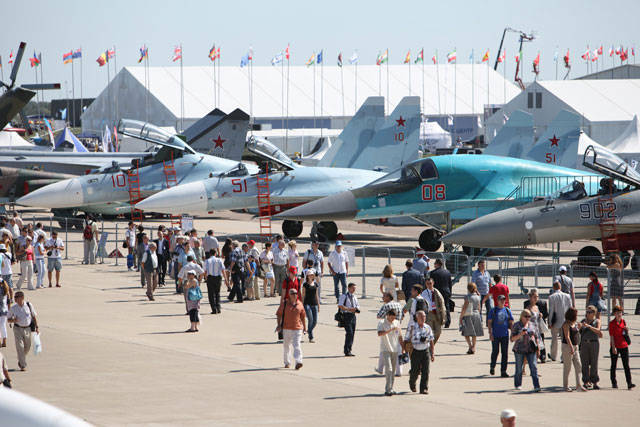 The international aerospace show is now open to all comers. Today, Zhukovsky is sold out - hundreds of police and car inspectors are responsible for security. Every visitor passes a special inspection. Banned alcohol,
weapon
and even glass bottles. MAKS fulfilled the business program on the "excellent": Russia has signed contracts for a record amount, almost 8 billions of dollars. Now it's time to show the technique in action. The most up-to-date passenger airliners and classified military fighters have risen to the sky.
For viewers, MAX begins with a long road to MAX. If by car - then to the intercepting parking in Bykovo. And if early in the morning - almost without traffic jams.
Several items of inspection - will have to open the hood, and the trunk, and bags. Next - by bus, they ply every three minutes. And here it is already necessary to go shoulder to shoulder. There is, however, another way to get there. On the train to the platform "Rest", from there - again by bus. By the middle of the day, even additionally commissioned trains already hardly cope with human flows.
The main traffic jam is, of course, at the entrance. In this queue, if you're lucky, you'll have to spend 20 minutes. And you can stand for an hour and a half. Security measures are exceptional. It is forbidden to carry piercing and cutting objects, and some irresponsible citizens grab with them knives with words, so that there is something to cut the sausage for lunch. Another problem is traditional alcohol.
"It is forbidden to carry alcohol and drinks in glass containers. Therefore, a whole battery of bottles is built here. All of them are accepted by act and issued back when a person leaves MAKS," said Andrei Lipilin, deputy head of the operational headquarters of the Russian Interior Ministry for ensuring public order and security / the period of the MAKS-2011 air show.
But all the inconvenience, waiting hours are forgotten as soon as the audience finds themselves on the airfield. When Su-27 and Su-35 demonstrate aerobatics, when the French fighter Rafale soars into the sky. When the civilian Air 380, one of the main air show premieres, is slowly and slowly circling over Zhukovsky.
- I liked the Night Hunter helicopter. He is Russian, and he has a beautiful flight.
- We are waiting for the T-50. It will be the highlight!
The T-50 is a fifth generation fighter. This is the premiere premier of MAKS-2011. You cannot approach it, you cannot touch it - you can only see, exactly 1 a minute in the sky.
- They take him out of the hangar in rags, take everything off. He takes off, literally a minute - in flight. And then he sits down, and again - into the hangar.
16-year-old Roma Kulik, the youngest blogger and photographer accredited to MAKS, has already taken his cherished picture: T-50 on earth and in the sky. Exclusive shots are the most valuable among those 5 thousands that Roma did at MAX. He has long been - the first thing planes. He even wanted to be a pilot.
Half a day - not taking his eyes off the sky, holding his breath. The roar of aircraft turbines does not even allow to hear each other. On blankets, on lawns, lying, standing, sitting - tens of thousands of spectators: and every minute they become more and more.
According to statistics from previous air shows, on Friday, about 80 thousands of viewers come to MAKS. On Saturday it's already 150 thousand, on Sunday it's about 100 thousand. And apparently, this year all MAKS records will be broken.