The phenomenon of this character can be discussed endlessly. Probably, this man is the most controversial phenomenon in the whole of New Russia. Noise and scandals on the Internet, harsh statements, apparently accompanied and will accompany him for a long time. Such is he, nothing can be done.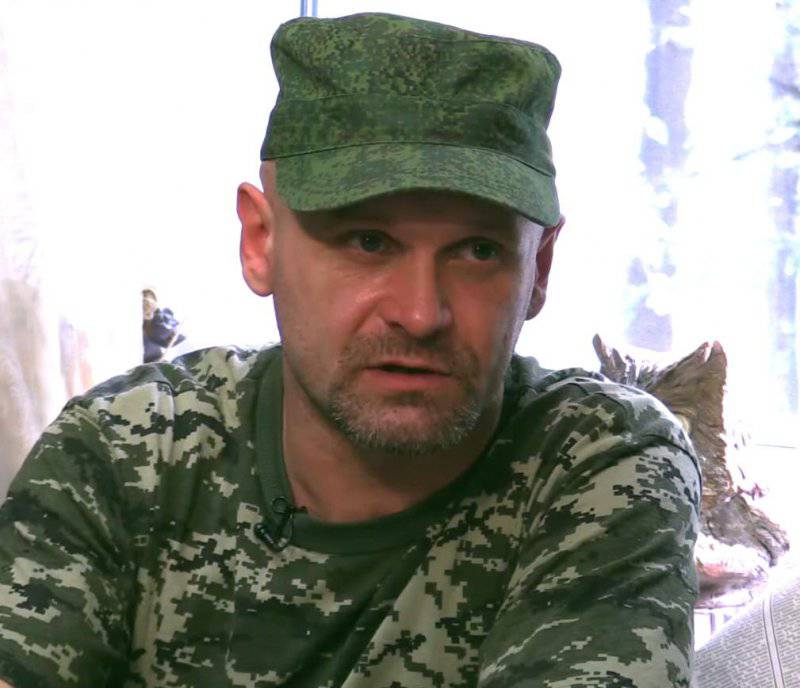 Therefore, taking up this material, I discarded completely everything I saw and read on the Internet. And I decided to draw a portrait of Brain, using only what I saw myself and heard from its fighters.
Our meetings were rather short-lived. Just no other way. But the findings allowed to do.
So, Alexey Borisovich Brain-eyed.
The main thing that amazes at the meeting is his energy. This is a whirlwind. Loud-voiced, and in most cases simply screaming, swirling whirlwind. Moves either in slow motion, or very fast pace. But it really exhausts people who are forced to move with him to exhaustion. Per day.
I talked with the guys from his guard. There are only four of them. But with Brain ride only two. In a day. Because then half a day it is necessary to move away from all the pokatushek and run errands. Sometimes "hang out" on duty and for several days. Then just sadness.
The real case: we sit in Donetsk on the base, unload, rest. I am talking with the replenishment that is awaiting the transfer to Alchevsk. Here comes the Mechanic and says that Borisovich is coming here, in forty minutes he will be. All perked up, waiting.
The Patriot flies into the courtyard, four come out of it, recruits are interested in who is the commander. I show on the rights of an expert))). All in a voice: "In what it is ... small." Then Brain flies into the room, looks around and gives a monologue: "Do! How many of you are here! Hello! All mine? (A look falls on our chevrons.) Ah! "Review"! It can be seen ... not bad ... After 15 minutes, visit me one by one "(this is for recruits). Immediately, he turns around, on the way to the door he grabs a piece of sausage from the table, left over from dinner, stuffs it into his mouth, and something is said through him, carried to the office of the Mechanic.
And only then security creeps into the room.
Then I asked the guys, did he always wear this? Yes, when podustanet - so. And usually faster ... The clock was around 5 in the morning. And after 40 minutes, talking to those who waited for him (two people in suits on a black Toyota Camry), helping newbies (although there are novices, animals, the right word), talking to me a couple of questions, eating a couple of sandwiches Brainstorm departed. But not in Rostov, as planned, but somewhat far away. When they learned that the trip was not for 180 km, but for 1000, the escorts had resignedly resigned and left, saying goodbye, "That's how we live ..."
Such a life. At that time, the Ghost Brigade consisted of about 2000 fighters. They need to be fed, dressed, shod, armed, placed, replaced in the trenches. Now - twice as much. Accordingly, there are more problems.
You can say a lot about the fact that Brainstorming is not a media person. This is true. I would not let him to the computer with the Internet at all. Starts up too fast and gives in to provocations.
Not enough diplomacy. You can, of course, cut the language that is in my head, you can. But sometimes, in the best interests, it would be possible and that ... quieter. Only benefit would be.
You know, sometimes you look at a person, and you understand that he thinks and filters thoughts. And gives already sanitized. With intent, without ... With Borisovich not so. Immediately it is clear that in the head - and the output. Not everyone likes it. Well, the loudness of the pitch is generally something. Although there are people with whom he really speaks absolutely calmly. And even perceives criticism. Without ora and mats.
He is respected. And their own, and others. About their own, but about the enemies - now. Think about why for the video bridge ukrovoyaki chose Brain? He, as I said, is not a media character. He is not in the leadership of the LC. He is just a warlord. And they decided to talk to him. Why?
Respect.
Respect for the skill, for honesty, for frankness. Honesty is generally a separate conversation, but I don't want to touch it. Not discussed, no matter what anyone said.
And if your enemies respect you - it says a lot.
Ours are also respected. If not more. Do not idolize, no. Everything is in order here, the cerebral cult is not and never will be. Respect for the beliefs and goals. And go to him in the "Ghost" in the hundreds. And after all not for money, as in "Oplot" and "East". And from there I would meet experienced wolves, with such a past - Jack the Ripper would have turned pale. Not for a warm place, no. Everyone knows that the Brain with the supply - not very. But - go. They know how hot it was on the corridor - they are coming. They know that in Debaltseve a large group of ukrov-go. This is the recognition of the commander. The highest reward you can present.
I spoke with very interesting characters. Sasha, operas from Vinnitsa. He said that he was a good opera, but in spirit - Moskal. To the question why he answered here: he came to the "Stronghold", he spent three months. Got it. I consulted with smart people and went to the Brain. I will fight as much as necessary, and then I will work with those who are in the "Stronghold". There every second is my client. After the victory will have to do anyway.
"Bodun". From Kharkov. Was in Slavyansk. Then, after the "departure", he was picked up by the "Oriental". Was with them. Gone. Why did he leave? He came to fight for the idea of ​​New Russia. And in the "East" are fighting for money and share. "Understand, Rum, two thousand hryvnia per month in the case of a bullet in the forehead from Ukra - this is infinitely small. And if not for two thousand, but for living like you are in Russia, this is already a conversation. " And such ideological - the majority.
Brainstorming - "romantic." He is not interested in the idea of ​​the specific principalities of the DNI and the LC. As he said to me, "the specific principality will sooner or later be given over." He is a fanatic of the New Russia. In alliance with Russia, as part of Russia - it does not matter. Not important yet.
You can talk a lot about his "kinks." And you can not speak. Because it makes no sense. This man is what he was born. And it's too late to change something.
I asked in one of the conversations why he did not go to the polls. Indeed, despite the lack of approval at that time from above, it would be possible to try. "Where am I going to go to people? They came to me ... And to go into politics not from my hand, my business is war. "
And remember about the Council of Commanders, which the Brain wanted to collect? The intention was very good - the overall coordination of hostilities, supplies, and work with civilians. The idea was killed by an indication from above. "Who goes under the brain - deprive of all." Here in this vein. In the end - zilch. There were four who did not care about this order. The rest preferred not to aggravate the relationship.
Later, when the brain's relations with the upper ranks improved, when it came to Bugrov that Borisovich did not claim his place (which is true), the Ghost Commander was allowed to hold the Council. "Come on, Borisovich, gather the people, decide how you will act together." To which Brainstorm quite reasonably replied that now you collect and decide. And I will come and support, if that.
Got a couple of critics for it. As usual. They say they don't make contact, the Council doesn't want to collect, and in general, what they think about themselves ...
And I have another question: why should the Council of Commanders collect it? Why then the defense minister is needed? And if the leadership of the LNR needs the Council, coordination is needed, then why should the field commander do this? Nonsense, however.
I am pretty amused by the information about what kind of education Alexey Borisovich has. Brass band conductor. Well, the orchestra plays the envy of others. Now, after Zarya was destroyed a week ago by the stupidity and idiocy of its command, the Ghost Brigade is the largest and best division of the LC. Unconditionally.
Here is a portrait turned out. Not a diplomat. Cuts down the shoulder. What a word, what a deed. But, by the way, he had a conversation with a man who served a week in the basement with him. "What for you?" - "For business. Language dissolved ... "-" And now what? "-" ... I will be less! "Works. In the same post.
Astonishing performance. Mad energy. The ability to win over people. Here, apparently, it is necessary to make a reservation: people who do not see a competitor in it. And since many see him as a competitor in the LC, there are always some kind of clashes.
He perceives criticism, as well as advice, but he does basically everything in his own way. Not because I do not respect someone else's opinion, I understood this: in a couple of days this pace just forgets.
The "inconvenience" of the Brain promises problems not only to him. It would be an unforgivable loss if Aleksei Borisovich received a reprimand or disagreement of the 7,62 caliber in the back. I heard about this from various sources, some of which are more than trustworthy. I hope that this still does not happen. Again, this would be an irretrievable loss for the LC.
You can still talk a lot about his personal qualities. But Aleksey Mozgovoy is an integral part of Lugansk region. Soldier of New Russia, as he says about himself. And the cause of Novorossia, to which he devotes himself, he will not betray and exchange for anything. For some reason I am sure.