Basescu went on the attack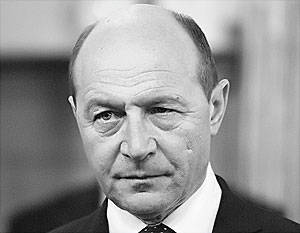 Romanian President Traian Basescu, who is notorious in Russia, decided to assign homework to Moldovan politicians while they are on vacation. Now he openly stated that the Moldovan question is not a priority for the Council of Europe. Chisinau politicians already 2 cannot elect a president and this is an extremely unacceptable position for Moldova. According to him, Moldova had a window to Europe after the repeated elections of 2010. But this window cannot be forever open and will soon be shut. Everything depends on the politicians from Chisinau, to what extent Moldova can progress in European politics. At the same time, he expressed his dissatisfaction with the fact that, starting from September 1, Moldova will be studied simply "
history
"Not the" history of the Romanians "as it was in 2009-2010. He said that he was not offended by the Moldovans, but he would not forget this step, however. By his speech, Basescu once again made it clear to Chisinau that for Moldovans Romania is a road map to Europe.
A little earlier, his Excellency did not forget to remind Marian Lupu of the targeted use of 100 million euros, as gratuitous aid to Chisinau, after last year's floods, which swept across Europe during the economic crisis. That is, he made it clear that you can look at a gift horse in the mouth (or tail). His Excellency does not understand that the Moldovan "black hole" can swallow larger sums and will not choke. With his instructions, an audit of the capital of Moldovan politicians who have a business in Romania, the seizure of debts in the Romanian budget.
Earlier, Basescu had expressed the opinion that he would have acted like I. Antonescu in 1941 and would have given the order to cross the Prut. That fully endorses the decision of fascist dictator Ion Antonescu, adopted by 22 June 1941, to support Hitler in the war against the USSR.
"If I were at that historical moment, I would have given the same order, because we had an ally and we had to return the territory. If there were those conditions, I probably would have done that, "he admitted bluntly.
The unionist aspirations of the Romanian president will increase as the end of his second reign approaches. The pressure on Moldovan puppets will also increase in proportion. He is very impatient to enter the history of the Romanians as Traian the Unifier, and perhaps the Conqueror.
Ctrl Enter
Noticed a mistake Highlight text and press. Ctrl + Enter