At the exhibition in Zhuhai (China), the Chinese rocket exposition was represented by the two largest corporations CASC and CASIC, which presented their new developments, reports
"Russian newspaper"
.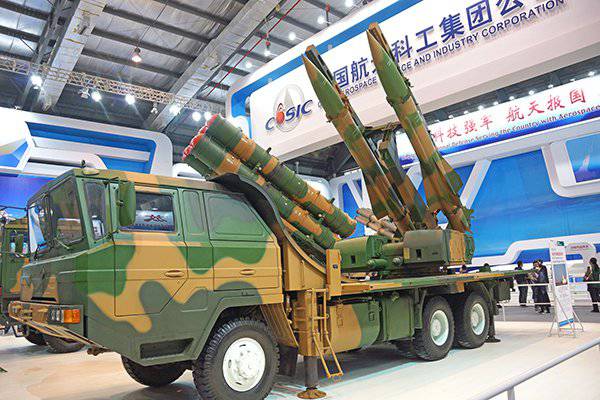 In particular, CASC presented a new cruise missile, which is an analogue of the Russian-Indian BrahMosa, and CASIC is one of the options for a mobile space launch complex. According to experts, using this mobile installation, you can launch interceptor missiles that can destroy enemy reconnaissance, telecommunications and navigation satellites in near-earth orbits.
At the moment, the Chinese are improving their analogue of Russian Topol. In particular, the Belarusian engineers helped them design a powerful wheeled chassis to accommodate a solid-fuel rocket. However, all information about the land mobile strategic rocket is classified - it can only be seen at large military parades.
The CASIC pavilion also featured a large number of
aviation
air-to-surface and air-to-air missiles, as well as corrected aerial bombs. In addition, the entire line of air defense missile systems.
However, the development of CASC Corporation, the CX-1 supersonic cruise missile, which, however, is still at the initial stage of flight tests, became a sensation.
Another new concern of the concern was a combat attack drone unmanned aerial vehicle, which is not only supplied to the Chinese armed forces, but also offered for export.
In general, as the newspaper notes, at the Airshow China 2014 cabin one could see how dynamically the development of rocket science in China is proceeding, and how this development corresponds to all world trends.