On Sunday morning, an employee of the Ukrainian Embassy in Athens contacted the rector of the Polytechnic University, Yannis Golyas, asking to ban the photo exhibition "Ordinary Fascism in Ukraine", which takes place on the territory of the educational institution, reports RIA
"News"
with reference to one of the employees of the organization "Anti-fascist campaign for Ukraine."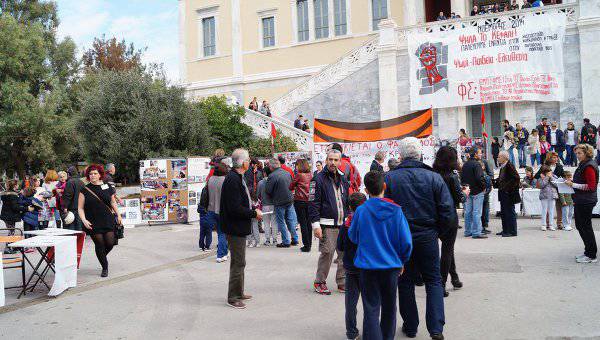 The exhibition organizers timed it to the anniversary of the 1973 student uprising of the year against the junta. Before the opening of the exhibition, the rector received a letter signed by representatives of the Ukrainian diaspora, stating that she "represents Ukraine as a fascist country, and Ukrainians as fascists." The authors of the message offered to organize an "alternative exhibition of photographs" of the "memory of the fighters of the antiterrorist operation".
However, representatives of anti-fascist organizations stated that it is unacceptable to call the "heroes" of the participants in the punitive operation.
Although the Greek media did not cover the photo exhibition, which runs from 15 to 17 in November, thousands of Athens were able to learn the truth about the events in Ukraine. On Sunday, a poster appeared at the entrance to the university: "Greek media, wake up! Tear off the mask from the fascist junta in Kiev to stop the war! "
The photo exhibition was visited by veteran of the Great Patriotic War, Anna Buburidi, who was greeted with ovations and slogans "Honor and Glory to the Red Army!".
"All four years of the war I was a nurse at the front. We carried the wounded out of the battlefield — on our shoulders, on trailers, on packs, as we could. "Sister, help, sister, save me," the wounded asked us. (...) Damned fascism! In Ukraine, we were met - "thank you, thank you for saving us, we are waiting for you, you are our relatives, our Russians". Fascism wanted to destroy the Soviet Union, all of us. But the Soviet people are inflexible, we survived, "said the veteran.
Buburidi told the crowd that during the war she did not meet the supporters of fascism in Ukraine.
"What is happening there now worries us very much. We stood and will stand for our Soviet homeland, "she said.
People met this statement with a storm of applause, the slogans "EAM - ELAS", "Crush Fascism" sounded in the audience.