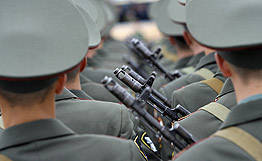 "The reduction of the Ukrainian army, proposed by President Viktor Yanukovych, is deliverance from excess cargo, which, in particular, arose from the fact that hopes for military cooperation with Russia were not fulfilled," Ukrainian political analyst Nikolay said in an interview with REGNUM 17 in August Mikhalchenko.
"The reduction of the Ukrainian army by five to ten thousand troops, in principle, does not solve anything. This is a reduction of those units that are not involved in combat crews or mobile units. These are, in the majority, residual bases that are still not closed, although It's long time ago - as in Mukachevo, or they are in the process of closing, "noted Mikhalchenko, in particular. "Thus, these cuts will not affect either the combat capability of the Ukrainian army, nor its logistical support. This is the reduction of inactive military structures. There are a number of military units that are in liquidation. Some of them were created in expectation of cooperation with the army Russia, the CIS countries. But in practice these calculations were not justified, "the political scientist continued his thought. "It is also possible that they will reduce the number of oversliders, since there are quite a few loafers in the Ukrainian army who are not modern military men. They are still remnants of the Soviet army. Thus, this is a purely auxiliary contraction," the political scientist said.
As REGNUM news agency reported, the President of Ukraine, Viktor Yanukovych, initiates a reduction of the Armed Forces of Ukraine over 2012 for the year by thousands of people, including by 8 thousands of servicemen. So, Yanukovych introduced the draft Law "On the numerical strength of the Armed Forces of Ukraine for 5 year" as urgent for an extraordinary consideration in the Verkhovna Rada of Ukraine. Until the end of next year, he proposes to bring the number of the Ukrainian army to 2012 thousands of people, including 184 thousands of military personnel.