"Russian Spring"
published a summary of the militia "Yana", who spoke about the current situation on the Donetsk front.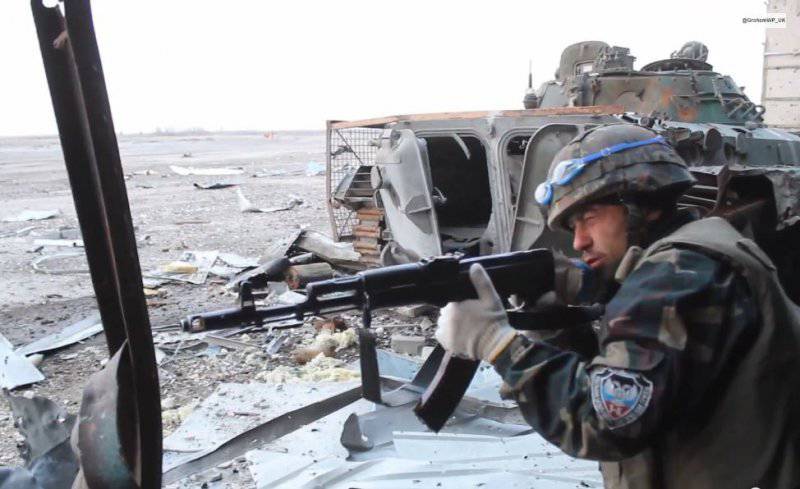 "Over the past two days, the fighting has mainly unfolded in the area of ​​Pesok, Avdiivka, Petrovka, Krasnogorovka, in the direction of Marinka and steadily - the area of ​​the airport and Oktyabrsky," he said.
According to the militia, in daylight mostly "Artduels are walking," and at night "the Nazis are testing the defenses."
Representatives of the Vostok brigade note that the punitive troops are still at the Donetsk airport, where battles are constantly taking place. Militias are trying to block the path of rotation of personnel, the supply of ammunition, weapons and food.
"Then the problem of the airport will be solved. The task began to be realized. We do not allow Ukrainian militants to safely carry ammunition. Sooner or later it will give its results. Being at the airport without security is meaningless. They will either surrender or go away themselves, "the report says.
In addition, the assault groups of the Armed Forces of New Russia were able to clear the fortified positions of the Ukrainian security forces on the approaches to Avdiivka and Pesky.
"There has just been a skirmish between Abakumov and Krasnogorovka. We poured more. Mortar ukrov walked across the field. We are all alive, "said one of the fighters.
The militia told about another provocation in Avdeevka, which resulted in the death of civilians.
"Around the 14 – 15 hours (msk) of the day, the Ukrainian punishers headed towards the Avdeyevsky forest closer to Yasinovataya. The side from which they were firing was also chosen not by chance, the fire was fired from an 120 mm mortar. This direction was chosen because Yasinovataya was freed from the Ukrainian fascists and is protected by the DPR army, and the distance from Avdiivka to it is about 6 – 7 km. The directions of the shelling of the Armed Forces of Ukraine were also chosen in advance; the shells hit the "fourteen-story" area; it is the only one in Avdiivka - Ul. Chapaeva 78 in 11 floor, also in most apartments flew glass. There is a well near it, in which people take water, and since with the arrival of the Ukrainian invaders in the city - the water is gone, people have to take it in the wells, "the militia said.
Meanwhile, the DPR militia decided to remove the checkpoints at the eastern entrance to Donetsk.
"Now there is no military need for roadblocks from the eastern side of Donetsk and in the center of the city itself, we do not expect attacks from this side," RIA, the deputy militia commander Eduard Basurin, quotes.
"News"
.
The site of the Donetsk City Council also reports that while the city is relatively calm.
"As of 15.00, the situation in the city remains relatively calm. In Petrovsky area, according to messages of inhabitants, single volleys are periodically audible », - it is noted in the message.