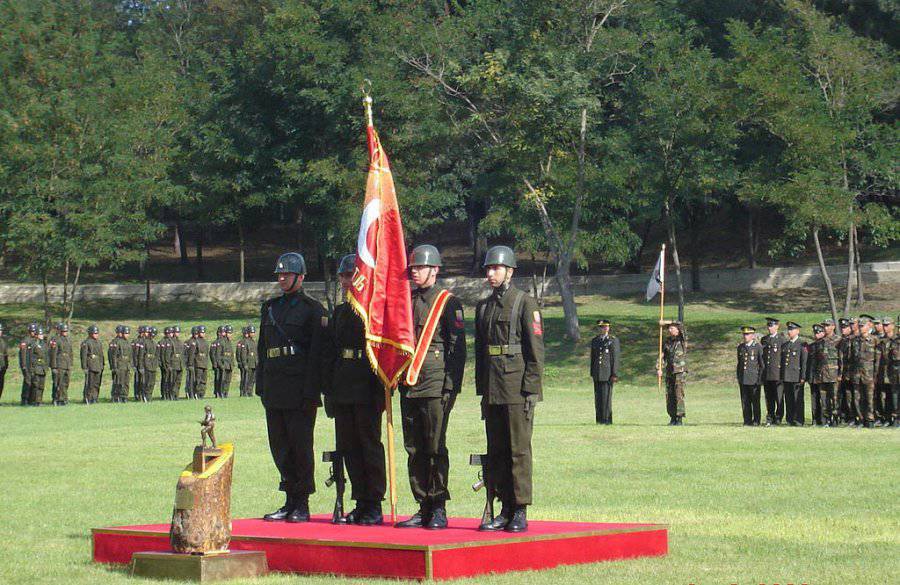 The Turkish armed forces have 510700 people (of these, about 148700 are civil servants). For mobilization in wartime, a military-trained reserve of up to 900000 people can be used, including 380000, the first-stage reserve.
The army of Turkey is recruited by conscription, the draft age of 20 years, the term of compulsory military service is 15 months. Upon dismissal from the army, a citizen is considered military duty and consists of a reserve up to the age of 45. In wartime, in accordance with the law, men aged from 16 to 60 years and women from 20 to 46 years who can wear
weapon
.
The supreme body of the operational management of the armed forces is the General Staff, which is headed by the commander-in-chief of the armed forces. He is appointed by the President on the recommendation of the Council of Ministers. Subordinate to him are the commanders-in-chief of the types of armed forces: ground forces (SV), air force (Air Force), naval forces (Navy), gendarmerie (up to 150 thousand) and coast guard. According to the Turkish table of ranks, the chief of the General Staff ranks fourth after the president, the chairman of parliament and the prime minister.
STRUCTURE
The ground forces (Türk Kara Kuvvetleri) are subordinate to the commander-in-chief of the Ground Forces and have 391000 people. Organizationally, most of the formations and units of the Army are combined into 5 operational units: field armies and operational groups in the Turkish part of Cyprus.
* 1-I field army, headquarters in Istanbul, the grouping of troops near the borders with Greece and Bulgaria.
- 2-th AK (Galipoli): 4-I, 18-I mehbr; 54-i, 55-i and 65 pbr.
- 3-th AK (Istanbul): 52-I brtd (1-I, 2-I tbr; 66 mehbr), promptly subordinate to the command of NATO.
- 5-st AK (Corlu): 3-I, 95-I tbr; 8-i mehbr.
* 2-I field army, headquarters in Malata, a grouping of troops near the borders with Syria, Iraq, Iran.
- 6-th AK (Adana): 5-i tbr, 39-i mehbr.
- 7-st AK (Diyarbakyr): 3-I PD (6-I pbr; 6-I, 16-I mehbr); 23-i pbr; 70-i mehbr.
- 8-th AK (Elazig): 20-I, 172-I tbr.
- regiment CH.
* 3-I field army, headquarters in Erzincan, grouping of troops near the borders of Armenia and Georgia.
- 9-st AK (Erzerum): 4-I tbr; 1-I, 2-I, 9-I, 12-I, 14-I, 25-I mehbr; 34-I, 48-I, 49-I, 51-I pbr.
- 4 AK (Ankara): 1-i pbr, 28-i mehbr; 58 arbr.
* Aegean (4) field army, headquarters in Izmir, grouping of troops along the western coast of Turkey.
- 19-i pbr; 11-i mehbr; 57-i arbr.
- regiment CH.
* Cyprus Group of Forces (Girna).
- 28-I, 39-I MD; 14-I tbr, group CH.
The operational command of the army commanders is six separate artillery regiments and four army regiments
aviation
.
Directly GC SV subordinated two infantry regiments (23-th and 47-th), special operations forces in the 5 commando brigades and individual army regiments SN (available in 2-th and 4-i field armies) through the command of special operations. Through the command of the army aviation, four regiments of army aviation are subordinate to him. Recently, a brigade of "humanitarian aid" has appeared directly under the command of the SV commander in chief.
Training of HR specialists takes place in training units and training centers:
• 1-I, 3-I, 5-I and 15-I infantry brigade;
• 59-I Artillery Training Brigade (Erzincan);
• Training Center for Armored Forces (Etimesgut).
Persons called up for active service and intended to fill the posts of junior commanders are sent to training units, formations and training centers for non-commissioned officers and non-commissioned officers. In the Army, such training is the responsibility of the training command of the Aegean (4) Field Army. Non-commissioned officers and non-commissioned officers are presented in two categories - urgent and long service. Non-commissioned officers are trained in special departments at military schools of the armed forces during 2 – 3 years. These departments are completed on a voluntary basis with soldiers and sailors of fixed-term service with secondary education, as well as graduates of preparatory non-commissioned officers' schools in which people aged 14 – 16 years who have completed primary school and have completed secondary education are admitted. The minimum service life of non-commissioned officers is 15 years.
The highest level of selection is envisaged when recruiting staff officers. This is achieved through the voluntary enrollment of young men in military schools and a complex of checks of political reliability, which allows forming the officer corps mainly from highly educated segments of the population. Officers are trained in military schools, which include high schools (military gymnasiums and gymnasiums - an approximate analogue of Russian Suvorov schools), higher schools of the armed forces, secondary schools of the armed forces and military academies. Officers are also trained in civilian higher education institutions in the military faculties.
Secondary military educational institutions of the armed forces and services (infantry, armored, missile, artillery, reconnaissance, foreign languages, technical, quartermaster, communications, commandos) train lower-level officers - commanders of platoons, groups, companies and batteries.
The main link in the training of officers of the personnel department is the Kara Harp Okulu Higher School (Kara harp okulu). In this military school, future officers receive higher general and secondary military education. Duration of training - 4 year. After graduating from college graduates are awarded the title of "lieutenant". Further, graduates, as a rule, are sent for one or two years to the schools of the armed forces and services.
Only officers, graduates of military schools in the rank of senior lieutenant-major, who served in the army for at least three years, are admitted to the military academy of the army. Duration of training - 2 year.
Only graduates of the academies of the armed forces can become students of the Armed Forces Academy. They are prepared for work in the staff of the Ministry of Defense, in the General Staff, in the joint NATO headquarters, in the headquarters of the division - the army. The term of study is five months. Along with military schools, there is a network of courses for the retraining of officers for different branches of troops. Some officers undergo retraining abroad, mainly in the United States and the Federal Republic of Germany.
The main tactical unit in the NE of Turkey is a brigade. In 2009, the CB contained 9 tank, 16 mechanized and 11 infantry brigades. As a rule, brigades are directly subordinate to the army corps or are part of divisions.
Tank
The battalion consists of a command and staff (2 tanks), three tank companies, a command platoon, a support platoon, and a maintenance platoon. The tank company has 13 tanks (tank company commander, four platoons of three tanks). There are 41 tanks in the battalion.
According to the "Armed Forces - 2007" program adopted in 2014, by the end of 2014, it is planned to reduce the number of combat troops to 280-300 thousands, simultaneously with equipping the troops with modern weapons and military equipment and controls. It is planned to liquidate two field armies (3-th field and 4-th Aegean), create a single command of the three types of armed forces (land forces, air forces and navy) and convert the existing General Staff to the appropriate "joint" headquarters, which will be subject to command of the types of armed forces . On the basis of the headquarters of the 1 th field army and the 2 th field army, the commands of the Western and Eastern groups of forces will be created, and the entire territory of Turkey will be divided into two parts in military administrative and operational terms.
In recent years, the number of the Turkish army has been reduced by 10-20 thousand people a year, many units and units are disbanded. For example, over the past three years, 5 tank brigades from 14 have been disbanded, the remaining 9 tank brigades are equipped with modern and modernized technology. Part of the infantry brigades disbanded, and some transferred to the states of mechanized brigades. The task of combating the military formations of Kurdish separatists is entirely shifted to the gendarmerie, for which it is strengthened by the BTT, which is transferred from the NK.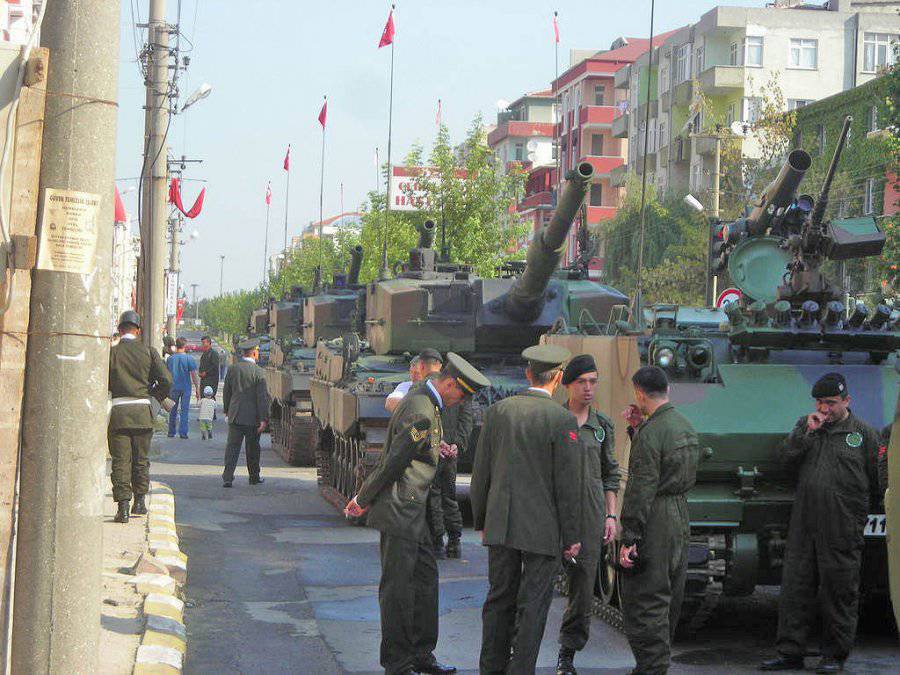 Leopard 2А4 Turkish army on the street in Ankara
ARMAMENT AND MILITARY EQUIPMENT
Armored vehicles in the Turkish army are represented by foreign models and samples of their own production. The main striking force in the army are tanks. According to the data submitted by Turkey to the UN Register, the 3363 tank was listed as the 31.12.2007 of the year. The tanks are part of the mechanized (1 battalion) and tank (3 battalion) brigades, divisions of the 28 and 39 of the mechanized divisions.
In recent years, Turkey has been actively utilizing outdated models of tanks and at the same time carrying out the modernization of combat-ready equipment. The ambitious project of creating its own tank Altay, widely advertised in recent years, entered the contract stage (signed on July 29, 2008, with the general contractor, the Turkish company OTOKAR and subcontractor by the Korean firm Hyundai-Rotem), the installation batch of tanks was planned to be released in the 2012 year. In the current situation, Turkey has taken very practical measures: it bought tanks Leopard 2 in Germany, modernizes tanks Leopard 1 and М60. Data on the number of specific models of armored vehicles in the Turkish army are contradictory. Based on the study and comparison of various sources, the most reliable figures were obtained.
• 339 Tank Leopard 2А4, delivered from Germany. It is planned to upgrade the Turkish company ASELSAN to the level А6.
• 77 tanks Leopard 1А3 / TU, delivery from Germany, Turkish modernization with the installation of the Volkan control system.
• 150 tanks Leopard 1А4 / Т1, delivery from Germany, German upgrade with the installation of the control system EMES12 A3.
• 165 tanks Leopard 1А1А1 / T, delivery from Germany, Turkish modernization with the installation of the Volkan control system.
• 658 tanks М60А3 TTS (American modernization, with a combined thermal sight gunner AN / VSG-2).
• 274 tank M60А1.
• 104 tank М60А1 RISE (Passive), American modernization, with passive night instruments of the commander and driver.
• 170 tanks МХNUMX-Т Sabra, Israeli modernization М60А60, with the installation of 1-mm cannon and modern SLA.
• over 1200 tanks M48 of various modifications.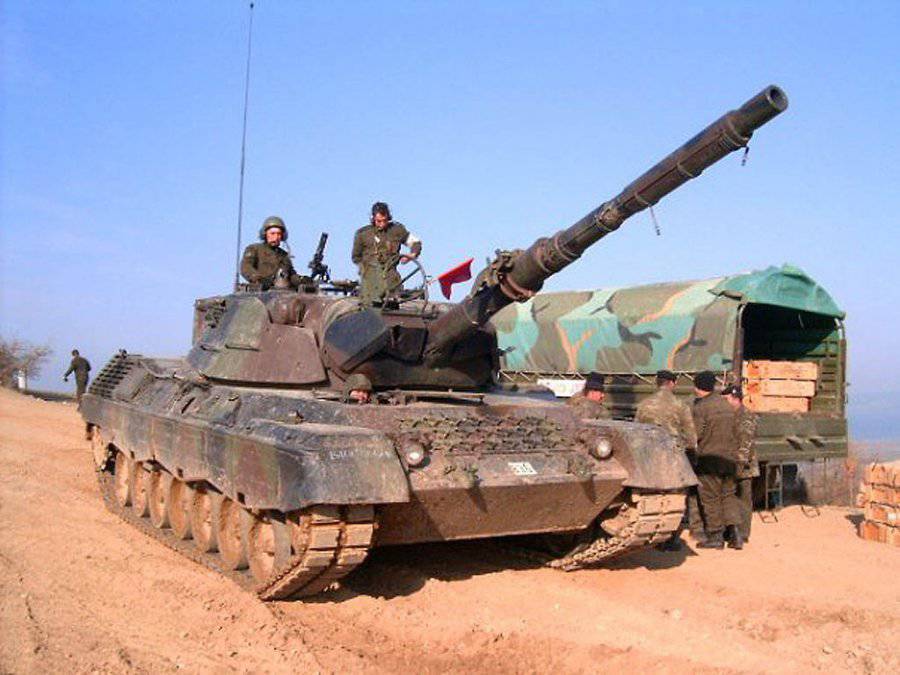 Turkish army 1 leopard on exercises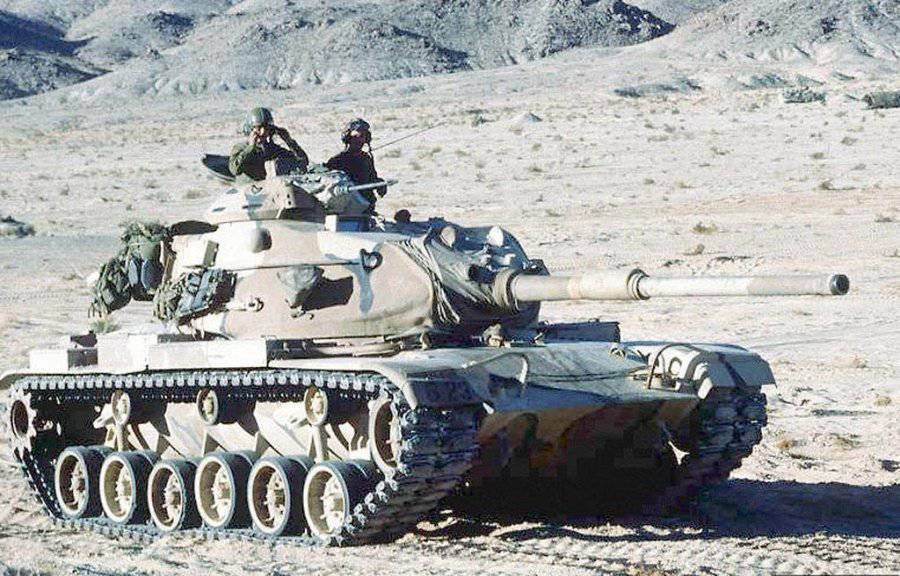 М60А3 TTS Turkish army on exercises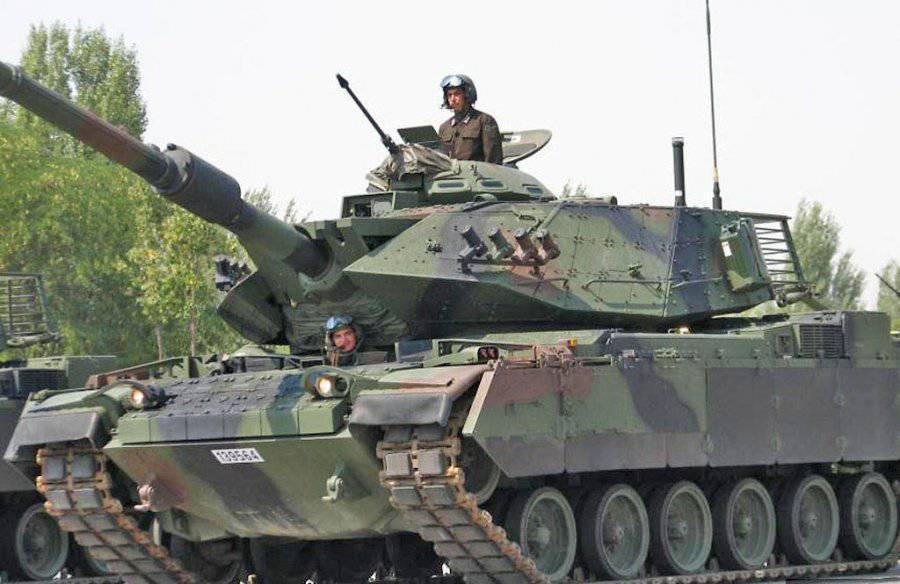 М60-Т Sabra Turkish army at the parade in Ankara
The M48 tanks are currently derived from linear formations (with the exception of 287 units M48А5Т1 / Т2 as part of the Turkish forces in Cyprus). They are used in training centers (for example, to designate the enemy, infantry run-in), stored, partially altered in BREM and bridge laying systems, disassembled, and disposed of.
Armored combat vehicles are represented by tracked infantry fighting vehicles, tracked and wheeled armored personnel carriers, and vehicles based on them. According to the UN Register, at the end of the gendarmerie and gendarmerie 2007 BBM was listed at the end of 4625.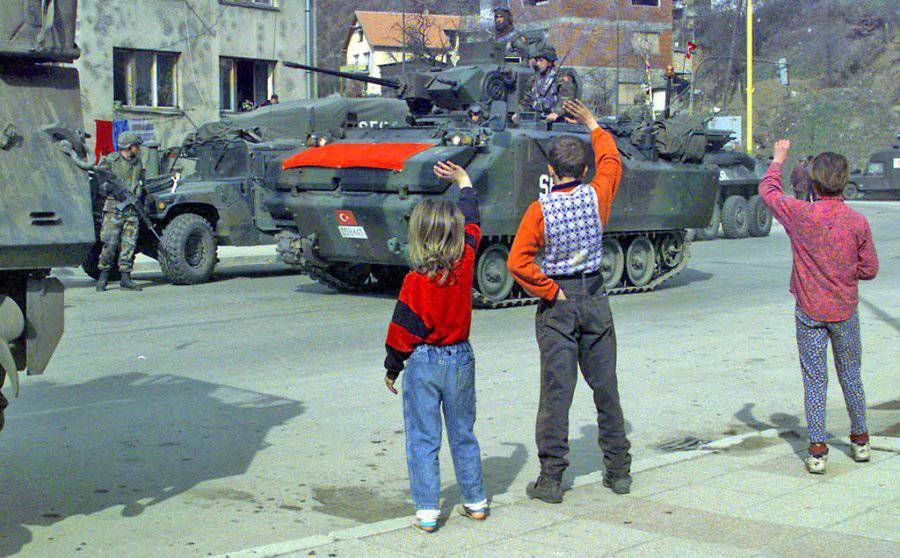 ACV-300 BMP from the Turkish contingent of NATO forces in Bosnia and Herzegovina (SFOR)
• 563 BMP ACV-300, analogue of the American model YP-765 based on the M113. Available in two versions: with a DAF tower equipped with 25-mm AP Oerlikon Contraves; with a Giat tower equipped with an M25 811 mm AP.
• 102 BMP FNSS Akinci. Option AVC-300 BMP with a six-bearing chassis and turret from the American BMN M2 Bradley.
• 1031 BTR ACV-300APC based on the M113. It is equipped with a tower with 12,7-mm KKP "Browning", has a troop compartment on the 13 people.
• around 1800 BTR M113 A / A1 / A2 / T2 / T3.
• 52 BTR FNSS Pars 6x6. 650 6x6 and 8x8 machines are ordered.
• 100 BTR Cobra 4x4.
• 260 Akrep 4x4 BTR.
• 102 BTR Yavuz 8х8.
• 340 BTR-60PB, shipped from Germany, used in gendarmerie.
• 240 BTR-80, shipped from Russia, used in gendarmerie.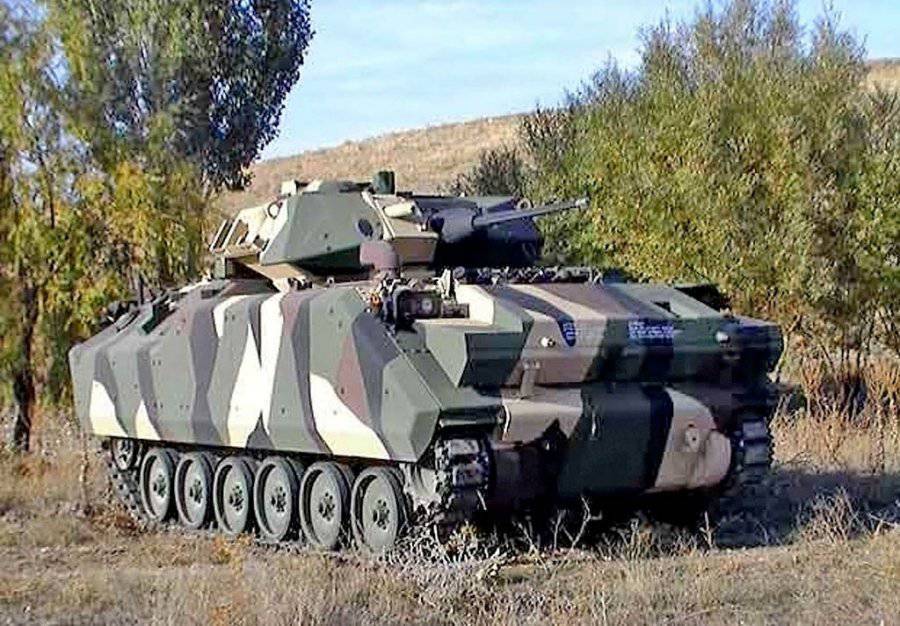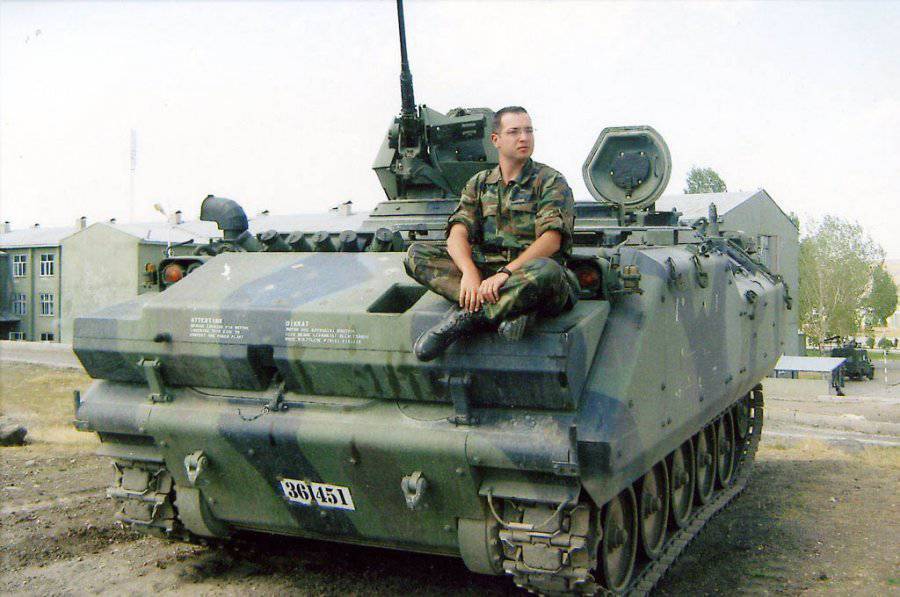 Turkish BTR ACV-300APC in the park of the 14 st mechanized brigade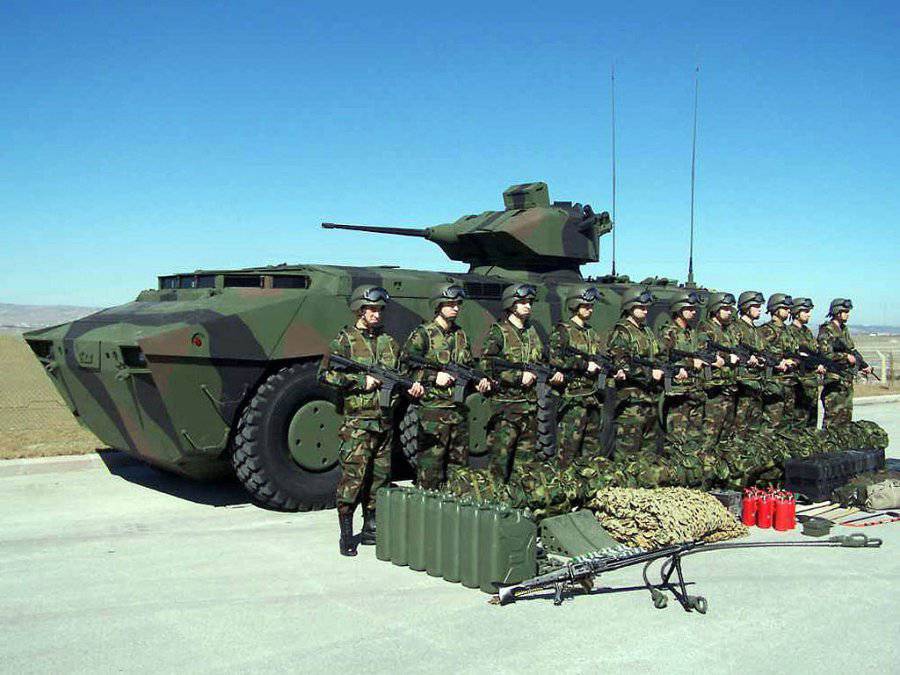 Turkish BTR FNSS Pars 8х8 in the version with 25-mm AP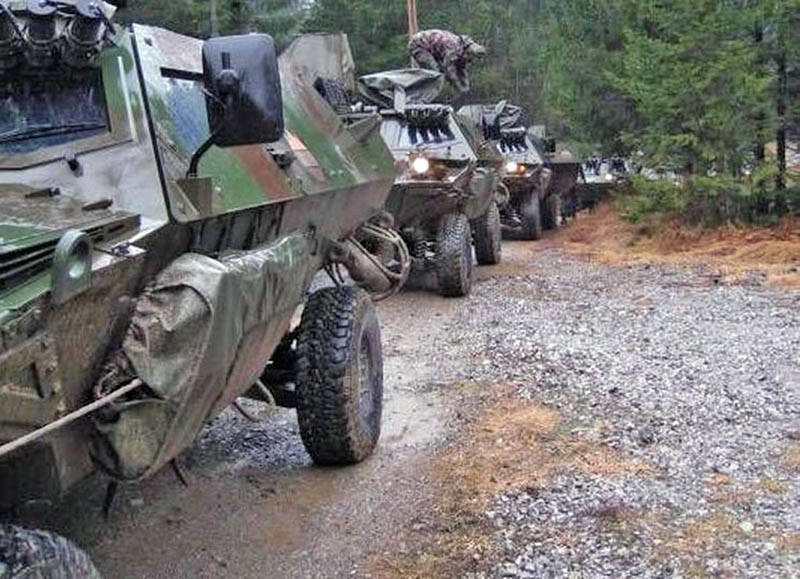 Turkish Cobra APCs at exercises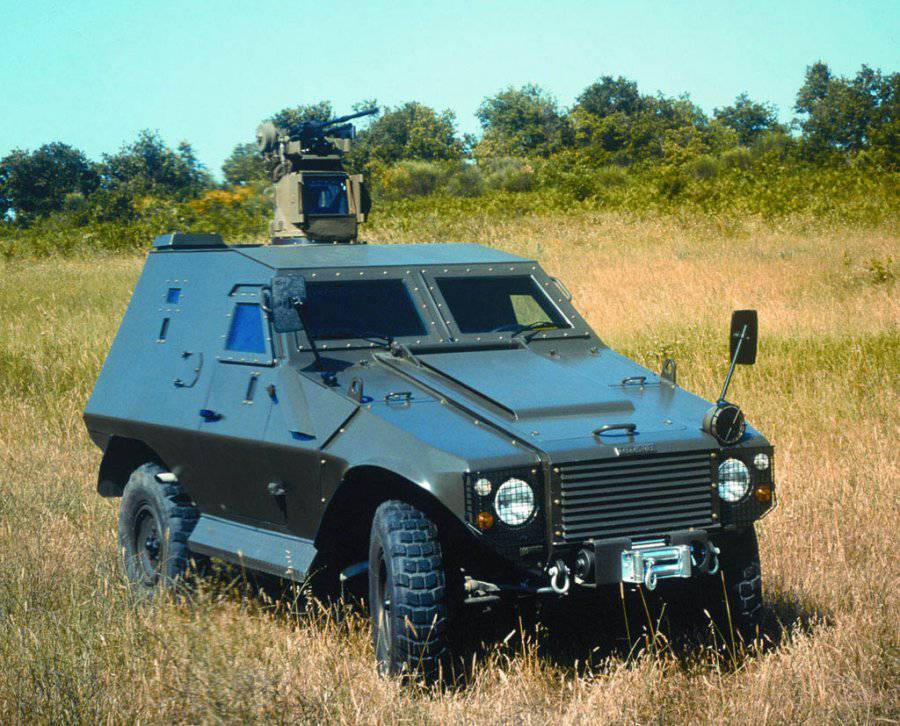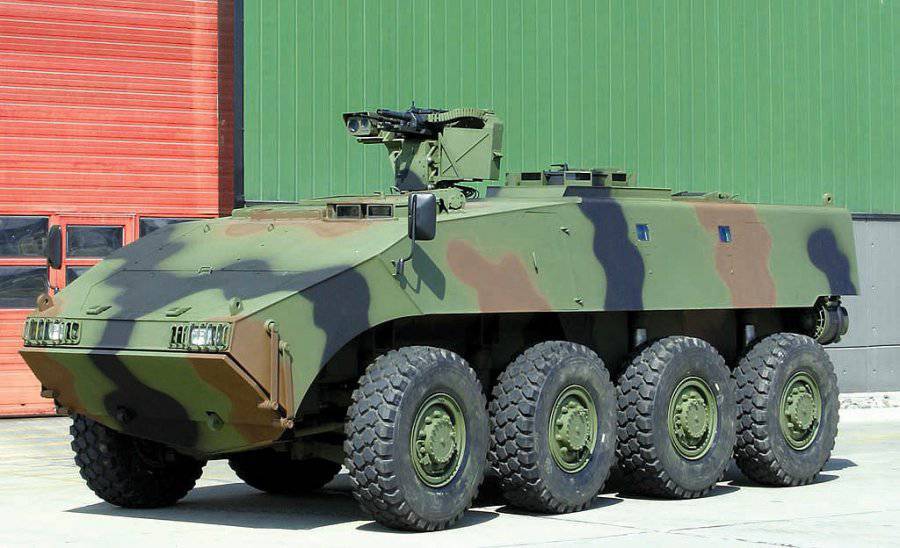 Field artillery is represented by self-propelled mortars on the M113 and FNSS chassis, self-propelled howitzers and cannons towed by systems, multiple launch rocket launchers (MLRS) of various types. Total 6110 tables.
• 108 ACS T-155 Storm, total ordered 350 units.
• 287 ACS M110.
• 36 ACS M107.
• 9 ACS M55.
• 222 ACS М44Т.
• 365 ACS М52Т.
• 26 ACS М108Т.
• about 5000 towed guns and mortars, including about 1000 105 and 155 mm guns, 2000 107 and 120 mm mortars, 3000 81 mm mortars.
• about 550 self-propelled and towed MLRS caliber 107-300 mm.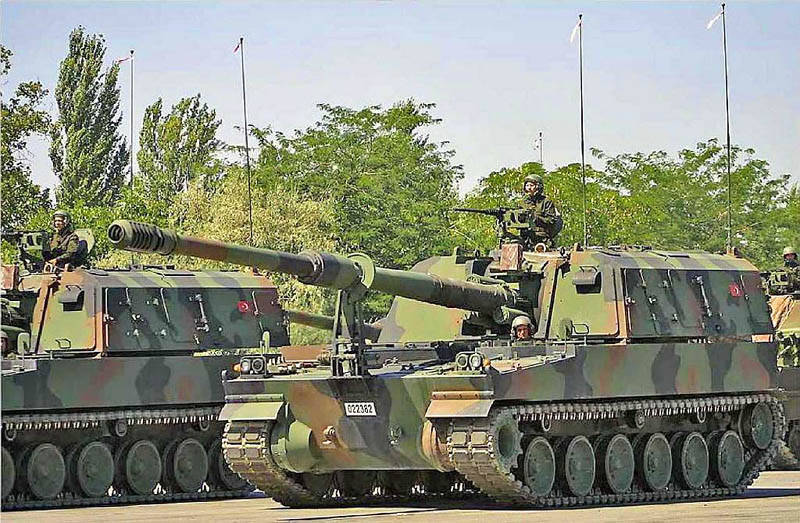 Turkish SAU T-155 Storm at the parade in Ankara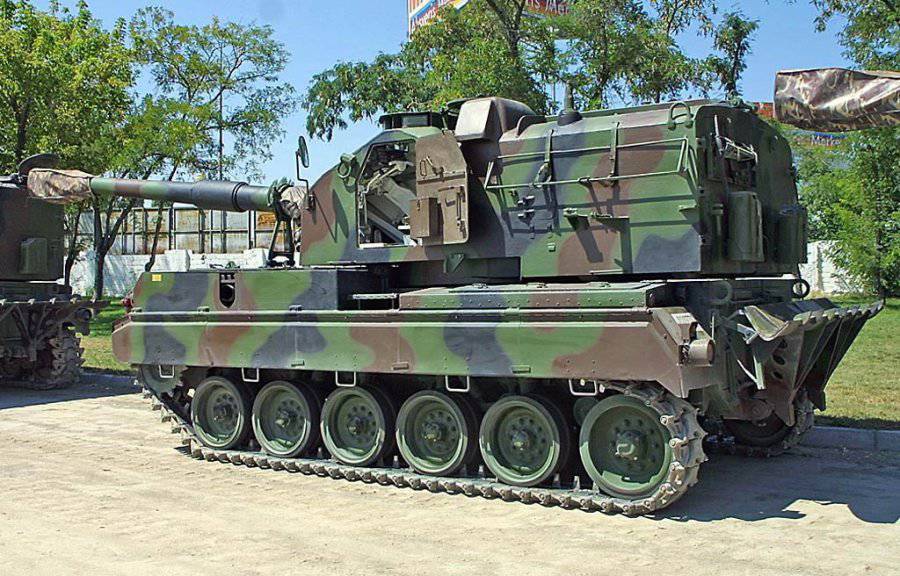 Turkish SAU M52T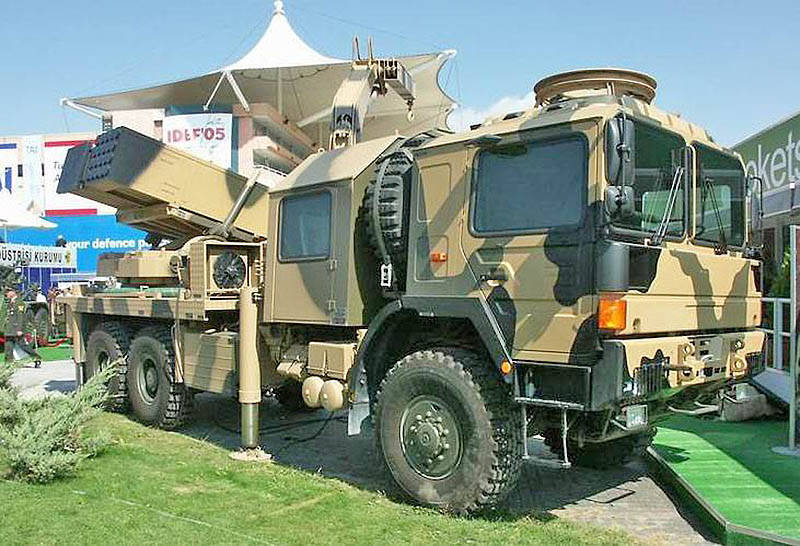 Turkish MLRS T-122 at an exhibition of weapons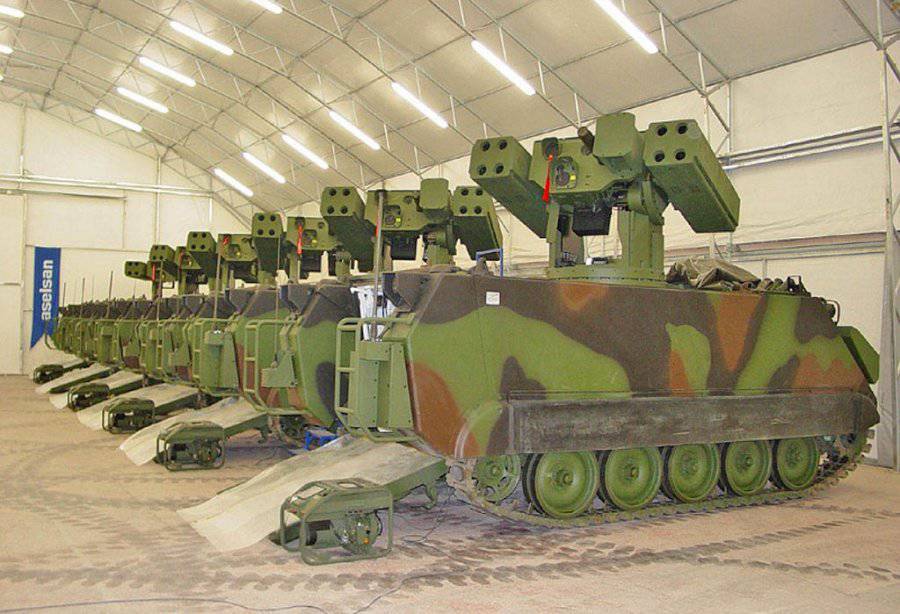 Turkish Atilgan SAM with Stinger
Anti-tank weapons are represented by self-propelled anti-tank complexes (156 ATGM М113 TOW and 48 ATGM FNSS ACV-300 TOW), portable and portable anti-tank guided missiles, RPGs. The number of launchers of portable and portable ATGM exceeds 2400 units (Cobra, Eryx, TOW, Milan, Cornet, Competition). The Turkish army has over 5000 RPG-7 and more than 40000 M72-2.
Air defense systems include over 2800 anti-aircraft small-caliber guns and ZSU, the army has over 1900 man-portable air defense systems (Red-Ay, Stinger, Igla MANPADS), as well as 105 self-propelled systems (Atilgan and Zipkin) with Sting SUR.
Army aircraft is armed with 44 combat helicopters AH-1 Cobra, multi-purpose helicopters S-70 Black Hawk (98), AS-532 (89), UH-1 (106), AB-204 / 206 (49) X-17 (18), AB / XNUMX (XNUMX), and X -UMNXX (XNUMX), AB / XNUMX (XNUMX) (XNUMX units, used in gendarmerie).
Small arms are represented by a wide nomenclature of samples:
• submachine guns HK MP5;
• automatic rifles and submachine guns G3, HK33, M16, M4A1, AK-47;
• SVD sniper rifles, T-12, JNG-90, Phonix Robar 12,7;
• manual and single machine guns MG-3, HK21, FN Minimi, PC, PKS;
• large-caliber machine guns Browning, KPVT.
CONCLUSIONS
The strengths of the Turkish army are:
• high authority and support of the armed forces in wide sections of Turkish society;
• the exceptional position of officers in the military environment and in society;
• a stable vertical of military command, corporate and clan (by types of troops, units) solidarity;
• tough military discipline in units and divisions;
• army saturation with military equipment and heavy weapons;
• availability of modern controls in the operational and tactical levels;
• integration into the communications, command and control, and air defense systems of NATO;
• systematic combat and operational training of troops;
• availability of its own industrial base for the production, repair and modernization of ammunition, means of control and communications, many types of weapons and military equipment.
OPERATIONAL OPPORTUNITIES
The 1, 2 and 3 field armies are capable of creating peacetime forces of about 50000 people and 300-350 tanks each in peacetime forces. Although the Russian Federation has no border with Turkey, the potential for military clashes with the Turkish army exists due to two factors.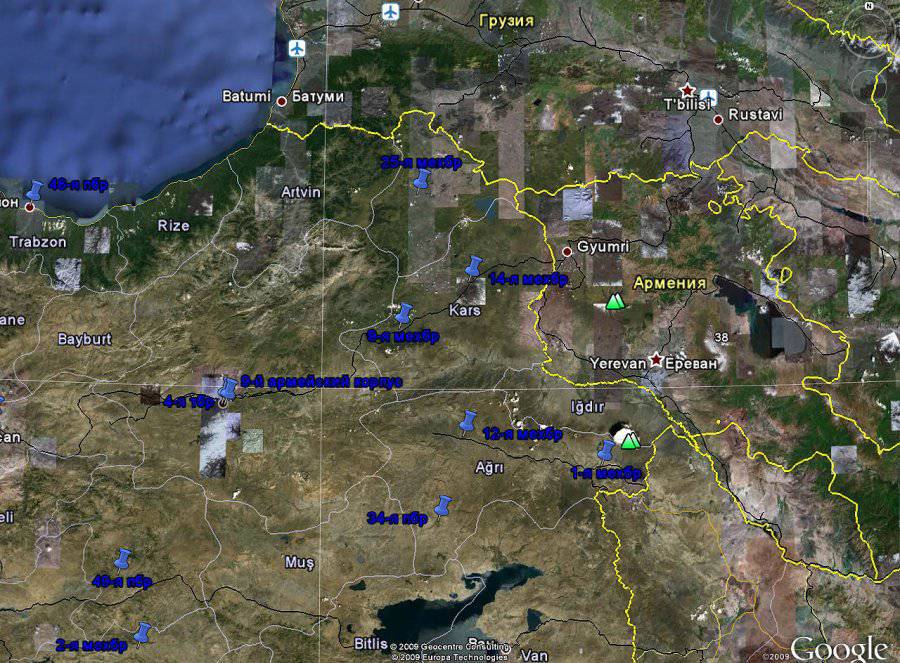 Dislocation of 9 Army Corps
The first factor is the presence of a defense agreement between the Russian Federation and the Republic of Armenia. Two separate motorized rifle brigades (formerly 102-I military base) of the Russian army are stationed in Armenia and Gyumri in Armenia. Near the borders of Armenia, the 9 Army Corps of the 3 Army Field Army of the Army of Turkey, consisting of one tank, six mechanized and four infantry brigades, are deployed. With these forces, the Turkish army is able in a relatively short time (5-7 days) to create an offensive group of 40-50 thousand people, 350-370 tanks, up to 700 guns, mortars and RSZO of field artillery, army army, armies, regimental artillery, army army, armies, mortars and RSZO in the operational area of ​​Gyumri - Yerevan for a relatively short time (15-20 days). , providing support for the grouping of several squadrons of front aviation. During the 80-100 day it is possible to expand this grouping to 600-700 thousand people, 1200-1300 tanks and XNUMX guns and mortars.
The second factor is Georgia's possible entry into NATO. In this case, the deployment of a Turkish army grouping on the territory of Georgia is possible in one operational direction: either the Abkhaz (here a Russian motorized rifle brigade is deployed according to a defensive agreement with Abkhazia) or the Russian motorized rifle brigade is deployed here according to a defensive agreement with South Ossetia. Specific physical and geographical conditions of theater and limited road network increases the time redeployment and the deployment of Turkish groups (40-50 thousand. Man, 350-370 tanks, 700 guns, mortars and MLRS Field Artillery) to 12-15 days (with a transportable inventory) or up to 20-25 days (with the accumulation of stocks for the entire operation). On the coastal flank of the Abkhaz ON, the Turkish fleet is able to support the actions of the army by landing an operational-tactical naval assault force with a force up to the brigade.
At the same time, for a group advancing on one operational direction there arises the threat of a flank strike from another operational direction. It is difficult to create a grouping sufficient for actions on two divergent IT simultaneously. The capacity of the theater is limited, the operational deployment timeframes increase in this case to 25-30 days, which largely depreciates such a decision.