St. Basil's Cathedral - the symbol of Russia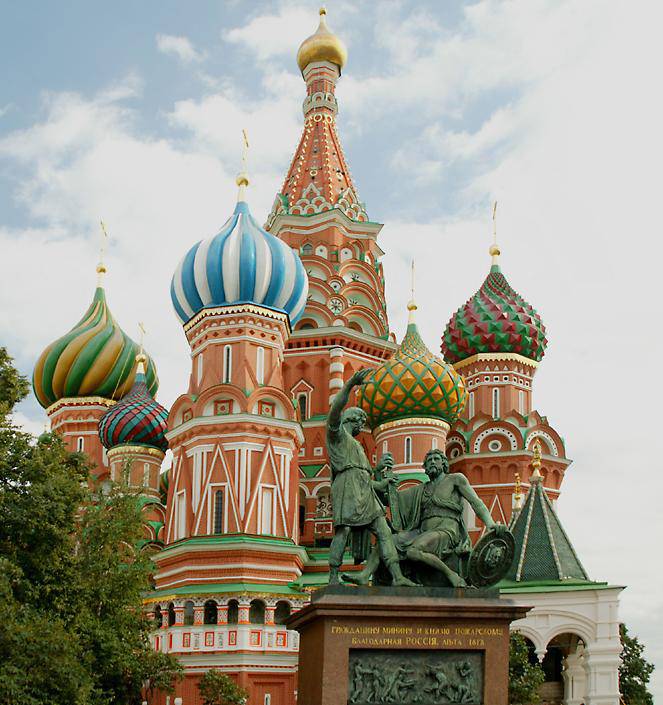 The Cathedral of St. Basil the Blessed is also called the Cathedral of the Intercession - it is an Orthodox church, which is located in Moscow on Red Square. A well-known monument of Russian architecture. Until the 17th century, it was called Trinity, because a temple originally made of wood was dedicated to the Holy Trinity. Pokrovsky Cathedral is the most famous Russian landmark. It was he who became the symbol of Moscow and Russia for the majority of the inhabitants of the planet.
Built symbol of Russia, St. Basil's Cathedral was in 1555-1561. in honor of the capture of the Kazan Tatar-Mongol Khanate under the edict of Ivan the Terrible. As legend has it, architect Postnik Yakovlev, on the orders of the tsar, was blinded so as not to build a more similar temple. The official name is the Church of the Intercession of the Mother of God, because the main assault on Kazan began on October 1 1552, on the feast day of the Protection of the Mother of God.
The St. Basil's Cathedral includes eight churches that symbolize the days of important battles for Kazan: Nicholas Velikoretsky, Trinity, Cyprian and Ustienia, Varlaam Khutinsky, the Entry into Jerusalem, Alexander Svirsky, Patriarchs of Constantinople and Gregory of Armenia. These churches are grouped around the Intercession Church, which towers above the onion domes. Between them there are all vaulted passages, a bypass gallery and a common base.
The cathedral was restored several times. In the 17th century tents were added to it over the porches, asymmetrical extensions and decorative processing of the chapters. In 1929, it was closed and the domes were removed. Starting in 1990, the temple began to collect the bells again. Today it is the richest collection not only of Moscow, but of all of Russia. There are a total of 19 bells, which were created in periods from 1547 to 1996 of the year. There is also a very interesting collection in the cathedral. weapons from the time of Ivan the Terrible.
Interesting Facts
The Pokrovsky Cathedral is the most famous Russian landmark, which is the same symbol of Russia as the Statue of Liberty for Americans or Big Ben for the British.
Now the cathedral is a branch of the State Historical Museum. Monuments from bronze to Pozharsky and Minin are set in front of it.
There is a "twin temple", which resembles St. Basil's Cathedral. It is located in St. Petersburg and is called Savior on Spilled Blood (the official name of the Church of the Resurrection of Christ).
The height of the temple is approximately 65 meters.
The photo of the cathedral is present in the list of pictures and screensavers for the desktop in the Windows operating system 7.
Ctrl Enter
Noticed a mistake Highlight text and press. Ctrl + Enter