The representative of the Iranian Air Force Command, General Amir Ali Hadjizade, said that Iran built factories in Syria for the production of missiles. Back in September, Iranian representatives announced that Iran had established the export of military technologies and dual-use technologies to friendly countries. Reports about it
TASS
.
Today, several classes of missiles of various ranges are produced in Iran. Now such missiles can help the Syrian government army. The Western media at the same time suggest that the missile facilities in Syria were built taking into account possible air attacks - in order to
aviation
strikes could not harm production.
Meanwhile, Iran has concluded a major contract for the construction of 8 power units of nuclear power plants with Russia. At the same time, Rosatom will deal with the supply of fuel for these units to Iran, as well as deal with the disposal of spent nuclear fuel. The document was signed by the head of Rosatom, Sergey Kiriyenko, and the head of the Iranian Atomic Energy Organization, Ali-Akbar Salehi.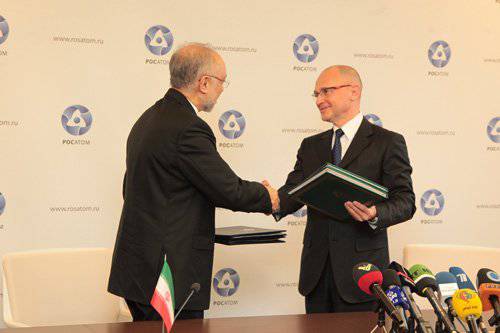 Message from the site
Rosatom
:
According to the text of the Protocol to the Intergovernmental Agreement, the parties intend to cooperate in the construction of eight power units with turnkey VVER reactors in the territory of the Islamic Republic of Iran (four power units at the Bushehr NPP and four power units at another site). At the same time, the parties intend to ensure the maximum possible participation of enterprises and organizations of the Islamic Republic of Iran in all work related to the construction of new blocks at the sites, with their operation and decommissioning. The entire construction project of nuclear power units in Iran, including the supply of equipment and nuclear fuel, will be under IAEA safeguards and fully comply with the non-proliferation regime for nuclear materials.