On October 31, 2014, from the production of the final assembly, Aviastar-SP CJSC was transported to the flight test station (LIS) the next, the second heavy military transport aircraft built by IL-76MD-90A developed this year by JSC "
Aviation
complex to them. S.V. Ilyushin "(serial number 01-04). The aircraft completed a leak test of the fuel system. After the planned ground-based aerodrome mining and factory flight tests, it will be transferred to painting.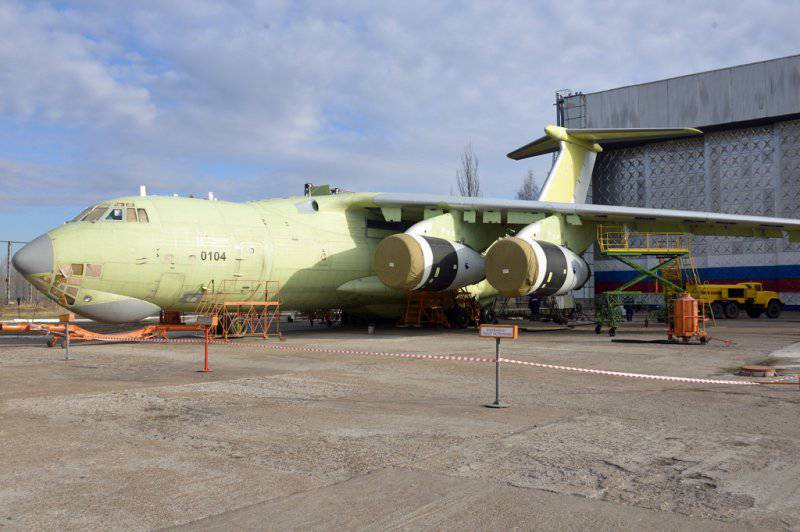 According to Sergey Nikolayevich Artyukhov, Deputy General Director of OJSC Il for Program Management, the decision to transfer the production of the aircraft to Ulyanovsk turned out to be true, the most productive and effective. IL-76MD-90А very reliable aircraft equipped with modern domestic engines, new flight-navigation complex, digital automatic flight control system. One of its main features is the possibility of using it in various fields: as a military transport aircraft, tanker truck, for extinguishing fires. S.N. Artyukhov stressed that we will do everything possible to ensure that our main customer, the Ministry of Defense of the Russian Federation, remains quite our aircraft.
At the same time, the previous IL-76MD-90А (registration number 78651, serial number 01-03) was successfully completed the factory flight test program. The joint crew of test pilots of Il and CJSC Aviastar-SP checked in the air the performance of all the systems of the new machine, the engines and equipment.
The last flight was made on October 30 2014 of the year, it lasted 6 hours 7 minutes. The flight was completed successfully. Landing was carried out at night on the runway of the flight test complex of the Ulyanovsk-Vostochny airport. The plane landed at exactly the appointed time.
In the future, the aircraft 01-03 to pass special flight tests. The new aircraft will be received by representatives of the 929 State Flight Test Center of the Ministry of Defense of the Russian Federation named after V.P. Chkalov, located in Akhtubinsk. They have already arrived in Ulyanovsk.
After the end of special flight tests, the aircraft will go to the Taganrog Aviation Scientific-Technical Complex named after them. Gm Beriev "to create a special aviation complex based on a modern platform.