Germany arms both Israel and Saudi Arabia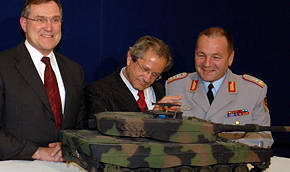 Germany seems to have become the largest arms supplier in the Middle East, despite strict export controls, which hampered sales of German
weapons
in the past.
Germany supplies 200 tanks Leopard 2A7 + - the main battle tank, built by engineering company Munich's Krauss-Maffei Wegmann and Rheinmetall, to Saudi Arabia. In addition, Delphin-class submarines manufactured by Howaldtswerke Deutsche Werft are shipped to Israel, UPI reports.
And now, by a strange twist of fate, Israel and Germany are jointly developing a Pilum air-to-ground missile, which will be installed on Eurofighter fighters, which in turn will be sold to Saudi Arabia and other countries.
The Eurofighter fighter, also known as the Typhoon, is produced by a consortium of British, German, Italian and Spanish companies.
Moreover, in the Libyan conflict, weapons produced by German defense companies are also used by both parties to the conflict.
The forces of the Libyan leader Muammar Gaddafi, for example, use tanks for the transport of fuel produced by Mercedes-Benz, a system for creating radio interference of German production and anti-aircraft missile systems Milan-3, produced by the French-German company MBDA.
NATO forces use twin-engine Eurofighter in the fight against the Gaddafi regime.
After the end of World War II in 1945, the issue of arms sales became particularly sensitive in a resurgent Germany. Such sales were strictly limited by the constitution, which put German manufacturers at a disadvantage relative to the United States, as well as British and European arms manufacturers.
But in recent years, despite the fact that defense spending in Europe has been steadily declining, and arms exports are becoming particularly important, Germany has lifted some of these restrictions.
Today, 70% of German defense products are sold abroad.
The Stockholm International Peace Research Institute, which monitors global arms sales, says Germany is the third largest weapon supplier after the United States and Russia.
The data published by the German government shows that Saudi Arabia, one of the most active arms buyers in the world, is among the 20 of the largest customers of German military products, moreover, it is their main source of weapons, and the United States and Germany consider the Middle East conflict zone.
"Deals on the export of missile units, machine guns, ammunition and artillery shells in Riyadh were approved even in those years when Germany was headed by a coalition government from the center-left Social Democratic Party and the Green Party in 1988-2005 years", - said in July German news magazine Der Spiegel.
However, the Leopard tank deal was only made public in July, a month after it was quietly approved by the government of Angela Merkel.
The contract for only one "Leopard" costs about 2,85 billion dollars. This is about one-fifth of the value of Germany's total world arms exports for 2009 a year, of which Saudi Arabia's sales amounted to 167,9 million dollars.
The sale of tanks, which changed the policy of arms exports and foreign policy, caused major political disputes and ethical discontent in Germany. She raised the question of how economic interests take precedence over human rights issues, especially after monarchist Saudi Arabia attempted to stifle democratic uprisings in the Arab world.
The German coalition itself split because of this, and the opposition led by the Social Democrats demanded the cancellation of the deal.
The deal was a secret, and Merkel argued that information about her would still be made public.
All data on arms exports are made public in December of each year, but one of them, for the 2011 year, should not be made public for another year.
Questions were also raised that this deal could threaten the very delicate relations between Germany and Israel, which are still under the influence of the Holocaust.
German media even wondered if Berlin was trying to get Israeli approval for a tank contract, as is customary between the United States and Israel. But Israel does not comment on these issues.
Deputy Foreign Minister Dani Ayalon said about this during his visit to Berlin: "This is typical of such questions, they are not spoken about publicly. But I can assure you that we completely and completely trust the German government."
Ctrl Enter
Noticed a mistake Highlight text and press. Ctrl + Enter