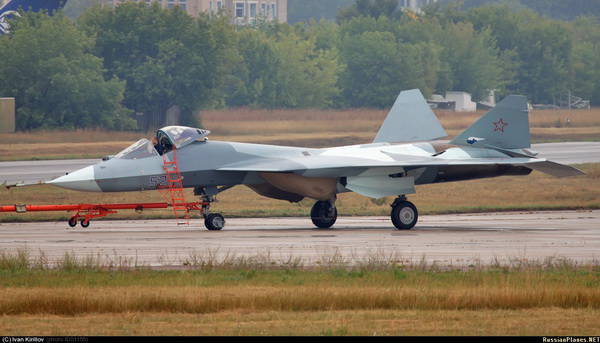 Fifth generation T-50 fighter prototypes will arrive in the Russian Air Force in 2013 year, a serial purchase will begin a year later. This was announced today to journalists by the Commander-in-Chief of the Russian Air Force, Colonel-General Alexander Zelin.
"Work on the fifth generation aircraft is carried out according to schedule," - said the commander in chief. "The T-50 serial procurement for the Russian Air Force will begin in 2014, the fighter will be acquired along with a full range of weapons and ground-based technological equipment," Zelin said. since 2020 year. "
"Zero" static sample of a promising front-line aviation complex
aviation
/ PAK-FA /, aka T-50, was manufactured in the summer of 2009, and the assembly of the first flight prototype was soon completed at the enterprise in Komsomolsk-on-Amur. By August 2011, the first flight instance of the PAK-FA completed 66 test and demonstration flights. The assembly and ground testing of the second flight instance was completed by the spring of this year. Currently, the third flight instance of the new machine is located at the assembly plant in Komsomolsk-on-Amur. His conclusion to the test is planned for this fall.
As the President of the United Aircraft Building Corporation / UAC / Mikhail Pogosyan specified today at the MAKS-2011 air show, "two more fifth-generation fighters should be built by the end of the year and will join the test program." He stressed that the program to create the PAK FA is on schedule, agreed with the Ministry of Defense.