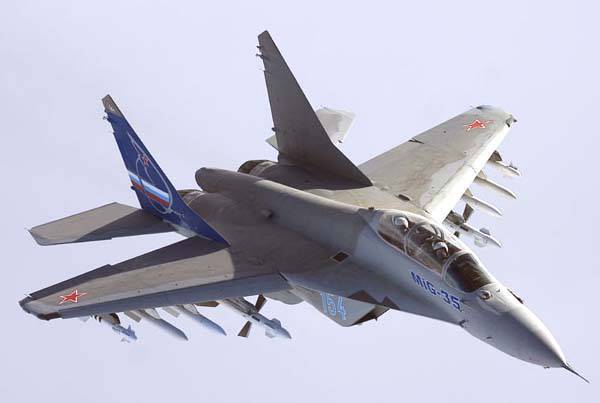 MiG-XNUMHD will be adopted by the Russian Air Force as a light aircraft. Colonel-General Alexander Zelin, commander-in-chief of the Russian Air Force, told journalists about this.
"We have not yet abandoned the MiG-35D project as a light aircraft," said Zelin. He noted that in the future the army would completely switch to T-50 — a heavy fighter.
He also said that the MiG-35D will be analogous to the F-35, which is being developed in the US instead of the F-22 fighter.
As previously reported, the fifth-generation fighter type T-50 (PAK FA) will be the base aircraft, not only for the Russian Air Force, but also for India. This was announced today at the MAKS-2011 air show by the President of the United Aircraft Building Corporation (UAC), Mikhail Pogosyan.
According to the head of the KLA, a conceptual design of the aircraft is being developed jointly with India. "Cooperation with India in this project will help Russia to promote fifth-generation fighter aircraft to the external market," Pogosyan specified.
The fifth-generation Russian fighter, the T-50 (PAK FA), is to be commissioned by the Air Force in the 2016 year. Currently 3 prototype aircraft are being tested.
We add that in comparison with fighters of previous generations, a promising
aviation
The Frontline Aviation Complex (PAK FA) has a number of unique features, combining the functions of an attack aircraft and a fighter. The T 50 is equipped with a fundamentally new avionics complex integrating the function of an "electronic pilot", and a promising radar station with a phased antenna array. This greatly reduces the burden on the pilot and allows you to concentrate on performing tactical tasks. The on-board equipment of the new aircraft allows real-time data exchange both with ground-based control systems and within the aviation group. The use of composite materials and innovative technologies, the aerodynamic layout of the aircraft, measures to reduce the visibility of the engine provide an unprecedented low level of radar, optical and infrared visibility. This allows you to significantly increase combat effectiveness in work, both for air and ground targets, at any time of the day, in simple and difficult weather conditions.
It is assumed that the PAK FA will be able to reach speeds of up to 2,6 thousand km per hour and fly over a distance of 5,5 thousand kilometers. The fighter will be armed with a 30-millimeter cannon, and will also receive ten suspension points in the internal bomb bay. 29 January 2010, the fifth generation combat aircraft made the first flight.