Representatives of the OSCE monitoring group stated that they had recorded the movement of a column of military equipment without identification marks on the territory of that part of the Donetsk region, which is controlled by the militia. It is reported that members of the OSCE group discovered the movement of the column on the eve of the afternoon.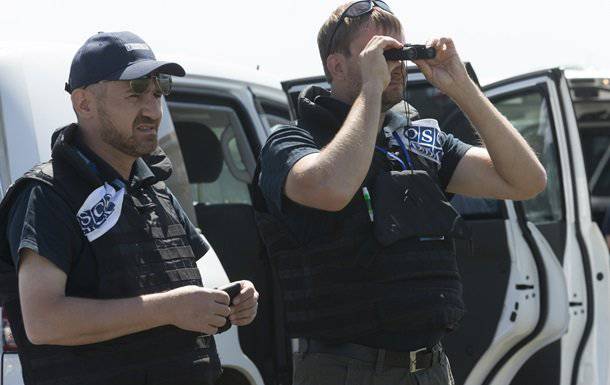 RIA News
quotes the OSCE representative:
In 13: 55, on the eastern outskirts of Makeyevka, in 25 kilometers northeast of Donetsk, on the territory controlled by the so-called DNR, the OSCE observed a convoy of approximately 40 trucks and tanks moving westward on the N- road. 21. The KamAZ 19 trucks went without identification marks and numbers and transported 122-mm howitzers, accompanied by persons in dark green uniform without insignia. The column was accompanied by BTR.
In addition, representatives of the OSCE mission in their mini-report report the following:
The SNM was in motion and could not verify the contents of these vehicles. At 15:20 at the intersection of Leninsky Street and Kuprin Street (7 kilometers southeast of the center of Donetsk), the SNM saw a convoy of nine
tanks
- four T-72 tanks and five T-64 tanks without identification marks, moving west.
Yesterday, during a meeting in China, Russian Foreign Minister Sergei Lavrov and the head of the State Department, John Kerry, journalists asked the head of the Russian foreign affairs office whether he confirmed that the Russian military equipment had entered Donbass. Lavrov replied to this in English (translation):
If this information does not confirm Jennifer Psaki, then I certainly do not confirm.
On the eve of the OSCE monitoring group presented a report on the shelling of the school stadium in Donetsk. According to the findings of the OSCE Commission, shelling was carried out from the territory on which the Ukrainian security forces are located.