Today (November 8 2014) marks 90 years of Dmitri Timofeevich Yazov - Marshal of the Soviet Union, the penultimate Minister of Defense of the USSR. Dmitry Yazov is the only living Marshal of the USSR (the title was awarded in 1990 year).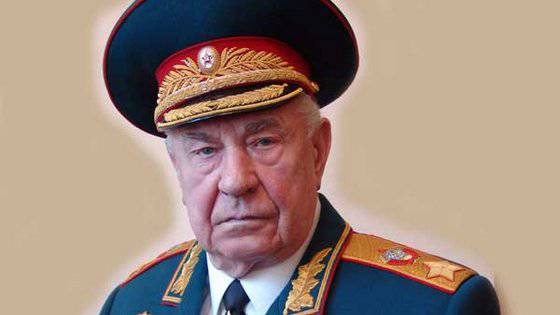 Dmitry Yazov participated in the Great Patriotic War, got on that at 17-year-old age, assigning to himself an additional year. Dmitry Timofeevich took part in the battles for Leningrad, fought in the Baltic States.
It can be considered that the military and postwar
история
The Soviet Union is at the same time the history of the service of Dmitry Yazov. Participation in the operation to transfer the Soviet military contingent to Cuba during the Caribbean crisis. Work in the headquarters of the Leningrad Military District. Command 4-th army, whose management after the war was located in the Caucasus. Work in the personnel department of the General Staff. Service as Deputy Commander of the Far Eastern Military District.
Next - Czechoslovakia, again the Far East, the post of Minister of Defense. One of the milestones in the history of the country and the life of Marshal Yazov is the State Emergency Committee, after participating in which Dmitry Timofeevich was arrested, released into custody in the 1993 year, and pardoned by the State Duma of the Russian Federation in 1994.
Today Marshal Yazov is an honorary citizen of the Omsk region. It was in the Omsk region (in the village of Yazovo) that Dmitry Timofeyevich was born. In honor of Dmitry Yazov's 90 anniversary, the Omsk garrison conducts a parade of troops.
Congratulations to Dmitry Timofeevich Yazov on his anniversary!