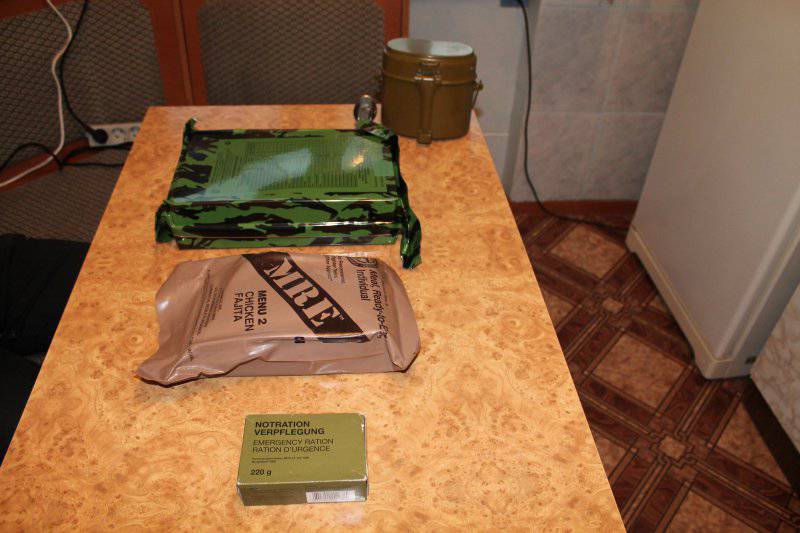 The background is as follows. Three "mountain" rations of our army fell into our hands. After reviewing the trips with cargo for Novorossia with two of them, we decided to make the third one public. He deserved it.
As long as this idea "matured", it itself expanded to compare with Western models. The idea was good! True, we did not manage to find analogues. Therefore, we had to be content with what we could get. And thanks to Malik, who was able in the center of Russia to arrange for us dinner from NATO's bounty.
We did not strive to make a full-fledged and deeply thoughtful analysis, we just ate these rations. And shared their feelings. To complete the picture, Malik and I starved for a day, and after each reception we took a break for 30-40 minutes. And that's what happened.
1. Emergency ration Bundeswehr.
Summary. Pros:
1. Small size.
Cons:
1. Disgusting taste of biscuit cardboard. Tea - a terrible abomination, but there is this, without drinking, - is unreal.
2. Slight saturation.
3. Requires an additional minimum of a heat source for making tea.
2. Nato standard lunch.
Pros:
1. It can be eaten.
Cons:
1. Unusual taste range: or sweetly sweet, or spicy and salty. After drinking all went to drink water.
2. Disgustingly working elements for warming up. Not only that a little warm everything, but still stinks carbide very much.
3. Saturation ... 2000 kcal we did not notice.
4. Again, requires additional heat sources for making coffee.
3. Mountain rations of the Russian Federation.
Pros:
1. Many and satisfying. And delicious.
2. Everything is at hand, it requires only water and a pot.
Cons:
1. Not enough dry fuel tablets.
2. Heavy (2,2 kg), but such a stock is pleasant.
The result, of course, is in favor of our ration. They compared items from different categories, but still absolutely natural products from the Russian diet, even if they are larger in size and weight, are preferable to the obvious "chemistry".
We are extremely pleased that in our army today such rations. And we can only sympathize with the "colleagues" from NATO. Quite fair and reasonable.