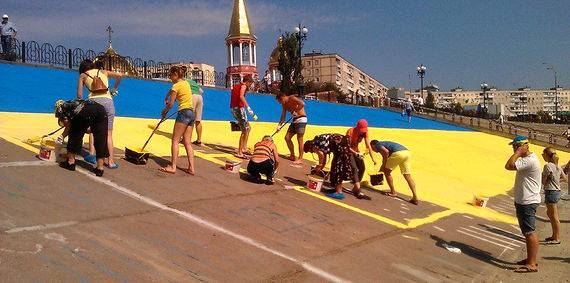 Returned from Kiev. The trip was not easy, it was not possible to write something. Politics was a background. Off-screen noise. Sometimes it was funny. More often - not funny. I will share my impressions:
1. For all the bravado, Kiev looks like a very neglected city. As one friend of mine says, as if they hadn't swept for twenty years. The abundance of yellow-blue symbolism in the most inappropriate places is striking. Yellow very quickly becomes dirty, spattered with rain, spray from under the wheels, so every time the spectacle is depressing. Particularly surreal look "ukrozabory" surrounding the construction sites of expensive supermarkets.
The cars whose patriotic owners paint hoods, trunk luggage and even extreme side windows look absurdly. Came across cars with the number "PTN PNH."
How can you not remember the "Heart of a Dog"! Kiev became the city of Shvonder and Sharikov. Professor Preobrazhensky instantly recorded in the accomplices of the separatists.
2. In my favorite roadside cafe on Podol, delicious pancakes are no longer made. The other owner, other staff, all are "comers" in large numbers. And now instead of pancakes - the standard fast food. They probably think that this is very European. In general, it seems that after the Maidan in Kiev hundreds of thousands of visitors from Western Ukraine settled down - "Lviv guvara" (Lvov dialect) can now be heard on every corner, in every shabby shop.
3. Ukrainian flags hang in places from the balconies. My friend said that the "messengers" went before the elections, offered to hang the flag for money. But I do not exclude that some people decorated their balcony completely free of charge. And again - how not to remember "Heart of a Dog". A book for all times, and Kiev timelessness too.
4. TV from morning till night is broadcasting about "fake elections" in the Donbass, separatists, terrorists, Russian terrorist troops, Ukrainian cyborgs from Donetsk airport (and completely adults repeat - yes, they say, cyborgs))). Bezler occupies a special place with television channels - plots and entire films have been made about him. It seems the demon Svidomye patriots scare their embroidered children. There is no doubt that Bes, sitting in Gorlovka, she himself shoots her from Gradov, and at the same time Makeevka. The Ukrainian anti-terrorist operation forces, according to the Kiev journalists, never shoot anyone at all.
5. Despite the fact that "Freedom" was run in elections and, it seems, they will be appointed as the main fascists, Kiev is filled with fascist symbols of the Azov battalion: everywhere on billboards there is a stylized swastika. Hundreds, if not thousands of advertising boards throughout the capital.
6. Kiev journalists, repeating mantras about a united and indivisible Ukraine, have no idea what the cities and towns of Donbass are actually called. Spooling instead of Tooshka, SNIP (Snow) instead of Lower (Snowy), Khrushuvate instead of Chryaschuvate (Hryaschevatoe), VorgUlevka instead of VergulEvka ... Not to mention the fact that in the reports you can hear Dombas instead of Donbass, which is our way. This, too, Donbass, generally few who know. Solid Ballpoint. They are reporting "from the front line" somewhere in Kramatorsk, while referring not to the facts they got, but to the press service of the ATO or the Security Council. In FIG, it is asked, to go to Kramatorsk to retell
news
from Kiev?
7. Kiev gave heat. Although officials are outraged: they say, plus one - this is not a reason to heat the apartment. They promise to turn off before the cardinal cooling. They promise to lower the temperature of the coolant on weekdays. Tariffs increased. For Kiev, it is generally nonsense - to pay for heating as all or almost all.
8. Gasoline is expensive. Roads in a completely non-metropolitan state. But "PTN PNH".
9. The words "Donetsk" and "Lugansk", spoken aloud, cause a psychological reaction in some people. Different. Drugstores refuse medicine for the people of Donetsk, one of the companies refused medical equipment for Donetsk, the client's transport company, having heard that parcels were being sent to Donetsk and Lugansk regions, kicked them, shouted something, cursed, threw out the paper and ran out, promising to convey to the carrier as an accomplice of terrorists))).
10. Politicians in Kiev are reasoned on the basis of the reality that Ukraine is a subject state. Realities (of other givenness) are not acceptable. Many have their own reality, and in this reality, Ukraine is an independent state, which means something and solves something. At the same time, Putin is to blame for all internal troubles. On Putin, all written off in general. Understand and accept that in their own "negrazdah" need to blame themselves, few who can. Not just everything ™.
11. At every step - fundraisers. Young people of student age are roaming gloomily in the roadway in the hope that car owners will fork out the punitive operation "ATO" and its consequences - the disabled, who now need prosthetic arms, legs, eyes ... There is little money in the boxes. And the crippled warriors (now former) tell on TV that prostheses purchased at public expense break in two weeks. And you want to live life to the fullest, to transfer combat experience to new fighters ... Do not even think about what experience? How to turn from a young guy into an invalid?
12. Militant ignorance - from the Commander-in-Chief, who is fighting "for myr", from the minister, who knows the secret direction "north-south" to the average man with embroidery on the hood. They are not at all interested in the grief of parents who lost their children yesterday at the school stadium in Donetsk. They do not know what it means to live under fire. They do not sympathize.
13. Of course, there are other Kievans. Completely different. But their voice is not audible. Not at all audible. Too many Shvonder. Too many Sharikovs.