Having begun a large-scale modernization of the Armed Forces, Warsaw also worried about buying drone drums, which, in the words of high-ranking Polish officials, should be a response to a possible "eastern invasion." Reports about it
Russian Planet
with reference to the foreign press.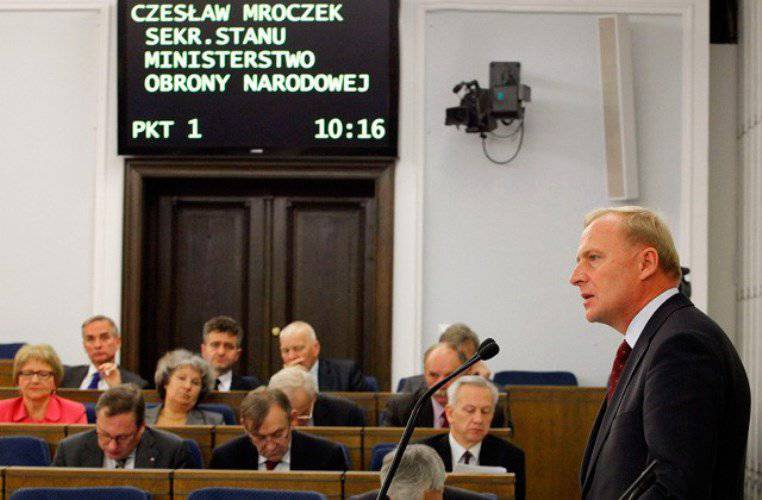 Cheslav Mrochek in the Polish Senate"We use these drones to protect our territory"
, - said Deputy Minister of Defense Cheslav Mrochek.
"My Ukrainian colleague told me that one of the main problems (of the Ukrainian army during the conflict in the south-east of the country) were Russian drones who corrected artillery fire on targets. Ukrainians were helpless in this situation, so we found an adequate response. "
- said the deputy minister. About the purchase of any UAV in question, he did not explain.
"Polish defense plans are extremely ambitious. Formally, we are talking about protecting the territory, but drones are also an opportunity to attack the enemy at long distances, "the Polish edition of Polityka commented on the Warsaw intentions.
During the 10 years, Poland plans to rearmament the army about $ 38 billion. These funds should be enough not only for the purchase of UAVs, but also for the modernization of equipment of all military branches, the construction (purchase) of submarines and the creation of an updated air defense system.
"The waste of such a record amount is necessary to create an army capable of most effectively repelling an invasion in the event of a situation equivalent to the Ukrainian crisis"
- explained in the Polish military department.
"The events in Ukraine have extremely negatively impacted regional and international security, and also forced us to revise plans for technical modernization. (...) As a result, programs have been accelerated aimed at strengthening the strike force and the deterrence potential of our armed forces. "
, - said Cheslav Mrochek in his August interview with Reuters.
According to him, 24 billion zlotys ($ 7,9 billion) have been allocated only for "the creation of the Vistula anti-missile system." As conceived by the military, at first 8 batteries with medium-range interception devices will be put on combat duty, later they will be enhanced by short-range air defense systems.
In addition, part of the money will go to create your own technology, samples of which the Poles have recently demonstrated. For example, the light tank "Anders" and the ACS "Shrimp", which is now preparing for mass production. For the future, the production of more sophisticated equipment is planned: the attack helicopter of the project "Raven" and submarines of the ORKA project.
Also, the Polish authorities have been carrying out a plan for several years to create a full-fledged joint brigade, which should include Poles, Lithuanians and Ukrainians. The connection even has a working title - "UkrPolLitBrig".