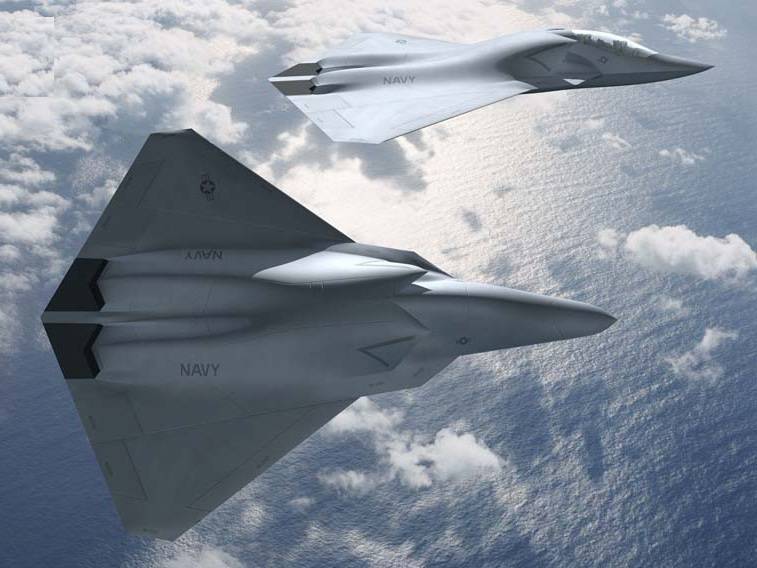 The new American fighter, the successor of the famous F-35 and F-22, in the future it is planned to equip with laser guns and functions of avoiding detection by means of radilocation and thermal imagers. This is not all its functions. The fighter can even burn computers and infect enemy computer systems with viruses. Such rosy plans were built by the chief scientist of the aviation department of the United States.
The fighter of the FX program will go into service no earlier than in 20 years. The fighter will be powered by a hybrid scheme - batteries and electric motors. Its high-speed flight will allow you to charge energy
weapon
, and also to carry out flight on power supply at ultralow speeds.
Such a bold, if not utopian, concept should cost a tremendous amount to the American treasury. If there are relatively cheap drones based on stealth technology, then developing an ultra-expensive flying hybrid is a very adventurous undertaking. But the whole point is that the principles that can form the basis of FX design can themselves give a good impetus to the development of the whole world
aviation
.
The new power grid FX will be somewhat reminiscent of the current hybrid car system. In this case, a super-efficient combined-cycle engine will allow you to fly at great speeds or in slow-flying mode.
The whole essence of the power system is based on the use of capacitor batteries. They will store the energy that has accumulated due to the operation of the main engine. Computerized machine control systems will allow to monitor the process of operation of capacitors. This will allow equipping the new fighter with super-powerful striking lasers, microwave guns, extinguishing the signals with a radar, as well as with a technique for introducing a virus-like code into enemy computers.
On the plane there will be absolutely new electric drives, which are designed to replace the bulky and overly inert hydraulic systems that have outlived themselves. In addition, the electrical clusters of the new FX will turn waste gases into a new fuel source, concentrating their energy. Capacitor charge and will accumulate due to this conversion. And if the gases are captured by the aircraft itself, then in the infrared range the FX will be almost imperceptible. Saving fuel when using such a system looks quite obvious.
The new FX aircraft is not yet a project. Rather, it is simply a set of requirements or wishes for future generations of aircraft. In this case, the focus is on excellence in information technology and the economy of the American model.