On November 7, the Yantar Baltic Shipyard in Kaliningrad will host a ceremony for launching the second frigate Admiral Essen, a patrol ship of project 11356, which is being built for the Russian Navy
fleet
, which will be attended by representatives of the Ministry of Defense and the Navy of the Russian Federation, reports
"Russian newspaper"
.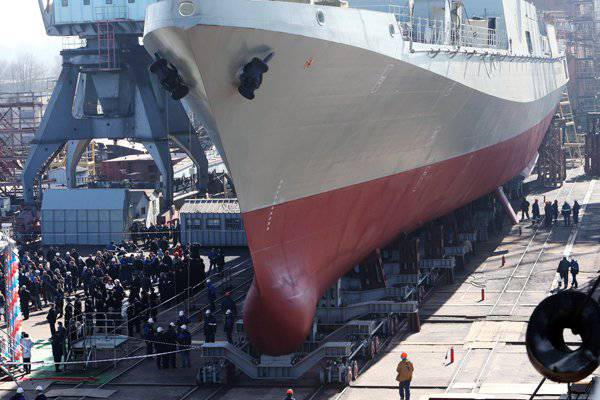 The ship has a fully formed hull and superstructure. At the moment, the mounting of the main equipment and weapon systems is being completed. Completion of the frigate will hold on the water, after which the test program will begin.
The construction of the Admiral Essen TFR began in July 2011. The ship was named after Admiral Nikolai Essen, who commanded the battleship Sevastopol during the defense of Port Arthur and held the post of commander of the Baltic Fleet in 1909-1915.
It should be noted that all six frigates of the series, which are built on the "Yantar" for the Black Sea Fleet, will receive the names of famous Russian naval commanders. The first ship, the Admiral Grigorovich, whose construction began in December 2010, was launched in March 2014. He is now in the testing phase and will be handed over to the customer in 2015 year.
At the moment, the factory laid "admirals" Makarov, Istomin and Butakov. Bookmark the sixth frigate is planned in the near future. The entire series of ships will be ready for 2017 year.