At the Yaroslavl Shipyard 30 in October, the laying of the head sea tug "Sergey Balk" (project 23470, serial number 410) took place, the blog
bmpd
.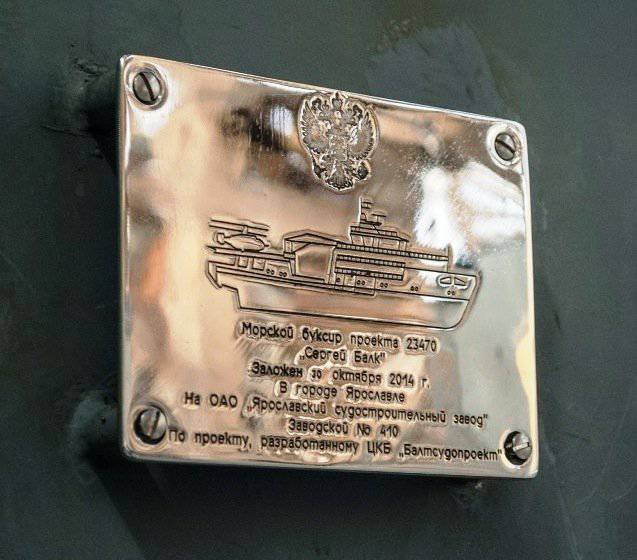 The state contract for the supply of 2-x sea tugs of the Russian Navy is concluded between the Ministry of Defense and Yaroslavl shipbuilders in March 2014. The project developer is the Baltsudoproekt Central Design Bureau.
The first tug must be delivered by November 2016 to the Black Sea Fleet, and the second to November 2017 by the Pacific.
"At the initiative of the Yaroslavl Shipyard in connection with the upcoming 110th anniversary of the tragic events of the Russo-Japanese War of 1904-1905, sea tugs of Project 23470, being built at the Yaroslavl Shipyard, by order of the Commander-in-Chief of the Naval
Fleet
dated September 16, 2014 No. 809, the real names Sergey Balk and Andrey Stepanov were given in honor of the heroes of the Russo-Japanese War - the commanders of auxiliary fleet vessels, "the publication notes.
Sergey Balk in 1901-1904 commanded the port vessel (tug) "Strongman" of the naval base Port Arthur.