Ukraine is ready to transfer to China new Soviet military secrets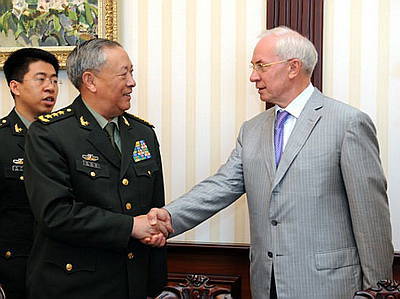 Ukraine and China are stepping up military-technical cooperation. This was announced by the Prime Minister of Ukraine Mykola Azarov during a meeting with the Chief of the General Staff of the People's Liberation Army of China, Colonel-General Binda Chen. "Ukraine is ready to intensify military cooperation, the exchange of military delegations, the attache, to expand the training of the Chinese military in higher educational institutions of the Ministry of Defense of Ukraine," Azarov said.
According to him, cooperation in the creation of heavy transport aircraft, large-capacity ships, air-cushion ships, the construction of tanks and air defense assets is promising.
"I would especially like to draw attention to the aircraft industry. The Chinese Aircraft Corporation and the Ukrainian enterprise Antonov need to deepen cooperation, "Azarov said, adding that Ukraine has the most modern technologies, in particular the construction of heavy transport aircraft, which have no analogues in the world.
A Ukrainian official instructed his subordinates to develop a 5-10-year program of cooperation between Ukraine and China.
As "New Region" reported, in the outgoing week in China, the former aircraft carrier Varyag was launched for testing, which after the collapse of the USSR went to Ukraine built on 67%, but was sold to Beijing for the price of scrap metal.
In June 2011, Viktor Yanukovych signed with the PRC leader a declaration declaring China and Ukraine strategic partners.
Russia has repeatedly expressed concern about the actions of China in copying Russian and Soviet military equipment. In particular, in Moscow they voiced protests against Kiev's plans to transfer to China documentation on amphibious assault ships of the Bison type.
In June, 2010, it also became known that Chinese engineers assembled the first prototype of the fourth-generation carrier-based fighter, the J-15, by copying it from the Russian Su-33. The analogue of the "Sukhoi" was created on the basis of one of its first prototypes, the prototype T10K of Soviet times, which China received in Ukraine in 2005.
Ctrl Enter
Noticed a mistake Highlight text and press. Ctrl + Enter