An employee of the French shipbuilding company DCNS, which performs work on the construction of Mistral-type helicopter carriers for Russia, Yves Destefanis, as reports
Russia Today
, dismissed for writing in October 8 in the Russian Federation. According to some reports, Destefanis invited Russian officials to the ceremony of handing over the first Mistral to Saint-Nazaire, which (according to the documents) should take place on November 14.
RT, referring to the French media, spreads the very letter that was registered by the Russian company Rosoboronexport. The letter is a personal signature of a man like Pierre Legrot. And this is the DCNS vice president. If Legros remained in his place, then it turns out that in France they found their "switchman", having fired far from the largest employee of the company (head of military shipbuilding programs DCNS).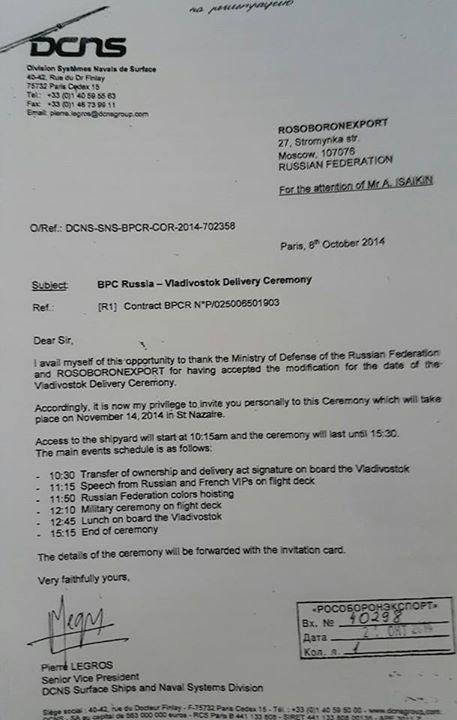 The French authorities announced yesterday that there are currently no conditions for the transfer of a helicopter carrier to the Russian Federation, and denied that the transfer ceremony will take place on November 14.
The French press comes out with materials under question headings in this style: "Destefanis was the only one responsible for the letter?" Another question asked by the French right led by Marine Le Pen: "Will France play the role of the American poodle for a long time?"