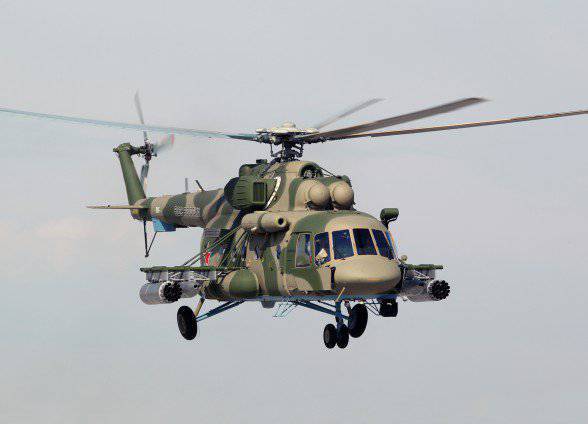 "Helicopters of Russia" are ready to put the Mi-8AMTSH-In parts of the Russian Air Force. The Mi-8AMTSH-V is the latest modification of the Mi-8AMTSH helicopter (export name is the Mi-171Sh), the model is made taking into account the course for import substitution.
In the Ulan-Ude Aviation Plant, as part of the execution of the state defense order, new Mi-8AMTSH-B are waiting for shipment to the military units of the Russian Air Force. In order to reduce dependence on foreign suppliers, the new Mi models are equipped with modern Russian-made equipment.
One of the main areas of modernization was the replacement of the auxiliary power unit AI-9 В of Ukrainian production with the Russian model TA-14 produced by NPP "Aerosila". TA-14 has a higher power plant capacity, increased generator time, as well as better launch altitude performance (6 000 m versus 4 000 m in AI-9В). Thus, the capabilities of the helicopter during operation in high-mountainous areas and autonomous basing increased significantly.
The helicopter is equipped with more powerful VK-2500-03 engines manufactured by Klimov (part of the United Engine Corporation). VK-2500-03 engines are notable for improved performance, which makes it possible to markedly increase the reliability and safety of combat use and the overall performance of the helicopter. In addition, the increased resource of Russian engines will favorably affect the cost of operating helicopters.
For the convenience of the crew and helicopter flight safety, a new Russian weather radar has been installed with the function of displaying three-dimensional images of meteorological formations and objects. Information from the weather radar and navigation equipment, which increases the ease of piloting and ensures flight safety, is displayed on a large digital multifunction display.
To increase combat survivability, the helicopter is equipped with Russian-made ceramic-metal armor, which has higher durability and lower weight than steel armor.
Modern domestic flight-navigation and radio communication equipment, protection systems and weapons, as well as a wide range of additional equipment will allow the new military transport helicopter Mi-8AMTSH-B to meet all the requirements.
The Russian-made BMS satellite navigation system installed on the helicopter can work both with the domestic GLONASS system and with foreign GPS. A modern complex of communications equipment also made in Russia is provided by the helicopter crew with high-quality communications in a wide frequency range.
"We understand the importance of maximum independence from foreign components and assemblies for the equipment supplied in the framework of the state defense order, and we are working purposefully in this direction," said Alexander Mikheev, general director of the holding company "Helicopters of Russia". "Moreover, the results of this work, using the example of the Mi-8AMTSH-B, indicate that the use of Russian equipment in some cases allows us to achieve significant improvements in the characteristics of the helicopter."