The small landing ship (MDKVP) "Evgeny Kocheshkov" (in its class - the largest in the world) successfully conducted artillery firing in the Baltic Sea firing ranges, reports
RIA News
with reference to the press service of the ZVO.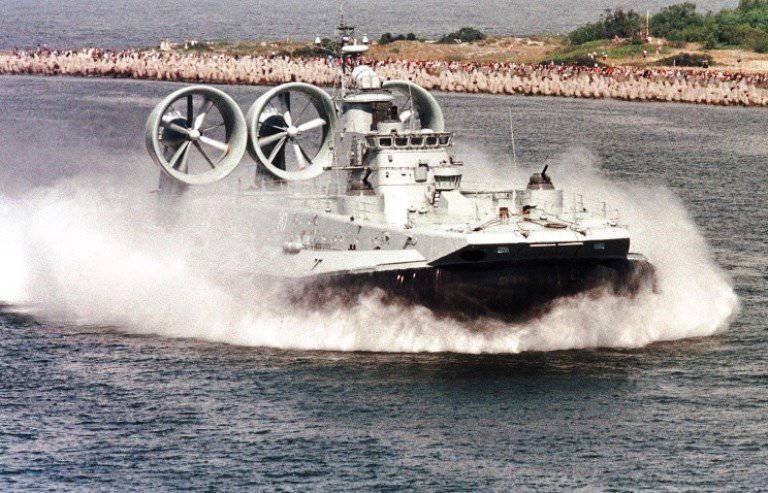 "During the time of departure to the sea, the crew of the ship successfully fired artillery firing at sea surface and air targets. Firing was carried out from 140 mm fire launchers of the Fire system (naval equivalent of the Grad type salvo fire system) against a special buoy field imitating the coastal battery of the enemy, as well as from the 30-mm automatic installations AK-630 "
- said in a statement.
In addition, exercises were conducted with the crew "on the struggle for survival, radiation, chemical and biological protection of the ship at sea."
Landing ships "Eugene Kocheshkov" and the same type "Mordovia" are in service with the Baltic
fleet
. These are the largest hovercraft in the world.
Help agency: "MDKVP" Eugene Kocheshkov "- a small landing ship hovercraft project 12322" Bison ". It is intended for reception of amphibious assault forces with military equipment from the equipped or non-equipped coast, transportation by sea, landing on the coast of the enemy and fire support of the airborne troops. Due to the design features of the airbag can move on the ground, bypassing small obstacles (ditches and trenches) and minefields, move through the swamps and land troops in the depths of enemy defenses. For MDKVP "Bison" is available for landing assault troops up to 70% of the total length of the coastline of the seas and oceans of the world. "