Israelis again went to the protests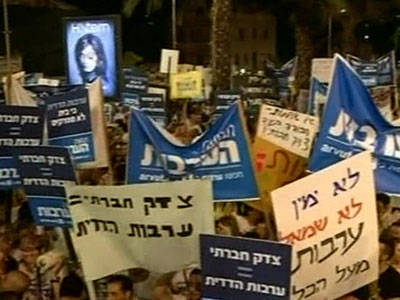 Israel has covered a wave of protests under the slogans of combating social injustice. About 12 people took part in the protests that took place on Saturday in 70000 of the main cities of the country. The bulk of the protesting citizens were students and middle class.
According to the organizers of the protests, their goal was to demonstrate the unity of the people of Israel, as well as to demonstrate the intentions of a large part of society to do everything possible to bridge the gap between the rich and the poor. According to Israeli police, the largest concentrations of protesters were recorded in the north of the country in the city of Haifa - there were about 30 thousands of people gathered at the demonstration. Residents of Eilat, Afula and other provinces and cities of the country are also dissatisfied with their financial situation.
On the central square of the city of Beersheba, located in the south of the country, about 10 thousands of demonstrators gathered. They unfurled a huge banner: "The Negev Awakened." Individual demonstrators brought banners with the following slogans: "Israel cherishes me" and "the south is angry."
According to earlier information, 6 in August the number of demonstrators who came out to share in Tel Aviv exceeded 300 thousands of people. Despite the large number of protesters, on that day, as well as last Saturday, there were no clashes between the protesters and the police.
Mass protests began in Israel about a month ago. The protesters demanded that the government, led by Prime Minister Benjamin Netanyahu, carry out economic reforms, protesting the high cost of living, increasing social inequality and unemployment. In addition, people require affordable medical care and education. Responsibility for the situation, according to the protesters, should be borne by Premier Netanyahu and Israeli Finance Minister Yuval Steinitz.
According to recent public opinion polls, 88 percent of Israelis support the demands of protesters, and more than 50 percent of the population are ready to support anti-government protests, the first in more than sixty years
history
Of Israel.
Ctrl Enter
Noticed a mistake Highlight text and press. Ctrl + Enter