The famous Humvee, developed in the 1980-ies, was not designed as a full-fledged combat vehicles: they almost do not protect passengers from RPG shells and homemade mines. The conflicts in Afghanistan and Iraq clearly demonstrated how significant such threats are, so the US military urgently ordered armored plates, but this worsened the all-terrain qualities of the car.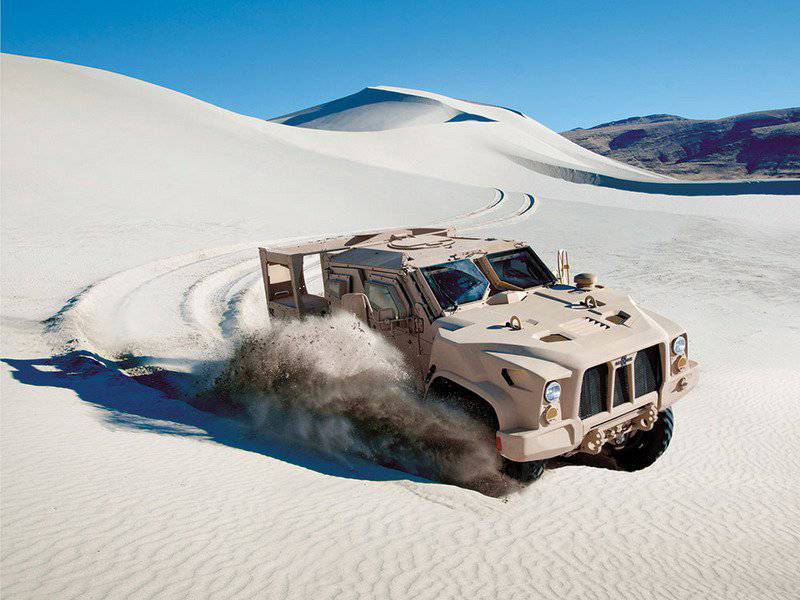 The next step of the US military department was the development of larger, heavier and more expensive armored vehicles capable of protecting from mines (MRAP). They were quite successful in ensuring passenger safety, but too oversized for most missions.
At the moment, the US Department of Defense is going to invest even more money and time in the new development of the Joint Light Tactical Vehicle (JLTV), which is to replace the outdated Humvee.
Oshkosh Corporation is present in the list of bidders for the 9.4 billion-dollar contract for the development and production of a new armored vehicle with its brainchild ight Combat Tactical All-Terrain Vehicle (L-ATV), a faster and smaller MRAP brother from the same company, M-ATV.
The JLTV program has a wide range of requirements, key vitality, easy transportation, and a multi-purpose platform that can be used for different tactical scenarios have become key.
In addition to key specifications, L-ATV also uses other quite useful technologies: in particular, an independent computer-controlled suspension provides 20-inch ground clearance, which has a positive effect on its off-road qualities, and also makes it possible to place it in a limited space, for example on amphibious ships. And to your own power system, you can add an optional diesel-electric installation, capable of producing 70 kilowatts.
The L-ATV weight is about 5.6 tons, while it can carry up to 1.6 tons of cargo. Data on maximum speed and performance are not yet disclosed for reasons of competition. This winter, the Pentagon will make a choice between Oshkosh, Lockheed Martin and AM General (the creator of Humvee). The contract for the supply of 17000 new cars in the first 8 years will be signed in the summer of 2015. Thus, one JLTV will have 550 million dollars.