The Prime Minister of the Donetsk People's Republic, Alexander Zakharchenko, said that Kiev is trying to thwart the Minsk armistice agreement.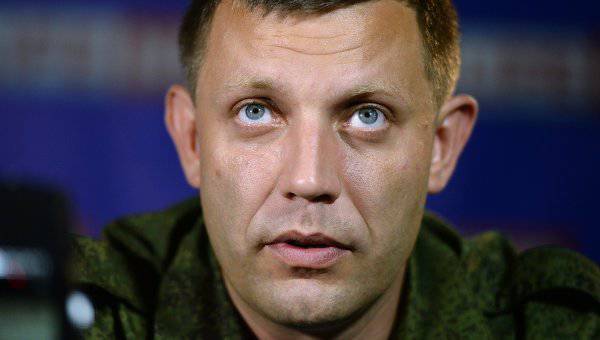 "I believe that Ukraine specifically disrupts the observance of the Minsk agreements," RIA quoted Zakharchenko as saying
"News"
.
The Prime Minister also noted that the Ukrainian authorities decided to withdraw the document, suggesting the creation of a buffer zone.
"The elections to the Verkhovna Rada interested us only in one aspect: the" peace party ", or the" war party "will win. The "war party" won, so we are preparing for war, "Zakharchenko added.
It is worth noting that the authorities and public associations of the DPR and the LPR turned to Russia and the OSCE with a request to influence Kiev in the matter of the implementation of the Minsk agreements.
"Judging by the belligerent rhetoric of official Kiev, he is not going to carry them out," they cite an excerpt from the message of Vesti.
In addition, the document records violations of the Minsk agreement by the Ukrainian authorities.
In particular, the security forces continue to bombard the cities of Donbass from artillery, there is no decentralization of power, and no law has been passed on the special status of regions in the region. In addition, the law "On non-admission of prosecution and punishment of persons in connection with events in certain districts of Donetsk and Lugansk oblasts" did not come into force and the paragraph of the protocol on the continuation of "national dialogue" was not executed.