Specialists of Orbital Sciences Corporation, the developer and operator of the Antares launch vehicle, had to launch a spacecraft self-destruct system, reports RIA
"News"
with reference to the American TV channel
CNN
.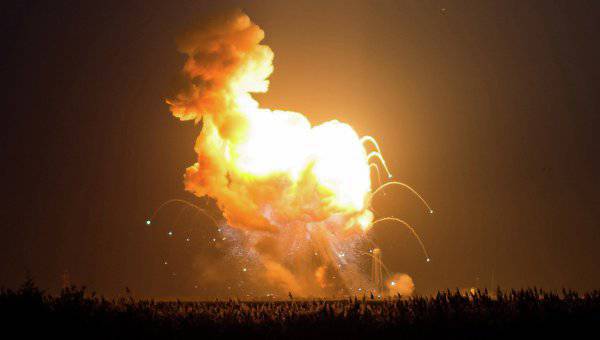 The American Antares rocket, which was supposed to deliver a space Cygnus truck with two tons of cargo for the ISS, into orbit
exploded during launch from the Vallops space center
Tuesday.
The vice president of the company, Barron Benesky, said that the operators had to activate the self-destruct system when it became clear that the launch had failed.
"They resorted to a system of self-destruction, to be sure that the rocket will not fall in populated areas, because they realized that it will not be able to go into orbit," said the former NASA astronaut Mark Kelly.
The US space agency also reported that the disaster destroyed scientific equipment and spare parts for the station. There were no casualties in the accident; at the moment, its causes are being investigated. According to representatives of NASA, emergency will not affect the health of astronauts on the ISS, as they will have enough water and food for at least until the end of March.