The nose of the destroyer "Zamvolt" in the comments already looks like a hedgehog - so many broken copies of its shape. Metnu and his, out of respect for hedgehogs.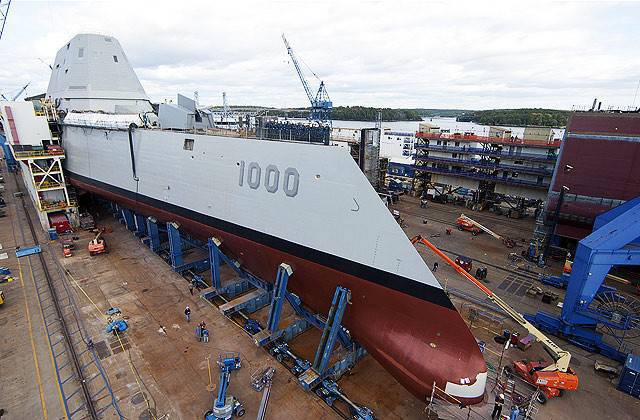 The traditional hull shape with a bowing hinge and the collapse of the sides / bulwarks is mainly used to reduce the deck bay by a wave. Very good, for example, for trawlers, where brave anglers gutted sprat nets in the fresh air ... The same approach has some drawbacks, such as:
- increased fuel consumption for jumping on each medium and more waves;
- this jumping itself as a fact (including and especially harmful for the gutting of enemy kilka weapon systems that require precision fire guidance and target designation systems).
If we don't give a damn about the deck bay (and what, are there working sailors?), Then we immediately have:
- fuel economy: it is easier to go through the wave (faster) than to roll over to the wave due to buoyancy (parasitic pitching), which is compensated by the shape of the nasal tip. And it significantly increases the range and speed;
- more stable body: it is easier to control the radar diagrams, optics and the ship in general, and more precisely to fire on the sprat. :)
Therefore, the construction of shipbuilders sworn partner does not look so awkward.
You can also look at the shape of the contour of the bottom of the destroyer (there is a picture somewhere on the site), which partially reminds me of a gliding solution ... There is little new under the moon, gliding contours and cutting nose with a direct or partially reverse head is used, for example, on class yachts Volvo Open. In which the size is smaller in 10, and the maximum travel speed is for 30 nodes. Under sail ... I consider it pointless to discuss the nautical qualities of the world's best racing boats around the world, so we're just watching how it works: