Turkey prepares for NATO invasion of Syria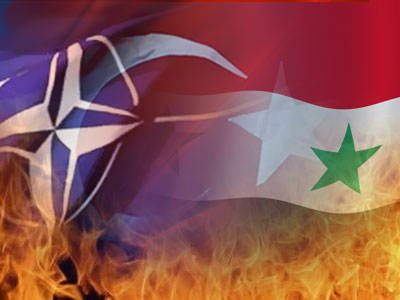 During the storming of the northern city of Khan Sheikhun in the province of Idlib near the Turkish border, Syrian government troops shot at least 2 civilians, eyewitnesses report. Earlier tanks were introduced into Khan Sheikhun, reports Reuters. According to eyewitnesses, today, protests also took place in the suburbs of the Syrian capital Damascus. During the dispersal of a demonstration in the Sagba area in Damascus, one person was killed. According to media reports, the police made a series of arrests in Sagba.
Meanwhile, the Turkish authorities are taking significant measures to ensure security in the Syrian border area. According to the newspaper Today's Zaman, the military called for the service of the officers, who retired, and sent them to the border area. At the same time, increased readiness was announced at the base of the Turkish Navy in Iskanderun. The newspaper notes that the events in Syria led to the freezing of a project to destroy minefields in the border area.
The publication writes that the Turkish authorities fear the influx of refugees from Syria, especially in the light of "possible NATO intervention in what is happening in this country." According to some reports, 17000 refugees are heading for the Turkish border. In turn, according to the Iranian agency Fars, the Supreme Mufti of Syria, Ahmed Badr al-Din Hassoun, said that everything is ready for an attack on Syria by NATO.
"A big Western intervention is expected against Syria, in which more 600 combat aircraft will be involved. All Syrians must unite on these difficult days to defend our Motherland," he said.
Recall that earlier Syrian President Bashar Asad accused "terrorists" of organizing unrest in the country. He noted that the authorities will pursue terrorists who are trying to destabilize the situation in the country. According to Syrian human rights activists, since the beginning of the unrest in March of this year, more than 2000 people have died in the country.
Ctrl Enter
Noticed a mistake Highlight text and press. Ctrl + Enter