Quote from the media resource "Vesti-Odessa":
Today, October 29, in the morning, residents of the Odessa residential area of ​​the Tairov were frightened by a column of C-300 anti-aircraft missile systems, moving along the streets of the city.
After some time, the Ministry of Defense published an appeal in which it called on the population not to panic, explaining that the movement of equipment was in no way connected with the situation in the region.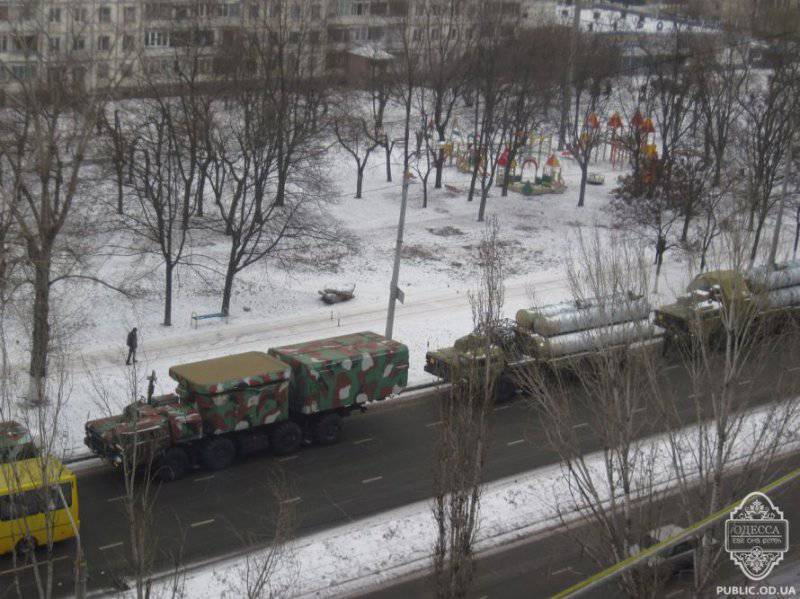 Mayor Gennady Trukhanov also raised this issue at a session of the City Council. "This relocation is not related to the ATO. It's about the planned exercises of the Air Force of Ukraine, "the mayor explained.
The message "Duma.net":
The military raised an alarm 160 Warsaw-Odessa anti-aircraft missile brigade, 14-th separate radio-technical brigade, as well as the headquarters of the command "South". The two 160 battalions of the C-300 anti-aircraft missile brigade received the task of making the 40-kilometer march, turn around and take up combat duty.
"Nothing extraordinary happens, and the movement of equipment is connected with the check from the general staff," said the command spokesman Sergey Balanovsky. - The usual teachings, albeit unplanned. In a few days, the units will come back.
The only thing that was "forgotten" was to indicate these resources, that on parts of the machines, the inscription "UKRGAZ" was inscribed on the upper rocket containers, which, however, many Odessa bloggers did not fail to mention, who posted photos and recordings of video recorders as evidence.
Perhaps this organization was a sponsor of this "event", but it is also possible that the people in Odessa are joking in social networks: this is a new way of masking air defense weapons from Russian satellites.
It is necessary to assume nevertheless that the transfer of such powerful anti-aircraft missile systems is connected with the questions of increasing the grouping of the Armed Forces of Ukraine in the South-East on the Crimean and Transdniestrian directions. That can not but alarm, especially on the eve of elections in New Russia.