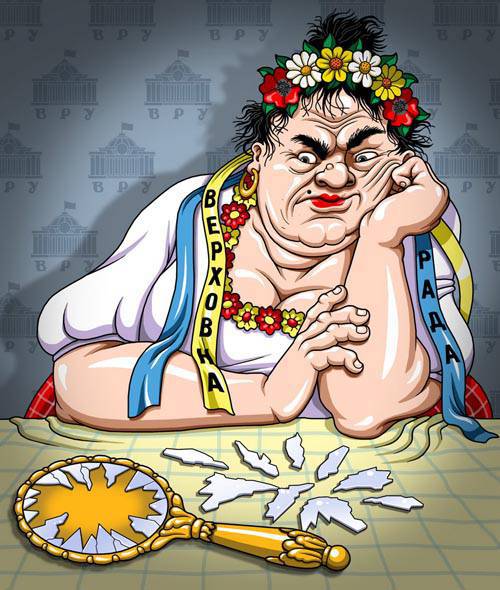 In Ukraine, a tragedy occurred: as a result of the Bandera sabbath of 22 in February, it turned into "Edin Krajina" in American order, in which great ukry live, only by inertia calling themselves "Ukrainians". They were captured by the belief in the great Ukr freebie, that they, "Tse Europe", will become Europe tomorrow. Those who keep their minds are persecuted and beaten up as "quilted jackets", Colorado "or" separates "who cannot understand and appreciate this great chimera.
All the more so that people from Europe agree with them: of course, ukry are Europeans, well, or almost, you just have to make one last effort ... It all depends on you! That is, they are held by useful idiots who, one way or another, can be useful as plumbers and dishwashers.
I came to this conclusion, reflecting on the behavior of my acquaintances in Donetsk: they live between the airport and the station, that is, in the heat of the moment, they are Russian and they are for Novorossia, but there is one among them who kept saying to me very recently phone, that "this is all your Putin, it prevents us from becoming Europe."
And other observers, to take at least Wasserman, note that many of their long-time acquaintances in Ukraine seemed to be obsessed with everything on the topic "Putin and Europe." UkroSMI happily declare on this occasion that even the Russian-speaking population supports the Bandera Krajina, and, unfortunately, here lies only about the scale of this phenomenon.
This is the result not only of media blasting, there is something irrational in it.
A person is mesmerized when he becomes a witness
historical
events, turns, for many months literally the entire population is seized by some kind of emotional fever, historians of the Great October Revolution note. Most begin to believe in a miracle, it seems to them possible, literally tomorrow.
In hungry Petrograd, everyone was in an excited state, not so much because of the devastation, as they were waiting for extraordinary events that would magically quickly arrange everything in a new way, and everyone would be happy. Not only the common people, soldiers and commissioners, but also a huge part of the intelligentsia shared these feelings: "Jesus Christ is in the white halo of roses ahead," wrote the great poet A. Block at that time. Mayakovsky was touched when he heard revolutionary soldiers sing his poems: "Eat pineapples and chew grouse, your last day comes, bourgeois ..."
All this is repeated now in Krajina, only the role of the communist utopia is performed by the European democratic utopia. Today, it overshadows the people, and they do not see, or do not attach importance to the fact that the country is plunging into chaos, that Ukraine is no longer there ...
There are people, cities, enterprises, the Verkhovna Rada and the Armed Forces of Ukraine, but these are all fragments of the former Ukraine. "Country" is communications, diverse relations between people and its institutions, they make the country a unique system, just as the bonds between atoms and cells determine the properties of inanimate and living matter — they opened the world, unfortunately, only in the middle of the twentieth century, scientists Bertalanffy and Prigogine, but the policy does not draw conclusions from this, or do not want to do.
Destroy the connections between the elements, and you will destroy the system, although its material substances will remain. They will be forced to establish new connections among themselves, to build a new system. This is a painful process, and no one knows in advance what new connections will be established, and what system they will give birth to, in this case, the country. Communications in society that were in Ukraine before February 22, 2014, have already been destroyed, or destroyed.
The Bandera revolution destroys precisely the ties, relations that existed in the "old Ukraine", and tries to establish new links between its fragments, in this case nationalist, Nazi, supposedly in the name of the European "United Kraina". This is achieved through intimidation and pogroms (Odessa, Mariupol, Kharkov) or a clear civil war (Donbass), but there will also be the phenomenon of "night of long knives" (when "revolution devours its children"), and everything will end, the story says, a banal ruin .
The driving force of any revolution is some great dream idea that is understandable to everyone, and the majority accepts it, so the revolution goes its own way to the end. The great Ukrsky dream is about the European future, its strength is that you can go to Europe and see everything with your own eyes, rather than take it for granted, as many people once believed in the fictional European Marx in his office.
In fact, this is a dream of a great freebie, to be "for so" in a wealthy Europe, you just have to renounce everything Russian, in yourself and in your own history, and break with Russia to become a European, such is the condition of Europe. Yes ... the biblical parable about the sale of the birthright for a mess of pottage has not lost its relevance. And you can read where it leads ...
It was on this freebie that the people were caught ... The people as a whole are trusting, like a child, "onizdeti" - it was not by chance that this new word was born, it accurately reflects the deep meaning of the events in the former Ukraine. New contacts in the Bertalanffy-Prigogine community will be established by these new people "onizhedeti". They are fully confident that it is enough to put "honest and good people" at the head of the state, the army, in general everywhere - and will become "Edin Krain" Europe.
Corruption and bureaucracy will fall, and even Putin will not be able to save them, because they are his "agents", local and European demagogues assure the poor people, while the country is being destroyed literally before our eyes. "It is sad to live in this world, gentlemen!" - the great Russian and Ukrainian writer N.V. told the bitter truth about the future (our present) long ago. Gogol.