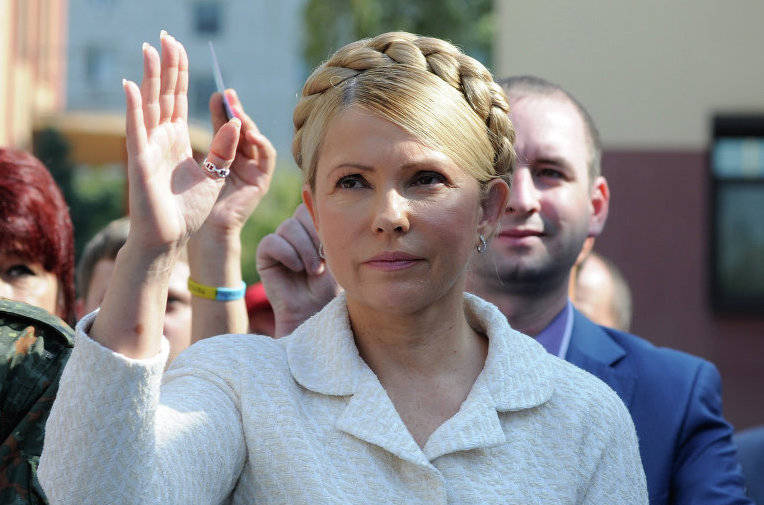 Kytsünder, peacefully folding his wrinkled legs, emphatically tolerantly awaits an invitation to a new, super-powerful coalition that is being created by someone in the Rada of the new convocation. Yulia Vladimirovna demonstrates complete resignation and sends extremely positive signals. She, of course, is sent to the return address, but we must pay tribute: the grandmother of Ukrainian politics still managed to get into parliament
.
Yes, Matkivshchyna received a little more than five percent of the vote (5,68), but the fact of "crawling" is important. Look at the fascists from Freedom: they have cut off the 0,3 percent - that's all, there is no such parliamentary party anymore. And Tymoshenko survived. She hardly adapts to the new reality, when everything around is even steeper populists and tantrums than she. But adapts. I won't repeat banalities like "ana will show everyone, he will rape and mock everyone", "you shouldn't write off your grandmother." As an expert-pathologist for BYuT (I have been working on this carcass since 1996), I can only assume: Yulia Vladimirovna is still capable of something. It has enough of a minimal political platform to arrange a universal srach. In the role of the head of the budget committee, she put the whole Cabinet in the knee-elbow position. At the post of energy deputy prime minister, she spoiled the blood of such a large number of people that it is simply terrible to imagine. I deliberately omit the well-known episodes from Tymoshenko's premiership.
She pathologically hates the supreme commander. Until the crunch of ossified brain convolutions. She will wait for her moment. This is the purpose of its existence. Yes, twenty deputies in the "Batkivshchyna" faction are a miser, which can be ignored in the general scenario. And who is interested in these breakdowns in the conditions when everything goes to a denouement? But! I bet on the last shot of Yulia Vladimirovna.
In fact, the entire Verkhovna Rada and the government are currently filled with people from under the skirt of the "orange princess". Who is, for example, Lyashko? In 2004, this boy ran with his newspaper "Freedom", trying to curry favor with Tymoshenko. He even stuck out his tongue when he listened to the words of Yulia Vladimirovna. Having received a place in BYuT, Lyashko was used for the dirtiest public actions. He did what even the faithful Yulka disdained to do. For example, he accused the speaker of Frost of receiving millions of dollars from Donetsk. And so on. This former yulek, like a parrot, copied all the grimaces and habits of his former shefini. It worked, oddly enough.
See the list of the Popular Front. In fact, this is all BYuT. Speaker Turchinov for decades was a confidential Tymoshenko. Blok Petro Poroshenko ... Need to decipher? I think no. Opposition bloc: have not Natasha Royal been forgotten yet? Only in "Samodrocherhekhora" is not revealed yet yulkov. But they certainly are, if you delve deeper. The whole parliament is like a big leper colony, where all those who got infected with Yulkism in various forms gathered. The most important thing is that it is not treated. Do you think that they didn't try to cut her electorally? And how. But the Europeans intervened, who still consider Tymoshenko a "victim of the regime." She noticeably reduced her public activities. She promised to stay in the shadows. Grandma realizes that in two years she missed a lot and lost her charisma. An attempt to master the masses on the move failed. But Tymoshenko was smart enough not to force things. She began to rebuild her mob skills during her regional voyages. Do not think that the granny does not work. In Romny, she managed to hypnotize several thousand at once. Shaw is your Kashpirovsky. Rovno got worse, but the level of exaltation of the mass was very high. Tymoshenko never really hid the fact that she specializes in the nearby rural electorate, who perceived her as a symbol of her unrealized opportunities. Aunts under sixty simply idolized her. Very carefully, without past aggression, Yulia Vladimirovna pulled out her electoral piece. Yes, compared to past successes, this is simply a miserable, insignificant stub. However, she won over him in an ugly dog ​​fight. This is an achievement, I must admit. In Yushchenko, almost immediately after the end of his presidency, everyone spat. He actually died in his second year in office. Tymoshenko survived after two years of isolation at the Kharkov Railway Hospital. Her hard, systemically and quite creatively soaked. Not home. Arseniy Yatsenyuk owes his career to her. If it were not for the "Matkivshchyna", its galymy "Front for Change" would never have got into parliament. Yes, he threw Tymoshenko, in fact, having appropriated her structures and inclined the main Julian to his side. In his place, Yulia Vladimirovna would have acted in the same way.
After the "revolution" there was a unique situation in which all the power in the country actually belonged to Tymoshenko's appointees. Starting from the interim president and ending with the Minister of the Interior Ministry. Now the same people in power. Including in the "Tymoshenko" parliament, paradoxically it sounds. Shot by botox, pulled up so that her right eye climbs on her forehead, Tymoshenko goes to the last and decisive battle in her life. According to the degree of cynicism in modern politics, no one is good enough for her. If necessary, she would personally strangle the female pilot Savchenko to mourn this loss at the funeral. You can negotiate with anyone, including Putin and the leaders of the DPR and the LPR. She has absolutely no moral bottom. But there is an extremely perverted mind. Yes, age is not the same, and you have to revise the arsenal of the impact on people. However, Tymoshenko is able to play his last role. Vanghuy: in a relatively short period of time, the first scandal will break out thanks to Kyzünder's "meek" and "submissive" behavior. Today, she is ready to wash clothes in the coalition of Petro Poroshenko, and tomorrow the laundry will be spent on such a grandmother. We know which one.
I emphasize once more with a felt-tip pen: I haven't been noticed in sympathy with Tymoshenko Exaggerate the role of "Bagini" is not inclined. However, if you throw a small stick of yeast into the toilet, the whole parliament will be filled with crap. Believe in the objective laws of chemistry.