The American firm Solid Concepts announced the improvement of the technology of direct metal laser sintering, reports
Lenta.ru report
with reference to the site «3D Print».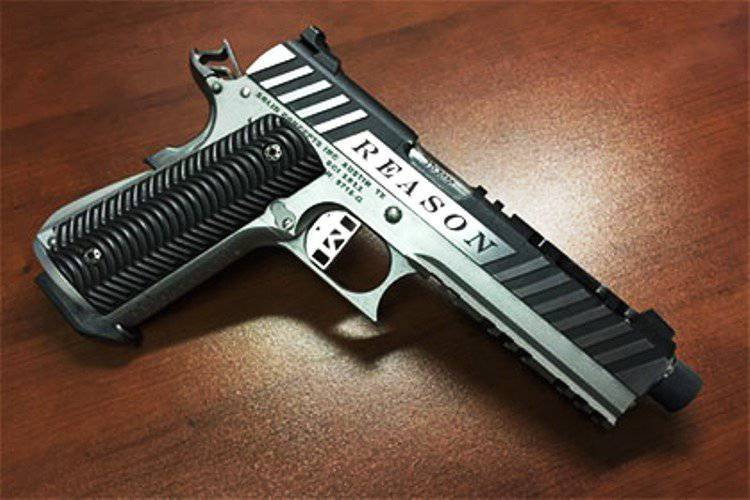 During the testing of the new technology, a "Reason" pistol ("Argument") of 10 mm caliber was "printed". It is based on the army "Colt 1911". A feature of the sample was the high detail of small elements. According to the site, "on the trunk of the" Argument "is" engraved "the introduction to the US Declaration of Independence."
"The pistol received metal cheeks of the handle with a wavy pattern. On the slide frame during printing was applied the name
weapons
- "Reason". In addition, the same method on the gun "printed" details about the manufacturer ", - stated in the publication. What metal was used for this is unknown. Detailed information about weapons on the official website of the company has not yet been.
The first "printed" metal pistol (an exact copy of the "Colt 1911") was presented by Solid Concepts in 2013. They called the weapon "1911 DMLS", its caliber is .45 ACP. According to the site, this gun was made "of stainless steel 17-4PH grade powder and 625 brand inconel." The tests were successful. Manufacturers indicate that "so far more than five thousand shots have been executed from it."
The company put up one hundred copies of this pistol for sale, setting a price of $ 11,9 thousand per barrel. How much was sold - not reported.
"With direct metallic laser sintering, or DMLS, metallic powder (stainless steel 17-4PH and 17-5PH, inconel 625 and 718 or titanium Ti6Alv4) poured into the container, melted into a uniform structure. "Printing" is carried out in layers, with the thickness of each layer is about 20 microns. After each melting, a special device sinks the "printed" layer into the powder, simultaneously applying a new metal layer for sintering over it, "the publication explains the essence of the technology.
Parts made in this way do not require additional mechanical processing, however, it was impossible to manufacture them with a ready-made engraving or drawing. The advanced technology allows to "print" any elements, down to the smallest.