In the Donetsk region. there is a town of Debaltseve (or already was), I want to talk about how for this town passed and continues to pass the so-called. "truce". This town (40 thousand in peacetime) was attacked by Ukrainian troops in mid-July and captured. Three days of sitting in basements, mortars, hail, destruction and fires .... But this only turned out to be just the beginning of hell, the tip of the iceberg.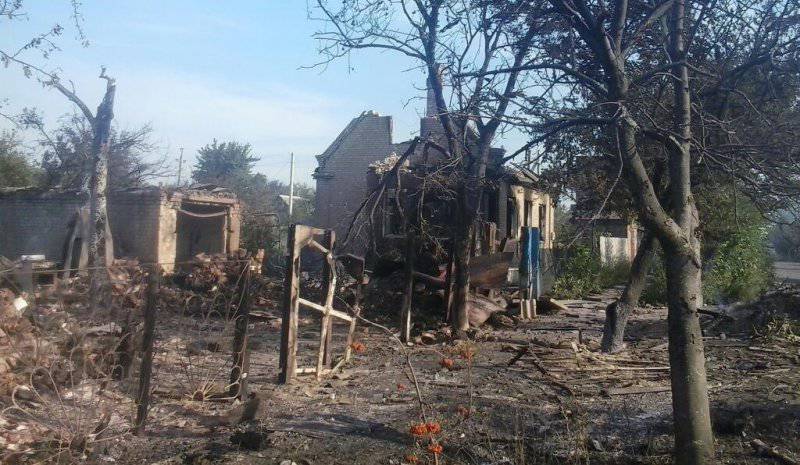 This was followed by verification of documents, execution of the mayor of the city, arrests and a couple of weeks regarding the quiet life of the occupation. Then there was another "cauldron" and it started .... Grads were installed on the main square and Enakievo was fired from them, in response, they began to arrive from the militia. Then ukrovoyaki placed heavy artillery around the perimeter of the city and began to peel in all directions from the city, because were surrounded. And for a week they had nothing for it, because the militia waited for people to leave the city and who could - left, and who could not / did not want - those were between two fires. Shells flew from all sides. dill beat, they fly back in response, dill retreat from the area and beat into the area, and there comes the militia and fired in another area. People live in bomb shelters. People come out in the morning and run home to make porridge, rake debris, and along the way they see wounded Ukrainians flowing in, they are being carried, carried, dragged to the only hospital that survived, there are already an incredible amount of them. Ukrovoyak killed somewhere buried in the city. Killed residents are buried in an abandoned cemetery quickly, until there is no shelling. The shop is open to 12.00, where you can buy sweets, canned goods and expensive liquor for crazy money. And there was a rumor that they give a pension, people on bicycles, on foot, went to the center, to the only working ATM. Waited in line 2,5 hours and the queue did not decrease, shelling began. But nobody moved. Then some ukrokomandir jumped and began to shout so that everyone went to the shelter, but the people were beaten from the roar, but did not leave. The commander pulled out a gun and started firing into the air, demanding that people flee to shelter .... Do not care, people want money to either eat or pay a taxi driver for leaving .... The commander runs off with swearing and lamenting that hospitals are overflowing with soldiers and I will order the fools there not to take the wounded, since you are ....
And now the truce is grace ... no money is needed, because the store no longer opens, and taxi drivers already for 500 hrn. do not agree to leave the city. In the city, people appeared in black balaclava with skulls, they do not talk to anyone, do not obey ukrokandiram, behave like cattle, it is noticeable that they are afraid of ukrovoyaki. They are allowed to shoot small
weapons
when you want: in dogs, for example .... (they also talk about people). And now people live half-starving in the basement, run home a couple of times to note that the house is residential and can't be occupied under the disguise of the City,
tank
, or take a position in it for shelling. The truce killed the most people, destroyed almost every second building, a ghost town .... But it is still full of old people and even children. Kills old people in batches, because they do not have time to run to the shelter. The constant roar and death, fear and despair. And winter is coming ... Ukrovoyaki demand from the local population that they leave, yes, they demand ... Where? Why? How to leave? But they directly warn that today these five streets will be under fire (they warn - it is said loudly, someone said this to one person, and if he is lucky, he can spread it). And it's true that the tanks were scattering the day from that street, and after a day the militiamen covered this firing point with mortars .... the street was gone. Ukrovoyaki at every step do not forget to recall who destroyed the street or several streets ....
You can not get sick, die from an ulcer or from a cut finger - it is easy.
When will this truce end, people ask. Such a hot truce, they no longer want - there is no place to bury the people ...
These are the last days of the week; this is Debaltsevo — the largest railway hub in the past after the Moscow sorting yard. Now this is a ghost town, a new cauldron, somehow, but civilians, children are cooking in it ...
So, if one day someone from moaning over jamon or even neutral tells you that this is not your war and it will be enough to help the East, drive trucks there, ring everyone
the news
about this, collecting aid for refugees and so on - remember my retelling of my dad, who described all this to me yesterday and do not listen to them. People are waiting for your help, they need it, their despair is transcendental.